COVID Confidence Scheme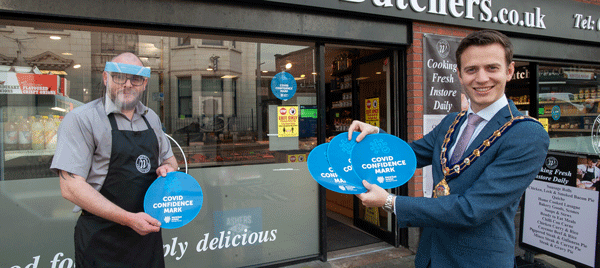 MEA are launching a focused, four-stage 'COVID Confidence' initiative designed to support local, economic recovery whilst at the same time respecting the public health controls needed to minimise community viral transmission and maintain public health.
Stage 1: COVID Business Support pack
MEA will prepare simple, easy to understand COVID control guidance, in conjunction with our health partners, which businesses can easily follow. The guidance will be agile and flexible to allow for both site-specific arrangements and changing legislative requirements.
Most importantly there will be an accompanying COVID Assessment Checklist in the pack which will form an important element of the scheme (see below – follow up visits)
All of our town centre businesses and villages will be provided with these packs within a couple of weeks, with additional teams of staff redeployed to this important initiative of business support. Contact numbers will also be provided for trained council staff who will be at the end of the phone to answer queries and support businesses in relation to compliance.
Stage 2: Follow up visits
After the packs are issued, visits will be carried out to our local businesses by teams of dedicated staff who will assess premises against the COVID risk management controls using the COVID assessment checklist.
Premises who would like further specific guidance for their own circumstances can avail of one to one support and help by trained Council staff either on the phone or on-site.
Stage 3: Award of COVID CONFIDENCE MARK
All businesses who score 80% or above on this COVID assessment checklist will be issued with a distinct and easily recognisable 'COVID CONFIDENCE MARK', for display at their premises. It is important to note that the criteria for achieving 80% is dependent on the guidance and the restriction in place and if these change the assessment checklist will be updated to reflect the new requirements.
It is hoped that, with widespread and effective communication of the scheme, visitors to our towns and villages will instantly recognise the COVID Confidence Mark in shop windows and will feel safe and confident to visit local businesses who have invested money, time and energy in systems designed to protect staff and customers.
Stage 4: Ongoing Review
All businesses will be visited at least once, with the primary focus on town centre's before we move to outlying businesses. When a business has been awarded the COVID Confidence Mark a combination of follow up self-assessments and/or unannounced visits will be required.
For more information contact us at:
E: MEA.envhealth@midandeastantrim.gov.uk