Music Line Up
Saturday 11 May - Larne Market Yard Line Up
Brian Kennedy
Brian Kennedy
From harmonising with ambulances as a child to finally overcoming stage fright, his gradual ascent was nothing short of miraculous. He busked on the dangerous streets of his hometown whatever the political weather until a sudden escape to London when only 18 saw him surviving in the only way he knew how. He sang unaccompanied in the underground stations and outside the Dominion Theatre, sometimes literally in order to eat and until he finally saved up enough money for a guitar. He lived in various illegal squats before eventually being discovered by the now legendary Svengali Simon Fuller- [Pop Idol, Annie Lennox, The Spice Girls.] His constant touring from Ireland and the UK to Australia, Germany and the USA, including the major global festivals, has resulted in an every-growing international fan base the old fashioned way over a phenomenal twenty-year career in the rollercoaster ride that is the unpredictable music industry.
His work with Van Morrison has been well documented. The Belfast Legend invited Brian to a rehearsal one day that resulted in him being featured as guest lead singer on the now unforgettable 'Blues & Soul Revue'. Courtesy of Van's continuing mentoring and generosity, Brian ended up sharing Vocal duties on stages across the globe over a six-year period with Morrison and a breathtaking cast of some of the greatest artists in history: Joni Mitchell, Bob Dylan, Ray Charles and John Lee Hooker to name but a few. Madison Square Gardens was a far cry from the Falls Road. That unique Irish Voice can be heard harmonising and answering Van on five of his major hit albums. As if that wasn't impressive enough, you might be less familiar with Brian's impromptu performances with Stevie Wonder at Ronnie Scotts in London. Incredibly and proudly he is one of only a few to have also sung with the late legendary Jeff Buckley at Sin É in New York
Throughout the relentless touring with Van Morrison, Brian somehow managed to maintain a stream of chart-making albums. 'A Better Man' (1996) and 'Now That I Know What I Want' (1999), both went platinum at No.1 and earned him the awards of Irish Best Male Artist and Irish Best Male Album, as did the highly acclaimed 'Homebird' (2006) and cover album 'Interpretations' (2008). But it was Brian's heart wrenching LIVE performance of 'You Raise Me Up' at the Funeral of Football Legend George Best that earned him a spot in the top 5 of the UK charts.
In October 2018, he started presenting a weekly programme on radio station Tipp FM.
The Dangleberries
The Dangleberries
The band, formed in September 2001, has performed throughout Scotland at festivals, including The Wickerman Festival, Wizard, Loopallu and the Tartan Heart Festival at Belladrum.

It's hard to categorize the music of The Dangleberries as they produce a very unique sound and, it has to be said, provide an extremely unique look!! Probably the best way to describe The Dangleberries is Pipe Rock. Their music comprises of a mixture between their own compositions, including festival favourite "Festival Girl" and a variety of covers from all eras, including Boney M's "Rasputin / Daddy Cool", Paolo Nutini's "New Shoes", Katy Perry's "Hot N Cold", and an interesting medley of The Killers & Black Eyed Peas, with the bagpipes – not to be missed!!

The band draw on many varied influences to produce a blend of bagpipes, drums and guitars, you can be certain that you're going to love the end result. You'll not be able to stop your feet from stompin', especially with the band's very own Bez, aka Annie, on the tambourine!
Coach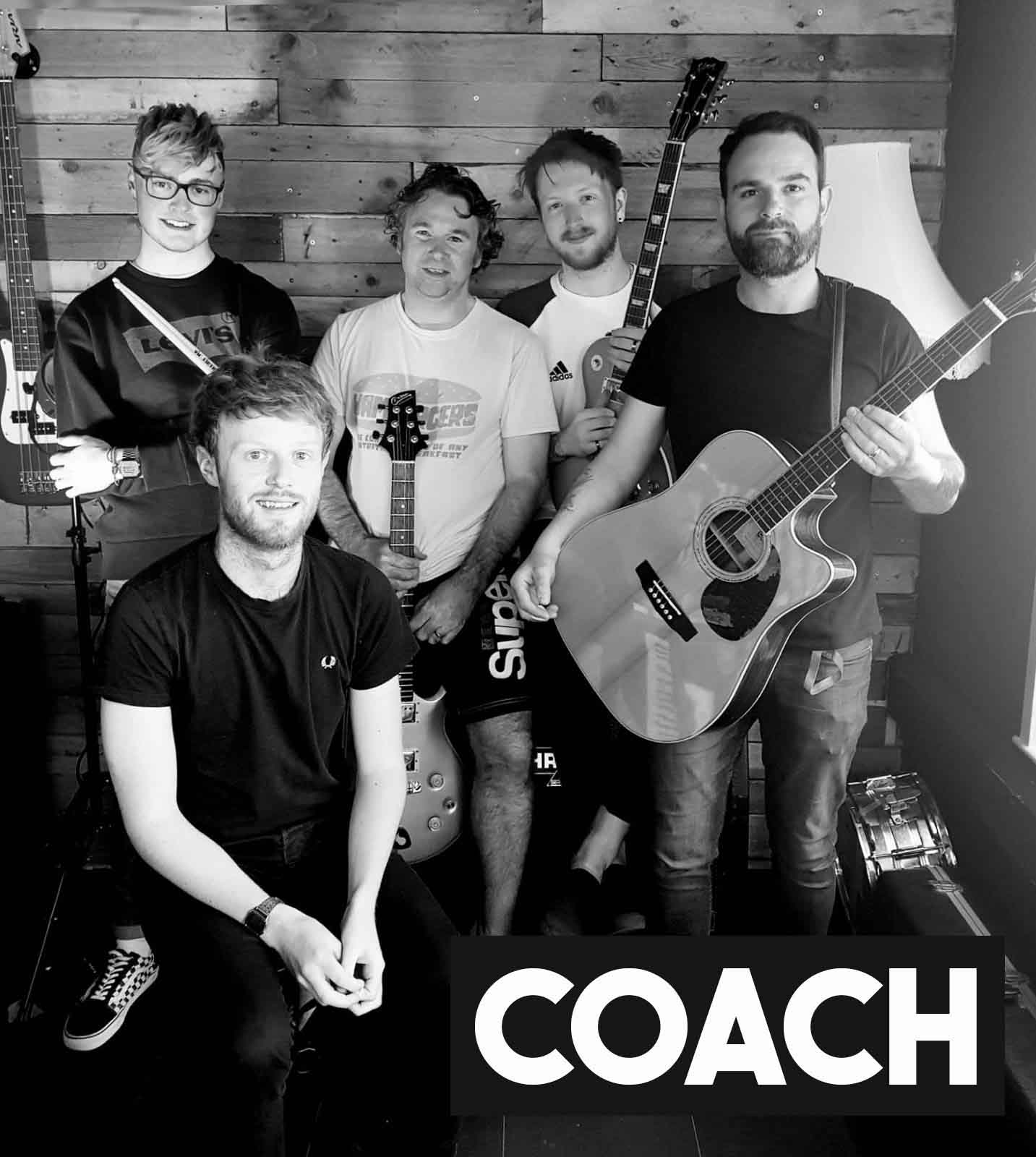 Coach
Coach is a vibrant and energetic 5 piece live cover band, made up of various, talented music tutors from The Music Yard, Larne.
They cover a great selection of hit songs from different genres and are sure to keep people of all ages entertained!
Pigs and Pearls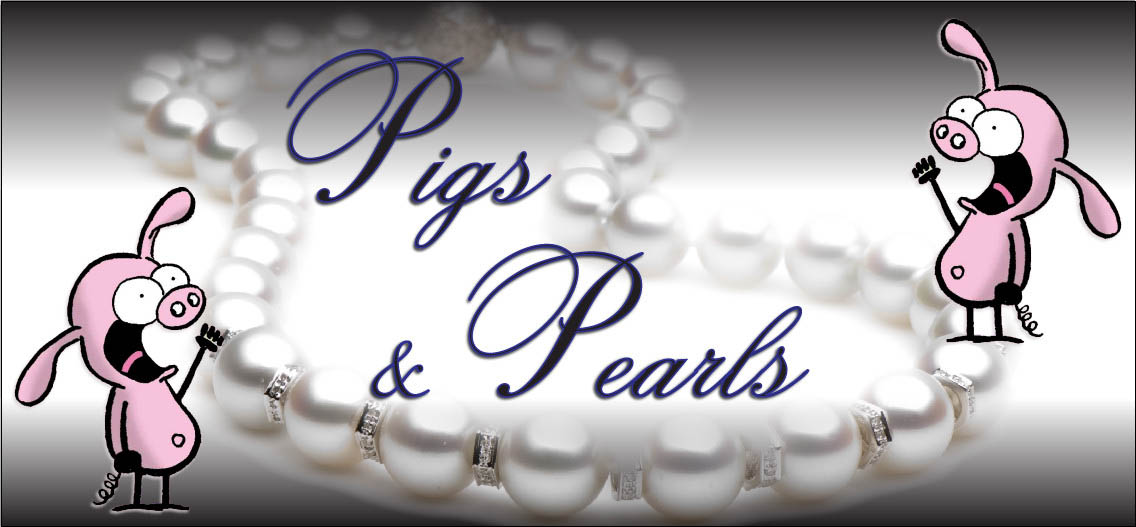 Pigs and Pearls
Pigs & Pearls have been keeping it real with their high energy music and upbeat style since 2001.
Borne out of their love for all the great rock groups of the last few decades, the band love to play the music of the likes of Queen, Dire Straits and The Police. They have also inherited a love for a variety of music genres such as Irish (Horslips), Motown (Stevie Wonder) and Country (Johnny Cash) and they enjoy introducing their audience to lesser known artists and songs. However, more recently they have branched out into more modern music putting their own unique spin on songs such as "Faith" and "Titanium".

Pigs & Pearls are a local band who can be seen on the first Friday of every month in The Olderfleet Bar in Larne.
Paul Sexton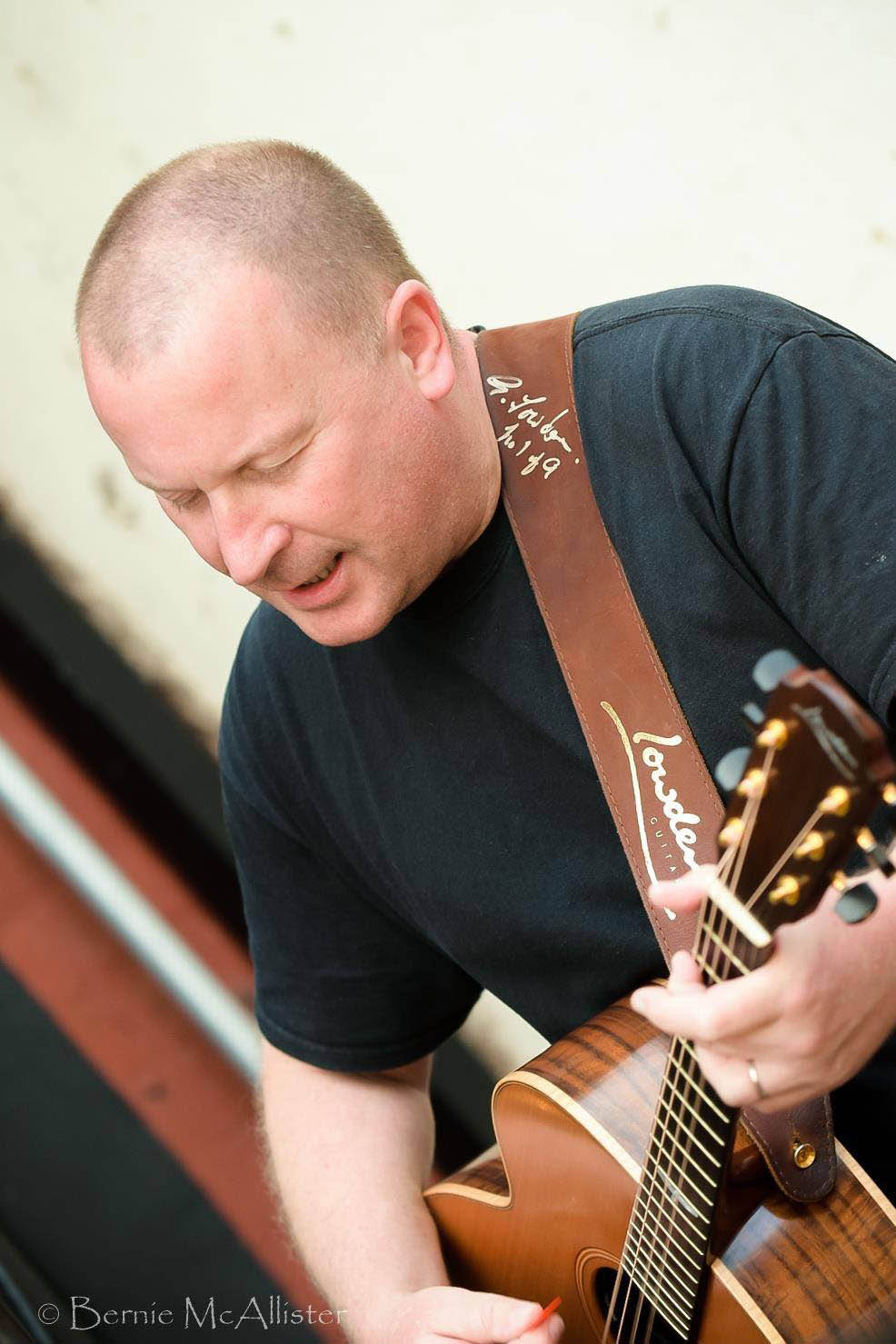 Paul Sexton
Paul Sexton – Larne Guitarist and Singer who can cover a wide range of styles but feels most at home when playing Eric Clapton, Pink Floyd and Blues music
Paul has been on the circuit for many years with various bands but now concentrates on playing solo Acoustic or Electric guitar sets in the pubs and clubs around Co Antrim
The Mr Beefy Trio

The Mr Beefy Trio
It's difficult to find an act that brings something different to your event but that guarantees solid professionalism. The Mr Beefy Trio is the perfect balance of quirky & professional, contemporary & classic, music & attitude. A Duo so big sounding they had to call it a Trio.
Featuring Ross Alexander on guitar/vocals; and Billy McAuley on Bass/Vocals/Percussion; these guys can bring any level of chilled, lively, middle of the road, or totally off the chart to your event. Two of the happiest guys on the planet and one of the best Duo acts you will find anywhere. They bring a varied setlist covering all genres, and an energy that will have everyone buzzing.
Larne Music Yard
Larne Music Yard
The Music Yard is a group of young students who attend lessons at the music tuition and performance facility based in Larne.
You will see children aged 5 and up showcasing their talents, covering all genres including music theatre, pop/rock and classical.
Some children have formed mini bands playing guitar, drums and singing rock or pop classics…A wealth of up and coming talent for everyone to see!
Their youth choir will also be supporting Brian Kennedy with his hit song 'You Raise Me Up'.
Sunday 12 May - Larne Market Yard Line Up
Goats Don't Shave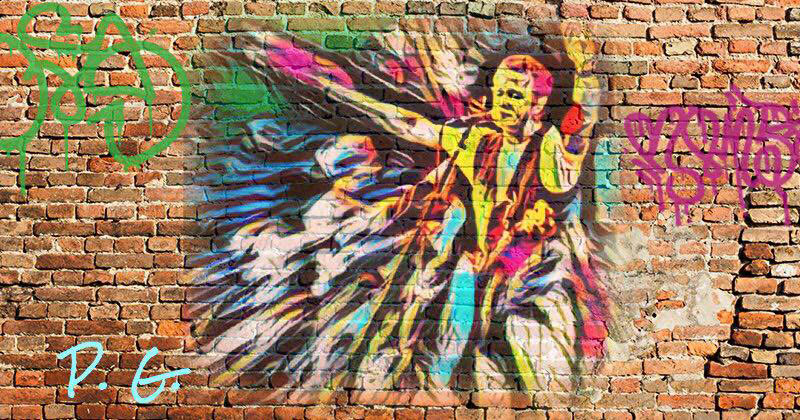 Goats Don't Shave
If you haven't been to a Goats don't shave concert, brace yourself for one of our annual highlights.
This dynamic band can move you to laughter or to tears and their live performances are renowned for their infectious good humour, delivered with mesmerizing skill.
Pat and the Band Head to …………..? on….? with an eagerly awaited seventh Album ( Out the Line), they will be unveiling some brand new songs as well as some of their timeless classics.
Expect humorous anecdotes brilliant musicianship and strong voices whether in soft poignant ballads or fast, let-it-all-hang-out rhythms, join us for this special for these three special nights.
Dana Masters
Dana Masters
Originally from the Deep South in the United States, Dana grew up with sound of soul, rhythm and blues and gospel music all around her. Her love for music developed as she grew up and lead her to study music,majoring in vocal performance at university. Music took Dana from South Carolina to Minneapolis and then on to Los Angeles where she lived for four years and where she met an Irish boy who would later become her husband. In 2008 Dana and her husband moved to Northern Ireland. Although she sang sporadically, music generally took a back seat while Dana settled into life in a new country and culture. That all changed in early 2012 when Dana had a chance meeting with Linley Hamilton at a local music venue. During that year Dana, Linley and some of the best Jazz musicians playing in Ireland began a weekly residency in the basement of McHughes bar in Belfast, the inspiration for Dana's first EP. From live work with BBC radio 4 and Proms in the Park to singing regularly with Van Morrison, Dana's reputation as one of Ireland's top vocalists continues to gain momentum. Dana is very excited to be writing original material again and can't wait to share that with people! Calling Northern Ireland home, Dana is passionate about music as a vehicle to make people and communities vibrant.
Castaways
Castaways
The Castaways a local five piece live band gigging the pubs and clubs of County Antrim and Belfast areas. The band covers everything from 60's sound to Blues Soul Country and Rock.
Lead singer Esler Burke is very well known on the local music scene having fronted many bands and showbands over the years. Esler is currently celebrating great success with the debut at The Mill Theatre Newtownabbey of the musical "Twisted" which he wrote both the storyline and music. Joint lead singer Noelle Liddle is equally at home rocking with the blues sound or singing the softest of ballads. Lead guitar and musical director for the band is Eric Thompson. Eric has played in many different styles including punk, rock, and pop and in acoustic duos. On the base is Bill Liddle. Bill is originally from local rock band "Rotgut" and various bands and showbands including popular local band "Springfield". On drums and percussion is Robert Gingles. Robert has a jazz and blues background and brings his mix of rhythm to the sound of the bands.
The Castaways are sure to get the foot tapping and the dancing going.
Zolene & the ALS Band
Zolene & the ALS Band
Zolene & The ALS Band have been going since the early 70s, passed down through the generations to Ziqh, Zolene and Kristian from Larne.
They stick with their roots and keep a retro feel to the band, specialising in 50s-80s hits and genres from Rock & Rock, Pop, Disco, Rock and more!
GaS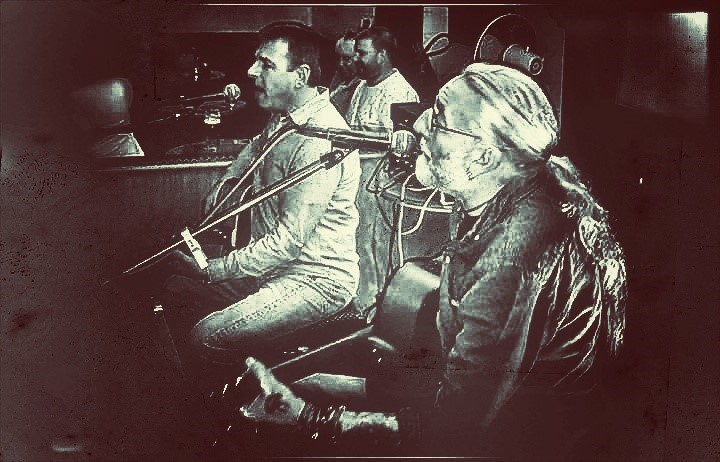 GaS
GaS are an acoustic duo comprising : Mickey Gorman (acoustic bass and vocal), and Murray McDowell (acoustic guitar, harmonica and vocals).
Both are accomplished musicians having played on the scene for many years. Expect classic, up-tempo, foot-tapping, singalong songs sure to have you dancing.