Local food and drink producers attend largest retail and hospitality event in Northern Ireland
Wednesday 21 March 2018
A group of local food and drink producers are representing the very best of Mid and East Antrim at the IFEX trade show in Belfast this week.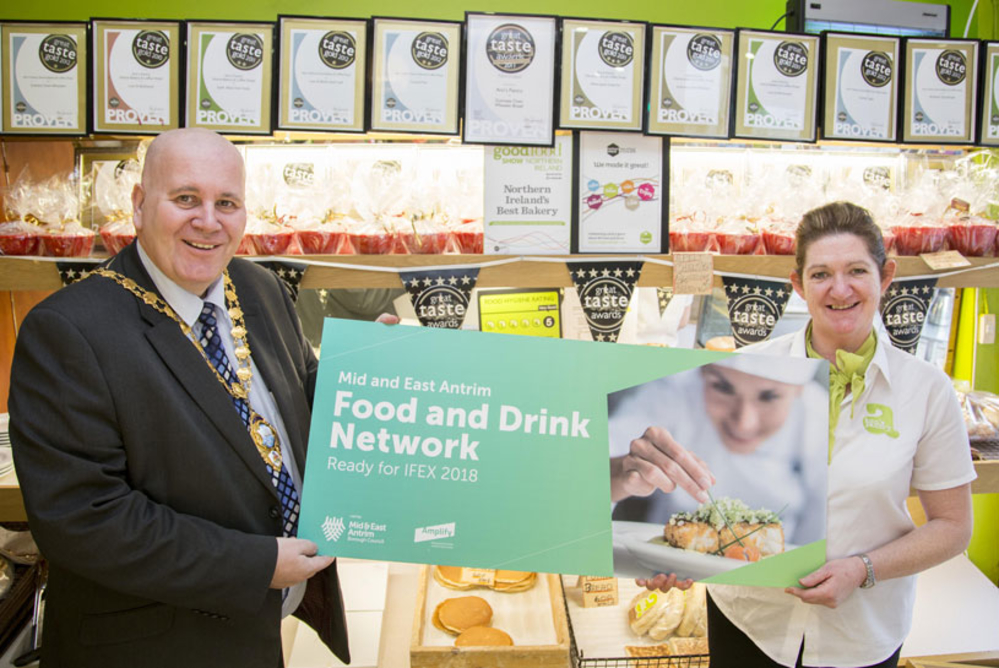 With the help of Mid and East Antrim Food and Drink Network who have a stand at the show, visitors have the opportunity to taste some of the award-winning produce on offer from Ann's Pantry, Dairifresh Ice Cream and Hillstown Brewery.
IFEX is Northern Ireland's biggest and best food, drink, retail and hospitality event of the year. This year's event takes place at the Titanic Exhibition Centre from 20 – 22 March with over 6000 visitors expected through the doors.
The show is a great opportunity for food and drink producers to showcase their products to over 5000 key buyers and retailers from across the world, with the hope of inspiring them to source their products.
Mayor of Mid and East Antrim, Cllr. Paul Reid said: "Mid and East Antrim is home to a vibrant agri-food sector with 1 in 5 people working for the 1363 agri-food businesses based in the region.
"Agri-food is one of Council's priority sectors, which we are committed to supporting and growing as part of Amplify, the Integrated Economic Development Strategy for Mid and East Antrim.
"This is an excellent opportunity to raise the profile of our local agri-food companies and the high quality of their products to people working within the retail and hospitality industry both nationally and internationally."
Mid and East Antrim Food and Drink Network aims to get agri-food businesses working together to promote the sector, both inside and outside the Borough. The network offers a variety of networking opportunities and business mentoring support, informative workshops and an opportunity for businesses to showcase their products at a wide range of food events regionally throughout the year.
To find out more about the network visit the Amplify website or email:
E: amplify@midandeastantrim.gov.uk
Image: Mayor of Mid and East Antrim, Cllr. Paul Reid visits Ann's Pantry, one of the Mid and East Antrim food producers showcasing at IFEX 2018.