Rededication ceremony takes place at Ballymena and District War Memorial
Monday 8 October 2018
A rededication ceremony has taken place at Ballymena and District War Memorial following the addition of the names of 172 local people who lost their lives during the First World War.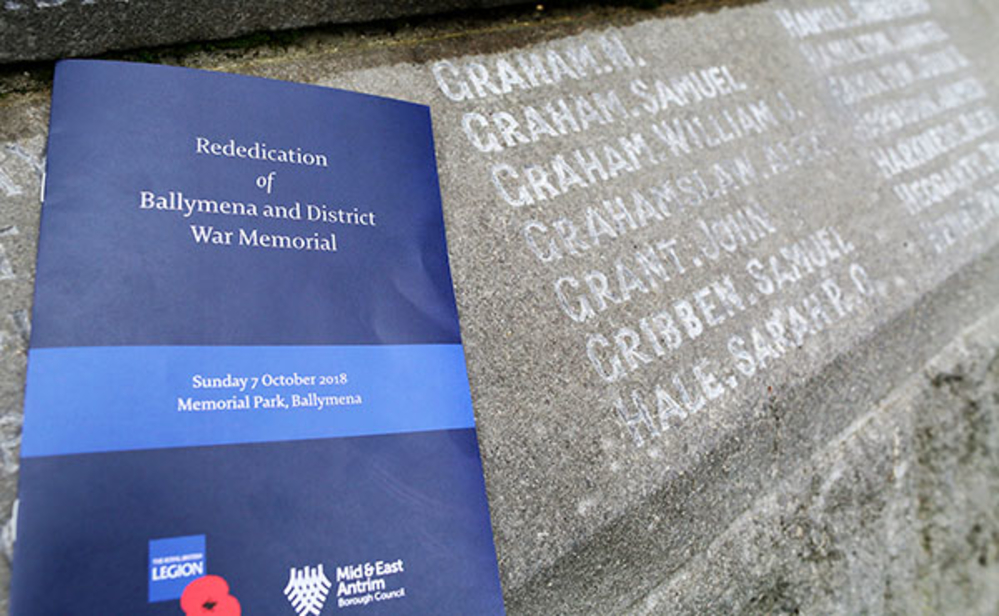 Last year Mid and East Antrim Borough Council agreed the addition of verified missing names of those killed on the monument in the Memorial Park, Ballymena.
Research undertaken by History Hub Ulster on behalf of council and a public consultation found that up to 172 names were missing.
Those names were engraved onto the Memorial in recent weeks, and a poignant rededication ceremony marked their unveiling on Sunday.
Mayor of Mid and East Antrim Councillor Lindsay Millar said: "I would particularly welcome Her Majesty's Lord Lieutenant for County Antrim, Mrs Joan Christie, CVO, OBE, and thank her for unveiling the additional names of the Fallen inscribed on Ballymena First World War Memorial; the families of those additional Fallen, and organisations on parade today.
"I would like to also like to thank Mr Davey Davison, Chair of the Ballymena Branch of the Royal British Legion, for the role that the Legion has played in conjunction with council for today's service and parade. My thanks also go to the Pipe Major and the talented band of the Royal Irish Regiment who ably lead the parade and provided a piper and bugler for the Act of Remembrance.
"Thank you also to the Cadet Corps who with dignity read out the names of the additional fallen, this was a very moving and central part of the ceremony.
"I also appreciate the warmth and sincerity conveyed by Reverend William Sinclair as officiating minister for the rededication of the War Memorial.
"I am hosting this reception in recognition of the importance of today's unveiling of 172 additional names of the Fallen and rededication of Ballymena War Memorial to our wider borough, and in particular for the town of Ballymena and outlying districts. This is a day of significance for our own and future generations.
"As Mayor I was honoured to participate in this afternoon's solemn unveiling and rededication. This has been a very poignant day within my term of office. It has been made more so by next month being the Centenary of The Armistice, which we as a council are fully committed to marking.
"The Ballymena Urban and Rural District War Memorial was first unveiled in the Memorial Park on Armistice Day, 11 November 1924 creating a local focus for communal reflection and Acts of Remembrance. In a similar way to many British war memorials the Fallen' s rank is omitted on Ballymena Memorial, creating an impression of equality in death. By being permanently recognised alongside their fallen comrades the additional names of the Fallen have that equality in death and our esteem."
Councillor Billy Henry said: "The service of rededication was undertaken in conjunction with the Royal British Legion, as part of the council's Centenary of The Armistice Programme, and we are indebted to them for all of their assistance and support throughout this crucial project."
A consultation was held from Monday 25 September until Friday 10 November 2017.
Members of the public put forward relevant information they had and the additional names were verified by experts.
Ballymena and District War Memorial was unveiled in 1924 after a fundraising effort raised just over £1,000.
It is unknown how the 496 names were gathered by the then War Memorial Committee in the early 1920s but through professional research, using agreed criteria, it has emerged that some of those who were killed in action or subsequently died of wounds have been overlooked until now.
Council thanked local historians who have carried out research on the Fallen from the mid-Antrim area in the First World War. He said their work has enhanced understanding of the sacrifice.
Local historians who set up Ballymena and The Great War website in 2007 have also been commended for their commitment in ensuring that the memory of these mid-Antrim soldiers lives on.
Tom Flemons, Cliveden Conservation Somerset Workshop Manager, who oversaw the project said: "This was a very satisfying project to be involved with. Our team, brilliantly led by Harry Brockway, painstakingly hand cut the additional names around the base of the monument. Work was carried out at very awkward angles therefore a high level of concentration was needed and attention to detail was key. Our letter cutters Harry, Gary, Jem and Pip, did a fantastic job. This project really is testimony to their skill and expertise."
Images: The poignant rededication service at Ballymena and District War Memorial on Sunday.