Volunteers clean up during community litter collection in Cullybackey
Monday 16 April 2018
More than 40 volunteers took part in a community clean-up in Cullybackey recently.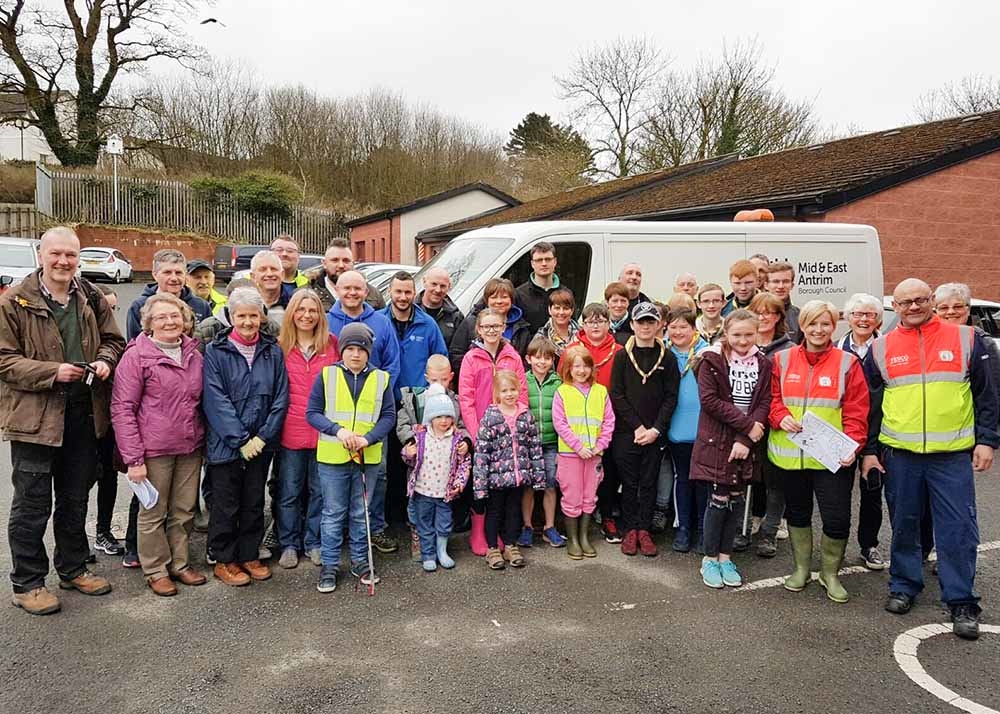 Cullybackey Community Partnership and Council staff headed up a squad of litter pickers from the Green Pastures Connect team, Tesco Community Team, local Scouts, and a Live Here Love Here representative, to come together with members of the local community for the spring clean.
Councillor Timothy Gaston, who was among the community-spirited volunteers, said: "A massive well done to everyone who took part and I trust the local community will appreciate the team effort to tidy up the village.
"The plantain and middle path was where most of the team focused our efforts with lifting litter and cutting the grass.
"More than 30 bags of rubbish alone were lifted from the middle path.
"I worked to secure another bin in this area, which I believe will encourage people to use rather than throwing their waste down.
"The bin could also be used for bagged dog foul as well as litter.
"It is vitally important we all work together as a community to tackle the scourge of litter in our Borough and ensure our towns and villages look the best they can be all year round."
Council wished to thank all of those who turned out, including Cullybackey Community Partnership's Margaret Murphy, who was instrumental in the project.
Pastor Trevor of Connect Ministries added: "The team effort on the day was great to witness.
"It was particularly good to see so many children and young people get involved."
Littering is an offence which can result in an £80 fixed penalty notice.
To report any fly tipping or littered areas you can go to our Report page.