Building Positive Relations
Peacing Ages Together
delivered by Mid and East Antrim Agewill Partnership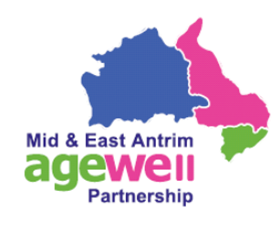 Mid and East Antrim Agewell Partnership (MEAAP) have received funding from the PEACE IV programme to run a series of interesting, new social activities for older people across our council area in an age friendly, cross-community project.
15 new partnerships have been created across the area, joining groups from the towns, villages, churches and associations together to explore our similarities and differences and combat loneliness and isolation in older people's lives.
These older people's partnerships will take part in 10 activity sessions throughout 2018/2019 under the themes of Sports, History, Ethnic Minorities and the Arts. They will also have the opportunity to take part in Intergenerational activities. The activity sessions will culminate in a huge celebration event in June 2019 where all the partnerships will come together to show off the Art exhibitions, the dance moves, and hear about the history projects and see what we have been able to achieve together.
This project is supported by the European Union's PEACE IV Programme managed by the Special EU Programmes Body (SEUPB).
Contact:
Sarah McLaughlin
T: 028 256 58604
M: 07519 070 603
E: Sarah.McLaughlin@meaap.co.uk
W: Agefriendly - Peace IV
Facebook: meaapni
Twitter: @MeaapPeaceIV