Local Benefits from Funding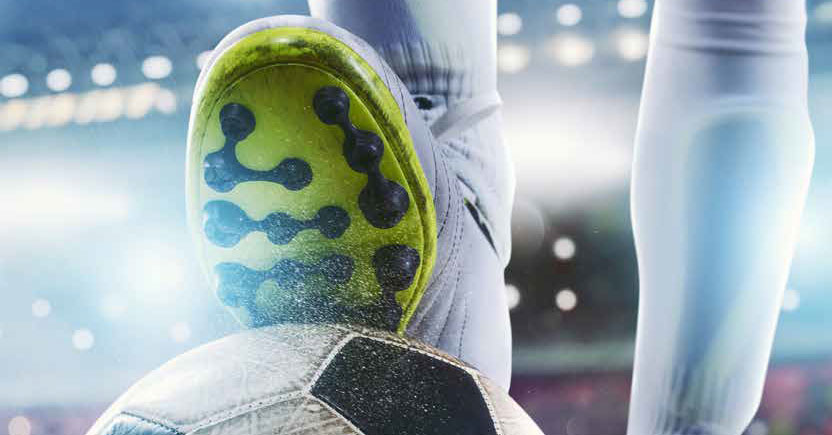 Sport, particularly football, within Mid and East Antrim, plays a key role in ensuring active healthy lifestyles and community participation and engagement.
Senior clubs Larne, Ballymena United and Carrick Rangers also carry out a wide range of initiatives outside of sport, in order to support their local community.
The opportunity to enhance their facilities and bring them up to a higher standard will build on existing hubs which increase and enhance community participation and involvement.
In order to facilitate our collective vision for football in Mid and East Antrim we have undertaken a workshop with all three senior clubs in MEA United and found the following:
Ballymena United FC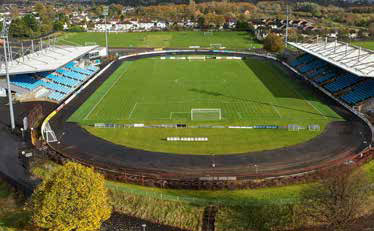 The architect, appointed by Council, presented a number of proposals for the main arena which could be developed at the Showgrounds and a number of options were discussed which would provide a UEFA category 3 or 4 Stadium.
Elected Members considered that the preference would be a stand at both ends of the ground to enclose the arena and thereby creating a better atmosphere.
The club currently has around 300 connected to Ballymena United Youth Academy and 89 ladies involved in Ballymena All-stars. The average attendance at a Ballymena United match is around 1,300 per match.
Option 1
Upgrade existing floodlighting to Category D and provide one new 1,100 seater stand. This would increase capacity from 3,694 to 4,794 but the stadium would remain at the current UEFA category 2 status.
Option 2
Upgrade the ground to a UEFA category 3 stadium. This would include extensions and alterations to the existing stands, new electronic turnstiles, new playing pitch, new floodlighting to category 3 standard and new car parking for VIPs/staff. This would increase capacity from 3,694 to 4,519 but would leave both ends of the pitch open.
Option 3
Upgrade stadium to UEFA category 3 plus additional 2250 seater stand to one end only which would increase the capacity from 3,694 to 6,519.
Option 4
Upgrade the stadium to a UEFA category 4 Stadium, this would include two new stands at either end of the pitch, alterations to existing stands, new electronic turnstiles, new playing pitch, new floodlighting to EUFA category 4 and new VIP/staff car parking. This would bring the stadium up to a comparable level to the National Stadium at Windsor Park. This would increase the capacity from 3,694 to 8,005.
Larne FC
Club Chairman Gareth Clements indicated that since the facilities had been bought, £3m has been invested in the ground. The Club has now increased from around 50 -100 people attending a match to 600 season ticket holders and an average attendance of 1,450, which is the 3rd highest attendance in the league.
The Club Chairman also highlighted the ongoing business engagement and community engagement which takes place across the town. They have now 400 young people involved in their Larne Youth set up and two Ladies teams which brings the total weekly participating to 500-600 people in the playing side of the Club.
They have now become the first club in NI to become a dedicated safe space for woman, working in partnership with Woman's Aid and is the first club on on the island of Ireland to deliver a full time education scholarship programme giving students the foundation to train full-time while studying a BTEC in Sport in collaboration with Larne High School and LLS. Currently in the first year of this course with a cohort of 24 students enrolled, next year a second cohort of 24 students will be enrolled on the two-year course, facilitating 48 students within the Club in a full time playing and learning environment and extending the access to full-time football down from the first team to begin at 16 years of age.
The Club outlined its vision around its objectives as follows: -
Football
Deliver European Qualification
Deliver financial sustainability
Implement an effective player pathway
Facility
To increase capacity to UEFA Category Two
Create a top class sports and community facility that is able to host other sporting groups, clubs, community groups and organisations, and have the capacity to establish key anchor tenants such as small local businesses and social enterprises.
Community Engagement
Deliver a vibrant and engaging community engagement programme, with projects running at Inver Park Stadium all year round.
Create new opportunities and additional pathways in to new areas for as many local people as possible using our facilities as the hub for everyone, ranging from other sports, music, dance, drama, physical activity and business.
The proposed plans include a new main stand with a seated capacity of 2,000 based over three levels, with the ground level for players, middle level for the supporters and community, and the upper level for more modern and welcoming community facilities.
The Club is now at an advanced stage and has submitted their planning application to Council's Planning Services. The Club hopes to obtain planning permission by April 2021. The projected overall cost of the project is £4.7m and in addition the Club sought the possibility of one or two Council representatives becoming involved in its working group to take forward the project and potentially short-term funding around the development of the business cases and economic appraisals.
Carrick Rangers FC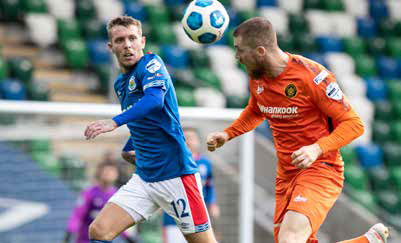 Chairman of Carrick Rangers Peter Clarke initially gave an overview of the extensive community outreach that the Club is involved in, which includes a 500-strong Youth Academy, Ladies Football, Disability Football and extensive community outreach. The Club also secured funding from PCSP to undertake twilight soccer, which had an impact on antisocial behaviour in the town. Given the very tragic recent circumstances of one of their players, who lost their life by suicide, Carrick have a significant focus on mental health and wellbeing within their players, club and supporters.
The overall cost of the planned work at Taylors Avenue was presented at £7m, however, there was an indication that this could be reduced to £5.5m through economies of scale in terms of capital delivery.
The overall plan for Taylors Avenue would help to increase the capacity of the ground from 2,088 to 3,000.