Carrickfergus Landings: Conquest & Commerce

Carrickfergus has been a landing point for the last millennia, and of course one of the most infamous landings is that of King William III.
While the current harbour of Carrickfergus is predominantly home to small fishing vessels and pleasure cruisers, it was once a hive of activity, and a focal trading point for, not only the province of Ulster, but Ireland as a whole.
This stretches from the legends associated with King Fergus, to the arrival of John De Courcy, to the industrial revolution and the distinctive coal ships of Legg and then Kelly.
During the medieval period, the Town of Carrickfergus had strong links with Spain, Italy and Germany, not to mention closer neighbours such as Scotland and England. Carrickfergus was the premier town in Ulster, greatly overshadowing the village of Belfast further along the lough shore. Harbour records and excavations continue to compliment each other in supporting this claim: many of the high-quality items uncovered are currently on display in the permanent gallery of the museum.
The 'Landings' exhibition with the highly detailed models of the HMY Mary and Henrietta and ship's figurehead affectionately named Betty after the schooner on which she may originally have been mounted.
The exhibition is a permanent addition to the Community Archive, providing an overview of this fascinating aspect of our shared history, and also includes the two beautifully hand crafted models of HMY Mary and HMY Henrietta associated with the arrival of King William III. Not only are we one of only two museums in the UK to have such models, but we are also privileged to have on display a salvaged ship's figure head, who appears to have belonged to the schooner Betty. The Betty was wrecked at Fisherman's Quay, Carrickfergus, on the 27 May 1897 on a routine sailing from Maryport.
'Landings' was launched on the 12 September 2019, officially opened by the Mayor, Councillor Maureen Morrow, with Werner Geyer, the model maker, as a special guest.
During the evening of talks which followed, Dr David Hume looked at the many 'landings' Carrickfergus has witnessed: sorting through the myths and legends to uncover the sometimes hidden facts or strained relationships.
Helen Rankin then explored the natural harbour of Carrickfergus and how it was exploited to maximise trade. Despite the fact the harbour is no longer exclusively used for trade or ship building, the presentation put the harbour back in the heart of the town, an inspiration for future regeneration!
If you would like to access our Harbour Records for research purposes, please see our contact details below.
A special mention should also be given to the Irish Walled Town Network, part of the Heritage Council. Without their funding support this exhibition would not have been possible.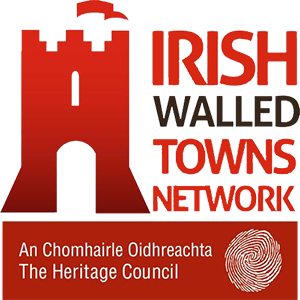 T: 028 9335 8241
​E: carrickfergusmuseums@midandeastantrim.gov.uk