Carrickfergus Old Town Records 1600-1800

A valuable digital resource freely available to researchers.
Carrickfergus Museum holds a number of archival records that can be of use to the family historian.
The town records are an invaluable historical resource for any researcher and having become artefacts in their own right. They possess a fascinating insight into development of the town.
This example was transcribed in 19th century and contains leases for property and land dating from the early 1600s through to the 1800s. They are a unique resource, allowing us to trace the history of land ownership, building ownership and industry over a period of nearly 400 years.
Family surnames such as Dobbin, Dalway, Faith, Bell and Davys are well represented in these records, and Sir Arthur Chichester is mentioned several times. In the 19th century, references to industrial companies such as Carrickfergus and Larne Railway and Belfast Water Commissioners, start to appear. These additions reflect the growth of the town and the need for modern amenities such as transport and an improved water supply. Developments on the maritime sea-border of Carrickfergus are recorded too, for example, Paul Rodger's Shipbuilding yard has a record dated 1878.
We are delighted to be able to present this rare archive to the public in a free and accessible format. The contents are available to view as a flipbook, showing the beautiful script of this record. Sections relating to the leases have also been transcribed into typed text within a downloadable excel file, which will allow users to search for family names and property addresses in Carrickfergus.
The records can be accessed and used in different formats :
A searchable electronic Flip Book: this contains the complete archive of approximately 375 pages.
Three excel spreadsheets hold records of land and property records from the original archive. This is a full transciption of all recorded enteries in typeface, which identifies individual digitised records by name, date and catalogue numbers from the original hand-written archive. Please note that Rentals and Fee Farm Grants are held in the same spreadsheet file.
Name of Spreadsheet

Pages in Archive

Contents

Page 137 to 326

Extracts from Expired Leases of Land and Property

Page 300 to 305

Land :Tenant, Acerages and Rents

Page 327 to 362
+
Pages 363 to 368

Property : Tenant, Situation, Rent and Leesees
+
Property : Grantees, Situation and Owners
How to use
You can read the digitised version of original document, here online, below. This document can be searched by using the built in search function by clicking on the small magnifying glass at the bottom (or by simply pressing Ctrl + F on your keyboard) and entering text into the search bar.
To search the records:
download the spreadsheet of the records (at the bottom of this page) which also include transcripts from the original document
use your spreadsheet viewer's programme to search for key words or phrases
each entry has a corresponding image(s) with a clickable link to view that page on our Flickr album.
The digitisation of the Old Town Records has been made possible thanks to funding from the National Lottery Heritage Fund and Council, through the Carrickfergus Townscape Heritage Initative. We are grateful to the Centre for Data Digisitation and Analysis, Queen's University Belfast, for their expertise in digitising and presenting this document, which is held in the care of Carrickfergus Museum.

Other resources:
1821 Map: this will allows viewers see, and to cross-refer to the location of the addresses which appear in the records. The layout of the streets in the centre of Carrickfergus has changed a little from the Medieval period to the present day. We are grateful to PRONI for permssion to use this map on these pages (PRONI Ref: D1954/6/13).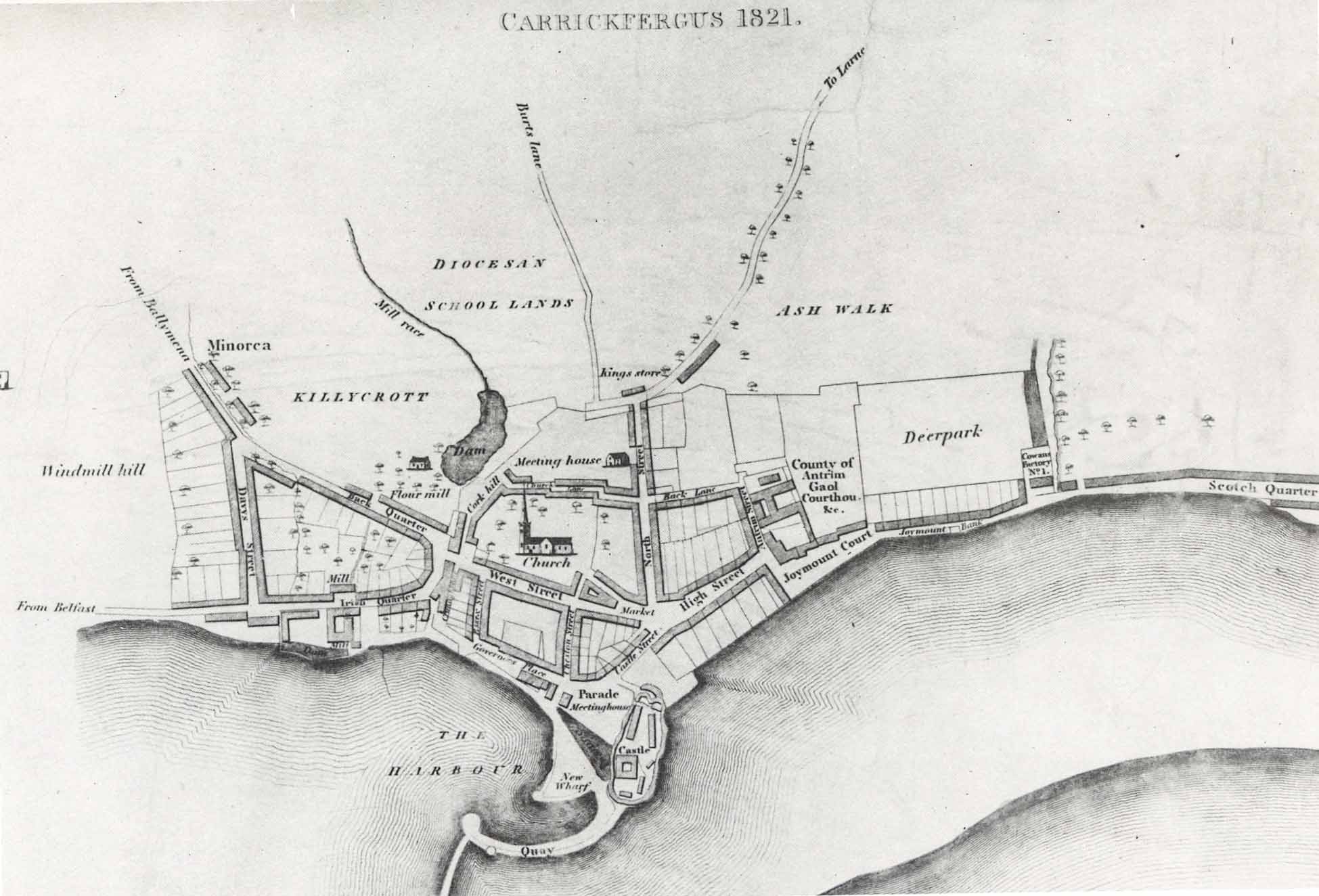 [You can click on the map to enlarge the image]