Touring Caravan Park and Camp Site

From Monday 8 January until Friday 25 March and during weekdays in October and November 2018 Larne Visitor Information Centre staff will carry out bookings in person or by telephone on T: 028 2826 2495.
From Saturday 26 March to Sunday 30 September and during weekends in October and November 2018 bookings are carried out in person or by phone by Carnfunnock Visitor Centre staff on T: 028 2826 2471.
You can view the exact booking arrangements for the 2018 season online.
Opening Hours:
Touring Caravan / Motor Home Season: Friday 16 March – Sunday 25 November 2018 (Only open at weekends Fri/Sat/Sun throughout November)
Tent Season: Wednesday 4 April – Sunday 30 September 2018 (weather permitting and subject to ground conditions.)
Check in after 1pm – departure by 12 noon.
Please note:
All campers must check in and register at the Visitor Centre or with the Park Warden before entering the site.
Prior to booking a pitch please view the details of the 2018 booking arrangements.
Caravan Park Layout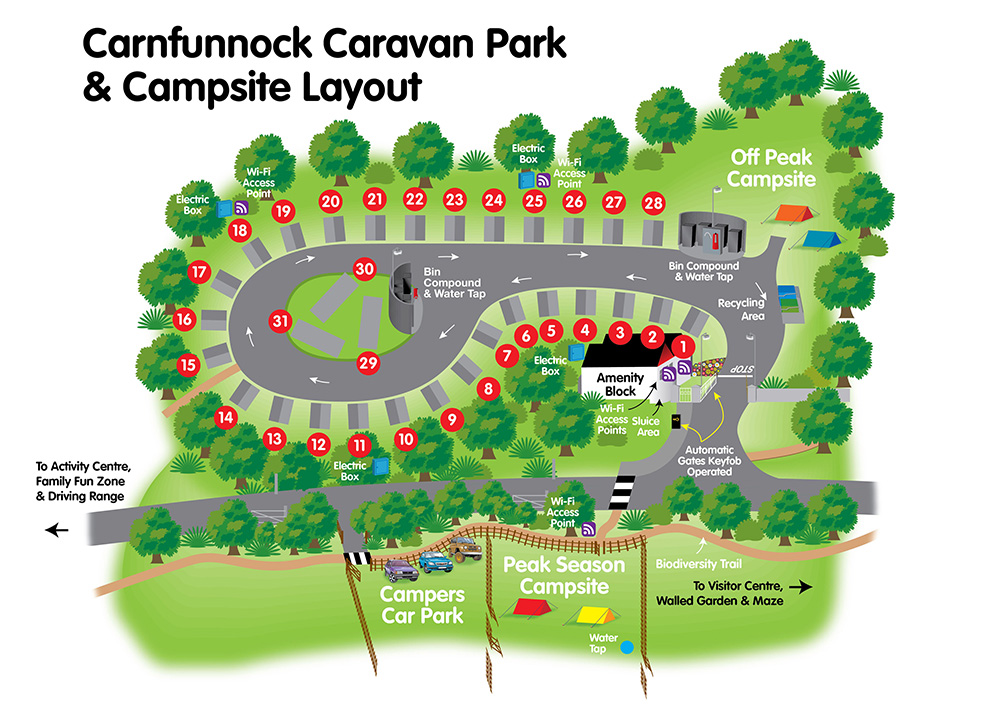 Please note:
At the time of booking caravanners may select their preferred pitch, subject to availability and their specified requirements. This is non-changeable.
Please see booking conditions for further details. A PDF version of this map can be downloaded below.