Almost 700 vacancies up for grabs at Mid and East Antrim Job Fair
Friday 3 May 2019
Mid and East Antrim Borough Council and the Department for Communities are hosting a free job fair at The Braid in Ballymena on Tuesday 14 May.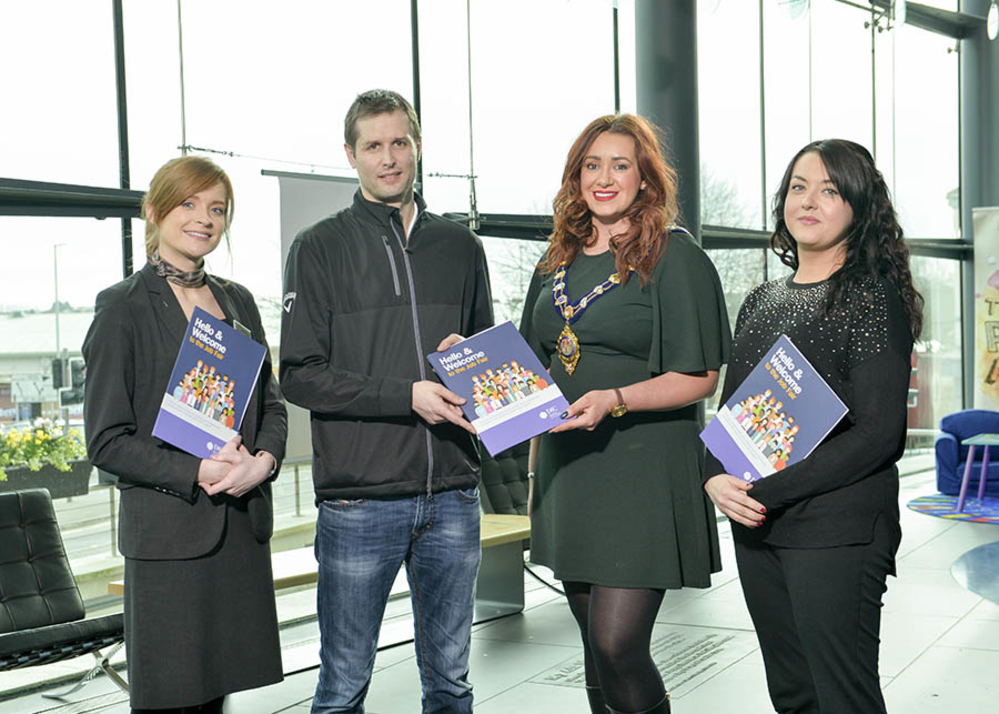 The event will run from 11am to 4pm and will see more than 30 employers attend from a range of sectors, including industry, care, engineering, hospitality and construction, as well as support organisations and apprenticeship providers.
The firms will be on hand to answer questions and discuss training and employment opportunities.
Up to 700 vacancies and 140 apprenticeships will be on offer at the event.
Mayor of Mid and East Antrim Borough Council, Councillor Lindsay Millar, said: "Growing the economy is one of council's key priorities, so what better way to do that than getting key employers from key sectors under one roof to bring those opportunities to everyone in the borough.
"We're committed to helping optimise economic outcomes for businesses across the borough, and increasing employment."
Council Chief Executive Anne Donaghy said: "Through partnership initiatives like this with the Department for Communities, we will ensure that employees, businesses and entrepreneurs continue to get the support they need to succeed. Council officers will be in attendance to advise local businesses on the range of enterprise supports provided under Amplify; the integrated economic development strategy for Mid and East Antrim."
Nick Agnew from the Department for Communities said: "We are delighted to be working with Mid and East Antrim Borough Council to deliver this job fair.
"This initiative is an excellent opportunity to make connections, get advice, and apply for real employment opportunities. It promotes the spirit of the 'Local Works!' agenda, which aims to bring together local stakeholders to work in close partnership to deliver recruitment initiatives, tailored to local needs."
Rachel Doherty from GES Group, one of the employers attending the job fair, said: "We're delighted to be taking part in this event to promote the employment opportunities available within the company.
"Applications for our 2019 Apprentice Programme will be available at the event, and we also have a range of engineering vacancies. We encourage everyone to engage with the local employers in attendance and to make the most of this opportunity."
Aiming to offer those seeking employment the opportunity to meet a range of prospective employers and apply for work, it is a chance to enhance your employability and learn about the types of jobs that are currently available.
Colin Johnston from Galgorm Spa and Golf Resort, another of the employers who will be present, said: "As one of the largest employers within the local area we are delighted to be attending this event to showcase various opportunities we have on offer.
"If you're someone wishing to pursue a career in hospitality and learn all aspects of the industry alongside our experienced management team, Galgorm Spa and Golf Resort is the perfect place to gain this comprehensive grounding."
A range of support organisations will also be present to provide advice and guidance on training and employment programmes currently available for anyone seeking to upskill or retrain.
A bus will be leaving Carrickfergus Leisure Centre at 10am and travelling to The Braid, returning at 12.30pm, on 14 May.
Another journey leaves Carrickfergus at 1.45pm to The Braid, with the return departing Ballymena at 4pm.
Boosting the number of sustainable jobs in Mid and East Antrim is a key priority for council and its partners in the public, private and voluntary sectors, as set out in the borough's Community Plan, Putting People First.
The plan focuses on improving the wellbeing of citizens and all aspects of life in the borough over the next 15 years.
For more information and to keep up to date you can go to MEA Job Fair.