Mayor meets inspirational fundraising volunteer Maggie McMillan
Monday 6 March 2023
Mayor of Mid and East Antrim, Alderman Noel Williams, recently welcomed inspirational fundraising volunteer, Maggie McMillan, to his Parlour to thank her for all of her exceptional achievements - raising thousands of pounds for good causes.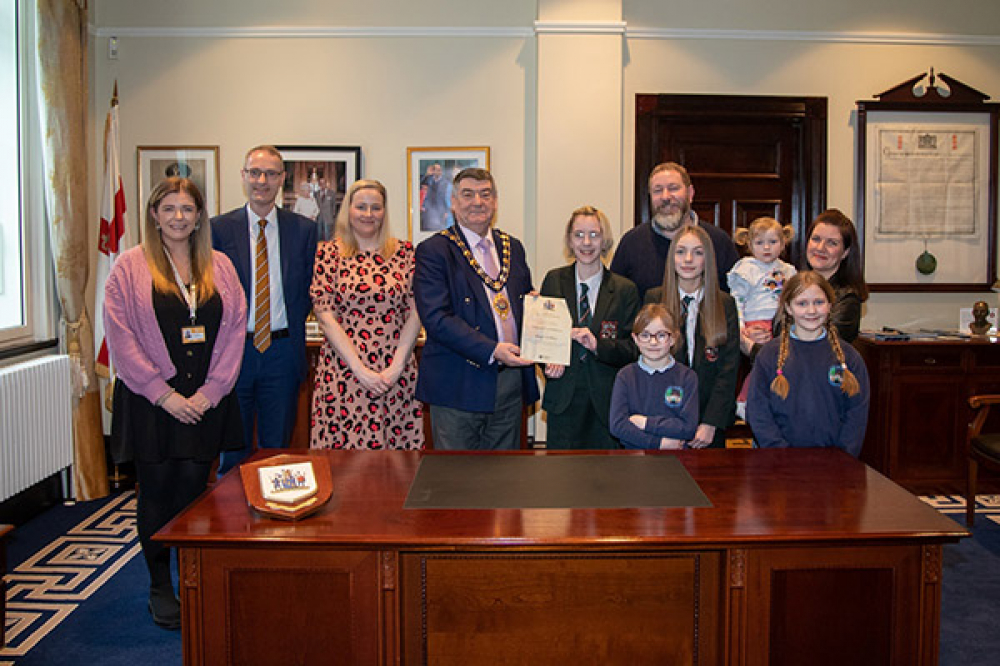 Maggie, who attends Cambridge House Grammar School, Ballymena, was nominated to meet the Mayor by her Year 11 teacher, Gina Beattie.
Despite Maggie's own health issues (she was diagnosed with a brain tumour in 2019) she has raised tens of thousands of pounds for a range of vital organisations and charities.
From raising £12,000 from Lap of Lough Neigh (despite being mid-treatment and helping organise the event) to supporting her neighbours with a 'tractor dyno day' which raised an incredible £24,000 – she has been at the forefront of fundraising activities for the past few years.
Maggie is also part of the Youth Advisory Group where she helped to organise and set up the event 'mile in my shoes' which was held in Antrim Castle Gardens and was attended by a large number of people – raising over £5,000.
Mayor of Mid and East Antrim, Alderman Noel Williams, said: "Maggie, you are truly an unsung hero who brings light to the lives of people in Mid and East Antrim. Your commitment and determination to extend a helping hand to those in need, or those less fortunate, should be a lesson to us all.
"Thank you for all you do and I hope to hear you singing in in the Cancer Fund for Children Choir in the very near future."
Teacher Gina Beattie from Cambridge House Grammar School, added: "Maggie is one of the most modest and humble individuals - she is a true Cambridge House girl. I am so very proud of her and in awe of her selfless nature and her continuous drive to help others despite her own struggles."