Mid & East Antrim companies embrace Smart Manufacturing
Monday 31 October 2022
Sixteen companies from the Mid and East Antrim Manufacturing Task Force (MTF) came together for a workshop on the Smart Manufacturing Data Hub (SMDH), a programme designed to assist manufacturing businesses adopt new data-driven technologies.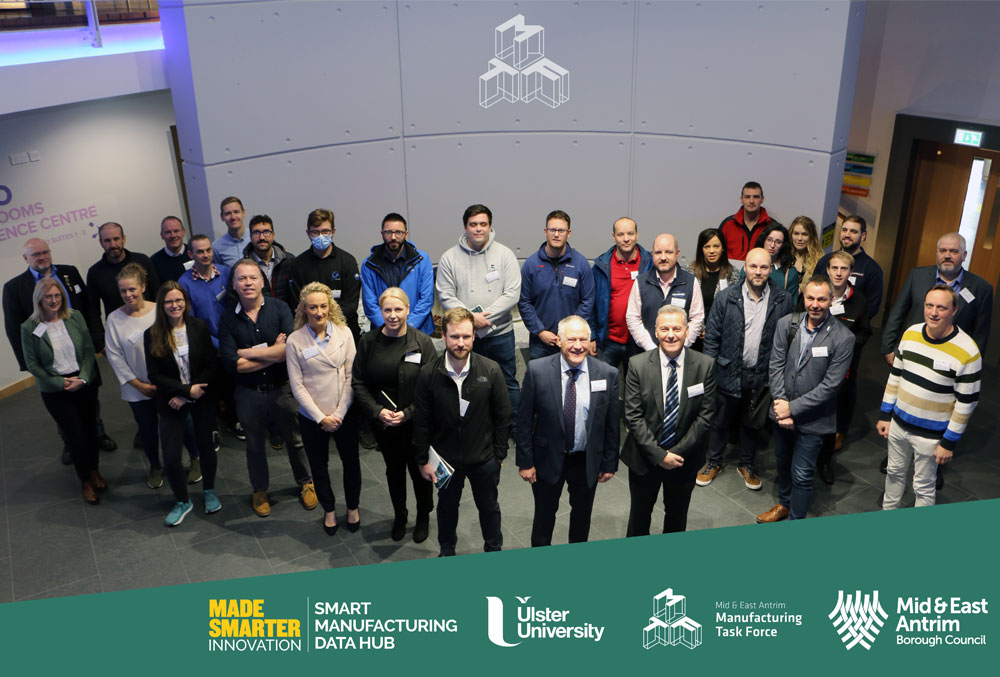 The manufacturing businesses in attendance were from across a range of sectors including food, aerospace, construction, transport and many more, all with a shared interest in digitalisation and availing of support to develop, test and adopt the latest data-driven technologies. Led by Ulster University, the Smart Manufacturing Data Hub is set to boost the productivity and competitiveness of UK manufacturers. This initiative will support businesses with an online manufacturing data exchange platform that will enable companies to submit their manufacturing data and receive recommendations. In return, the platform can help businesses to improve their products and processes. The SMDH will also provide manufacturers with expert analysis of their emissions and energy data from support staff specialising in data analytics and engineering, which will help them target reductions in waste, and energy use and ultimately improve sustainability.
Justin Quinn, University of Ulster commented:
"I'm really excited to link with the MTF to be able to play a part in building and delivering the Smart Manufacturing Data Hub in Mid and East Antrim, an area with a strong heritage in manufacturing and engineering. He added, "from my experience I believe SMDH will be a valuable hub and resource for supporting businesses in this area address their challenges through digitalisation and realising the power of shared data."
Graham Whitehurst, Chair of the MTF said "Our current focus is on Skills, Cleantech and Digitalisation, as this sector embraces the digital manufacturing revolution, it is vital that the manufacturers in Mid and East Antrim Borough Council capitalise on the productivity and growth gains that come with the adopting the latest data-led digital technologies". He added, "The Smart Manufacturing Data Hub will help support MTF companies on their journey to implement cutting edge production and process techniques themselves, helping bring the next generation of products to our shelves in a more efficient and sustainable way."
The Smart Manufacturing Data Hub is funded by UKRI and nearly 10,000 manufacturers are expected to benefit from the hub 13,000 jobs will be supported, helping to boost economic growth and level up regions across the UK. The hub will be backed by £20 million of government funds and £30 million of business co-investment. Companies who work with the Smart Manufacturing Data Hub, are eligible to apply for up to £50,000 grant funding available on a match fund basis, to allow for further development of digital technology in their factory. The SMDH team will work with businesses to develop a digital roadmap for long-term success and access funding to support this.
If you are interested in finding out more in relation to the MTF visit investmea.com or email: invest@midandeastantrim.gov.uk