Weekend of Coronation celebrations across the Borough!
Tuesday 9 May 2023
It was a fantastic weekend of celebrations across Mid and East Antrim to mark the Coronation of His Majesty The King and Her Majesty The Queen.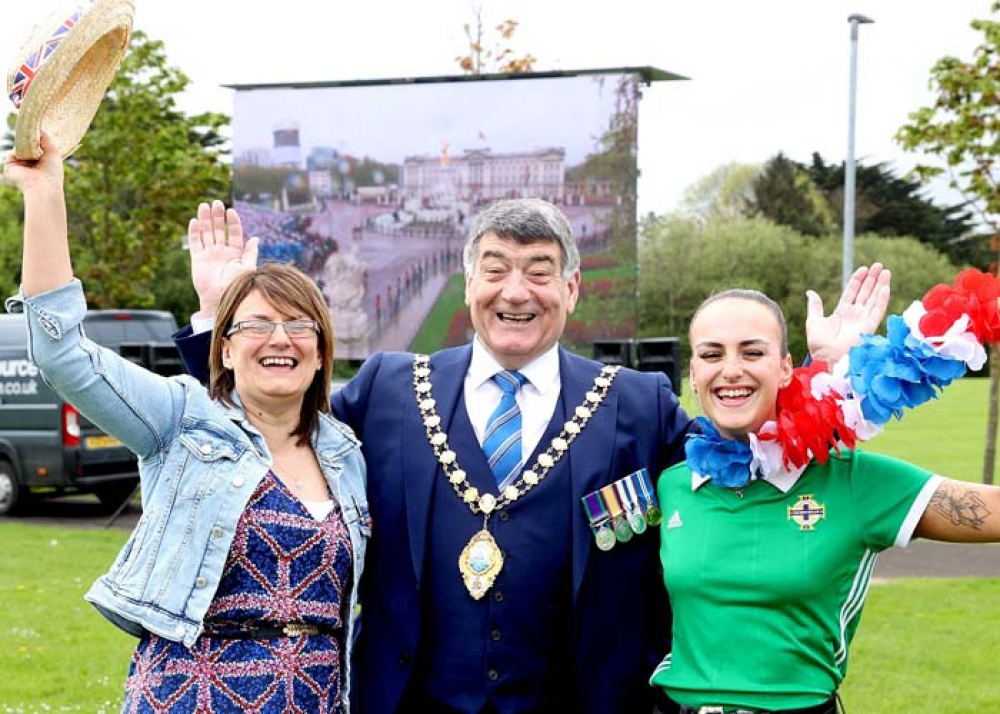 Mid and East Antrim Borough Council put on a host of fun-filled family activities in Ballymena, Carrickfergus and Larne to celebrate this momentous occasion.
There were big-screen broadcasts of the Coronation in People's Park Ballymena, Marine Gardens in Carrickfergus and Town Park in Larne. Locals pulled up their seats and delved into their delicious picnics while watching this amazing moment in history on the large screens.
This was accompanied by a wide range of fun-filled family activities taking place throughout the day including arts and crafts, face painting, balloon modelling, circus skills workshops, inflatables, bungee jumping, dance activities, laser tag and kids shows.
Locals, and visitors alike, had the chance to take in the beautiful Royal Coronation floral displays in Ballymena (Link Road, Church Street), Carrickfergus (near the Castle in Marine Gardens) and Larne (Town Park & Millbrook roundabout on the A8). The floral selections were specifically chosen to mirror the official emblem and feature Red Dahlia, White Argyranthemum and Blue Aubrieta.
On Sunday, St Patrick's Church in Ballymena was the location for an afternoon 'Coronation Community Service'. Organised by Council in partnership with local churches; the Service welcomed members of all denominations in celebration of the remarkable event.
Mayor of Mid and East Antrim, Alderman Noel Williams, said:
"What a special weekend it has been celebrating this wonderful event. The Coronation of His Majesty The King and Her Majesty The Queen was a truly historic occasion that we will never forget, and I am delighted so many people, of all ages, across the entire Borough joined in our celebrations.
"I was delighted to be present in Town Park, Larne, and also at the Marine Gardens Carrickfergus, whilst Deputy Mayor, Beth Adger MBE, represented Council in Ballymena.
"The 'Big Screens' were a real success showing the crowns, carriages, servicemen and women, and of course their Majesties in superb detail and splendor.
"I would like to thank our splendid staff for making all of these local events possible, but most of all, our wonderful citizens, and their families of all ages, for making these events so memorable".
Check out the pictures from the weekend on Council's Facebook and Twitter pages!
And don't forget, parents with babies born in 2023, who are residents of Mid and East Antrim, can apply for a special Commemorative Certificate, in honour of the King and Queens Coronation.

Parents wishing to avail of a memento for their baby will have the specially designed certificates sent to them for their little one by applying online on our Coronation Baby Certificate page.