Another chance to step back in time during Industrial Heritage Month
Monday 13 May 2019
Glenarm and Carnlough took a step back in time over the May bank holiday with dramatic performances that illustrated what life was like almost 200 years go.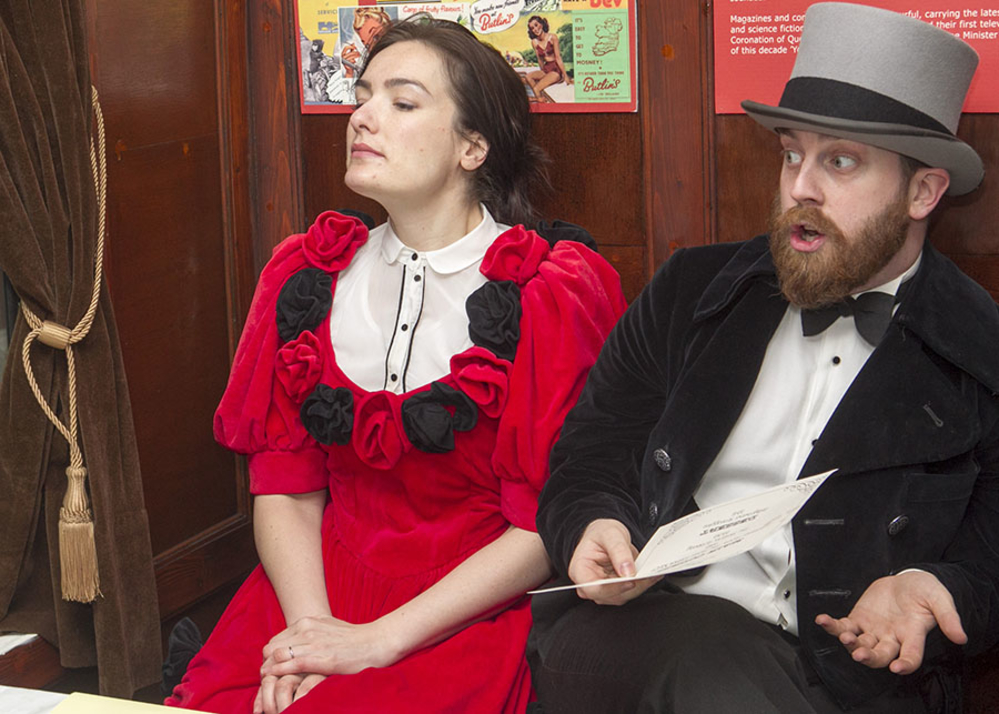 With the help of Big Telly Theatre Company audience members were encouraged to take on a hands on role in this participative theatre event, where they experienced the work and the vast changes to rural life during the industrial revolution.
But don't worry if you missed the performances as you will have another opportunity on May 24 and 25.
This time the event will be held at Whitehead Railway Museum where you can experience the workings of the station all from the comfort of a dining cart.
The final set of performances will take place at Flame! Gasworks Museum, Carrickfergus on the May 31 and June 1-2 where you will get a unique insight into the working life of a gas-worker with the added bonus of some traditional music.
Booking is essential and tickets can be purchased on Eventbrite for free, just search 'Shaped by Industry', however, there is an entry fee at Whitehead Railway Museum.
If you have time to spare after the performance make sure to visit the wonderful eateries and stunning architecture in Whitehead and Carrickfergus.
During May 24 and 25 why not pop into the Bank House Café where you will be treated to a special pudding and pate board, themed around the performances at Whitehead Railway Museum.
Also in Whitehead The Lighthouse Bistro, Carmel's Sweet Shop and The Old Tea Rooms will also be offering special offers, throughout the weekend.
Likewise, from the 31 May to 2 June the Dobbins Inn will also be offering bespoke menus and special discounts as well as showcasing some unique items from the Flame! Gasworks archive.
This second set of performances for Industrial Heritage Month are a wonderful insight into our rich industrial heritage past and gives us all a great opportunity to celebrate what our ancestors accomplished, during somewhat uncertain times.
Museum and Heritage Manager, Jayne Clarke said: "It was wonderful to see so many people enjoying Mid and East Antrim's rich industrial heritage and getting involved with Big Telly Theatre Company in recreating the past.
"This project is an engaging and exciting way to bring the area's rich industrial heritage to life. It opens up these venues to a new tourism audience as well as offering them a chance to experience the world famous Causeway Coastal Route. These venues sit alongside a coastline that boasts stunning views, fantastic spots to eat and breath-taking walks, so there's plenty for everyone to enjoy as well as these enlightening productions.
"We are thrilled to have received support thanks to the National Lottery players, Tourism NI and the Department for Communities. This funding is a welcome boost as great work has already been done through other projects; including the new Heritage Hub at Carnlough Town Hall and the development of Whitehead Railway Museum.
"This latest initiative proves that this partnership is working and I hope everyone comes along to enjoy these special performances. We are also pleased to be working closely with our project partners, Big Telly Theatre Company and also Carrickfergus Enterprise who are promoting this initiative to our local sector."