Broughshane gets 'chatty'!
Monday 11 September 2023
Mid and East Antrim's Loneliness Network is delighted to launch a 'Chatty Café' and a 'Chatty Bench' in Broughshane.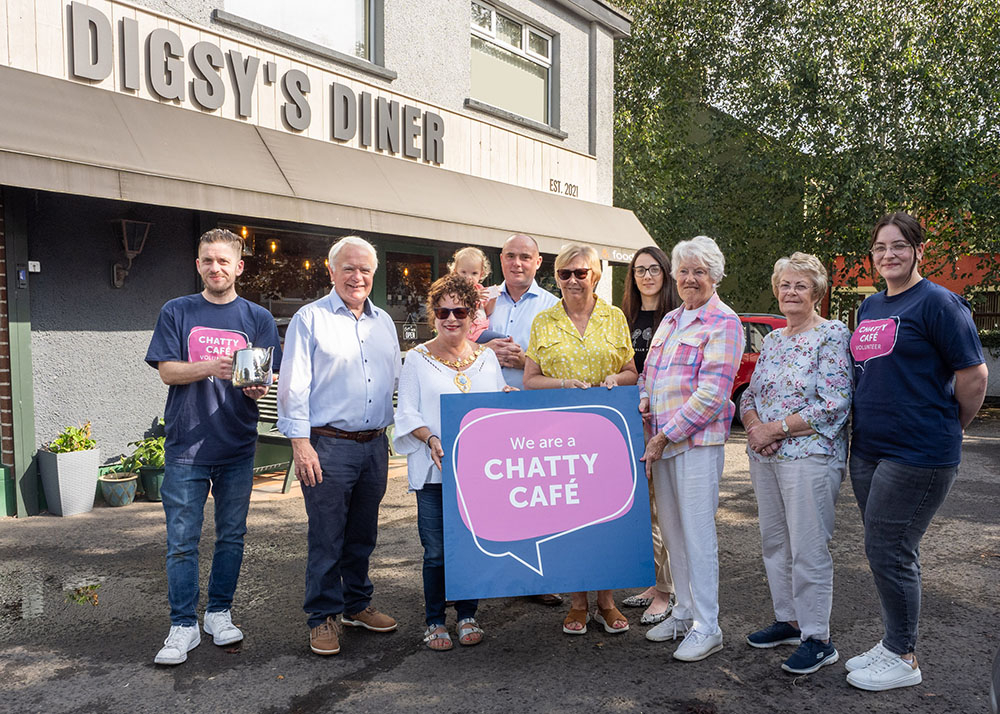 The 'Chatty Café' is Located in Digsy Diner and the 'Chatty Bench' is situated at the Buttermilk Riverside Walk - both in the village of Broughshane. The brightly painted yellow bench has been introduced to provide a place for people to come together to have a chat.
Mayor of Mid and East Antrim, Alderman Gerardine Mulvenna said: "The 'Chatty Café' and 'Chatty Bench' will hopefully encourage local people in Broughshane to connect with each other, have a chat and catch up. Loneliness hasn't gone away following the end of the pandemic lockdown and simple social exchanges can make a big difference to how people feel – it's always good to talk.
"Mid and East Antrim Loneliness Network is to be commended in bringing people together by creating spaces where people are happy to interact with others – helping to tackle loneliness. Whether a student is feeling homesick at University, a grandparent is suffering from loneliness or a new parent is looking for some company beyond that of their new-born - the scheme is open to everybody."
Braid Councillor Alan Barr has also welcomed the launch of the bench and café initiatives in Broughshane. He adds: 'I am pleased to have led on this initiative and delighted to see the bench and café established in the village. Loneliness is not limited to older people within our community. It also affects single parents, young adults and people with a disability. Additionally, loneliness is more prevalent coming into this time of year. I want to thank MEABC's Loneliness Network for organising this initiative. I wish Digsy's Diner well in becoming the first venue in Broughshane to be established as a 'Chatty Café'. I hope that other agencies will become involved and the diner will become a hub as a point of contact for the community to connect with one another and other agencies who can offer support.''
Sabrina Lynn from the Northern Health and Social Care Trust comments: "As society emerged from prolonged periods of pandemic restrictions and lockdowns, the 'Chatty Benches' and 'Chatty Cafes' gave people a pathway to reconnect with society. Both have been effective in bringing people together, tackling loneliness within the community, encouraging stronger relations and building upon an existing positive community ethos."
Mid and East Antrim Loneliness Network Chairperson Marjorie Hawkins said: "A positive conversation can have a huge impact on everyone, especially for those feeling lonely - it can really brighten up your day! Many people can go a long time - even if they are out of the house all day - without properly interacting with anyone and this is what the 'Chatty Benches' and the 'Chatty Cafes' aims to change. We simply want to increase interactions that combat loneliness and can make a big impact on somebody's day."