Global Entrepreneurship Week 2023
Monday 13 November 2023
Global Entrepreneurship Week 2023 is taking place from 13 to 19 November, and once again, Mid and East Antrim Borough Council has collaborated with local businesses, support organisations and associated stakeholders to offer a weeklong range of events and initiatives aimed at promoting entrepreneurship, encouraging new start-ups, inspiring the local business base, supporting sustainability and nurturing innovation.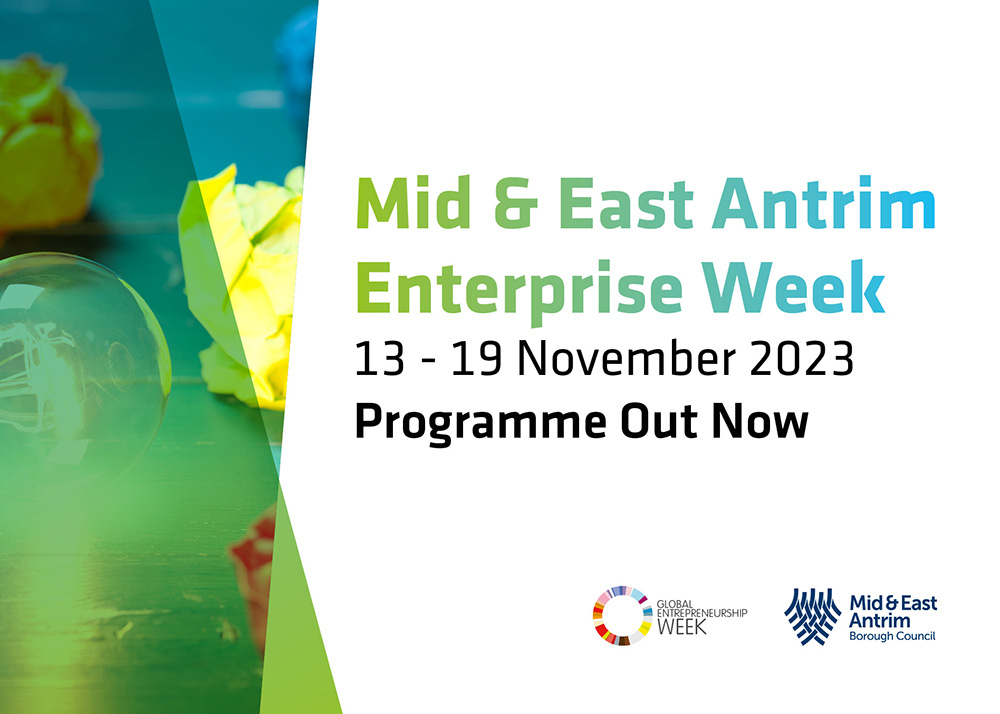 Whether it's tackling cyber security, ensuring products meet the required and essential safety standards, developing a hobby into a business concept or navigating the world of exporting, you can join a range of workshops and webinars to find out the most up to date information relevant to your business.
This year will see the launch of an exciting new NI Enterprise Support Service which will be announced across Northern Ireland during Global Entrepreneurship Week. This new service will provide a set of connected enterprise support services - where individuals, entrepreneurs or businesses can access a continuum of support to meet their needs - aligned with the relevant stage of their business.
Entrepreneurial thinking can start from grassroots level and Council is delighted to welcome the return of 'Boss Baby' sessions for pre-school age children. These sessions will take place at three immersive play locations throughout the Borough.
Council will also be announcing the winners of two exciting Primary School competitions during the week: What's Your Flavour? Ice Cream Competition and the YENI School Challenge Competition.
Mayor of Mid and East Antrim, Alderman Gerardine Mulvenna, said: "Global Entrepreneurship Week inspires millions each year to explore their potential while fostering connections and increasing collaboration to empower entrepreneurs and strengthen communities.
"As Mayor, I see the many wonderful businesses and entrepreneurs we are lucky to have across our Borough. Mid and East Antrim Borough Council is committed to nurturing the abundance of talent it possesses to achieve bigger and better things for business and benefit the economy as a whole. Please join us in our week-long programme of activities, competitions and events."
In addition, there will be networking opportunities throughout the week that will be sure to inspire you and explore the endless possibilities of collaboration.
For a full list of events and to register visit our Global Entrepreneurship Week 2023 page.