Mid and East Antrim Borough Council join Love Food Hate Waste for its third Food Waste Action Week
Thursday 9 March 2023
WRAP's citizen-facing brand, Love Food Hate Waste is running its third annual Food Waste Action Week focusing on the theme of 'Win. Don't Bin' from Monday 6 March until Sunday 12 March 2023.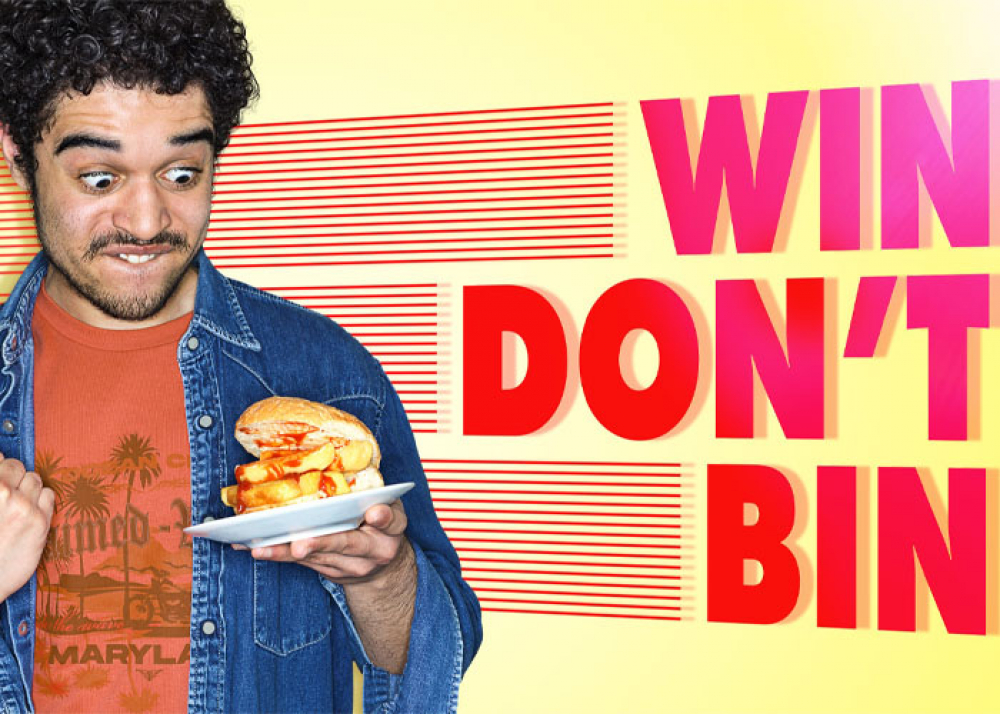 The campaign helps people to make their food go further by demonstrating how making the most of the food they buy and using up all of their leftovers saves time and money.
The campaign will be fronted by celebrity ambassador, Jordan Banjo. New research from Love Food Hate Waste reveals that time-strapped people could get back 2½ days a year by using up uneaten foodi]. Enough to treat ourselves to a weekend away with friends and family or enough time to binge-watch a series of Love Island and still have 'me' time to go to the gym or out for a long walk!
As the UK's largest food waste behaviour change campaign, Food Waste Action Week aims to increase citizens' confidence in making the most of their food by promoting a range of skills that can be easily adopted but potentially have the greatest impact on reducing food waste in the home.
Mayor of Mid and East Antrim, Alderman Noel Williams, said "We are delighted to be involved in the third Food Waste Action Week in partnership with WRAP. We have seen food waste reduction over the last two years and an increase in recycling of unavoidable food waste, which is converted into compost in partnership with Natural World Products, and is used in our own parks and green spaces as a natural soil additive. We too want to encourage our residents to make more sustainable food choices, reduce food waste and lower our carbon footprint."
Jackie Bailey, Love Food Hate Waste campaign manager, said: "In our busy lives, many of us wish we had more time. One simple way around this is to use up those extra portions we often seem to have; a simple solution that could help you get some life back and turn food we've already cooked into a second delicious meal!
For this year's Food Waste Action Week, we're encouraging the nation to follow 'Win. Don't Bin' and highlighting the very real benefits that using up your uneaten food can have on your pockets, your personal time and the planet.
Even more importantly, at a time of rising food prices, tackling food waste at home is one way we can all make a difference - and help save money."
Objectives of Food Waste Action Week:
The third annual FWAW will build on the success of last year's campaign which was supported by 80 organisations across 12 countries. The campaign reached over eight million people in the UK, with 55% of them saying they did something about food waste as a result.
Focusing on the theme of 'Win. Don't Bin', the 2023 campaign will demonstrate how valuable food is in our lives, and how using up everything we buy can save us money and time.
How will the campaign help people reduce their food waste?
WRAP estimates that 1.1 million tonnes of food are wasted every year from UK homes because of preparing, cooking, or serving too much.
That's one-quarter of all food wasted for this reason, costing people £3.5 billion. Increasing people's skills around using up leftovers will have a significant impact on reducing food waste from UK households at a key point in the journey of food through the home – just before it ends up in the bin.
These skills involve putting leftovers in an appropriate container, labelling and storing in the fridge or freezer and then re-heating or eating cold at a later stage. WRAP's research* has shown that many people lack confidence in this area so LFHW wants to support citizens to try to increase confidence in these areas.
Why is reducing our food waste important?
Research estimates that wasting food costs the average UK family more than £700 a year.
We throw away 6.6 million tonnes of household food waste a year in the UK. This food waste is responsible for nearly 25 million tonnes of CO2 emissions, equivalent to 5.4% of the UK's territorial emissions.
The majority, 4.5 million tonnes is food that could have been eaten and is worth approximately £14 billion (or £60 a month for an average family with two children).
---
[1] This statistic is taken from nationally representative OnePoll survey of 2,000 UK adults undertaken on behalf of WRAP, 15-17 February 2023.