PEACE IV Party in The Park Event takes place in People's Park, Ballymena
Wednesday 31 October 2018
A community arts event to promote shared space and participation in peace and reconciliation has taken place in the People's Park in Ballymena today. This project is part of Mid and East Antrim Borough Council's 'Local Authority Action Plan', which is funded by the European Union's PEACE IV Programme, and managed by the Special EU Programmes Body (SEUPB).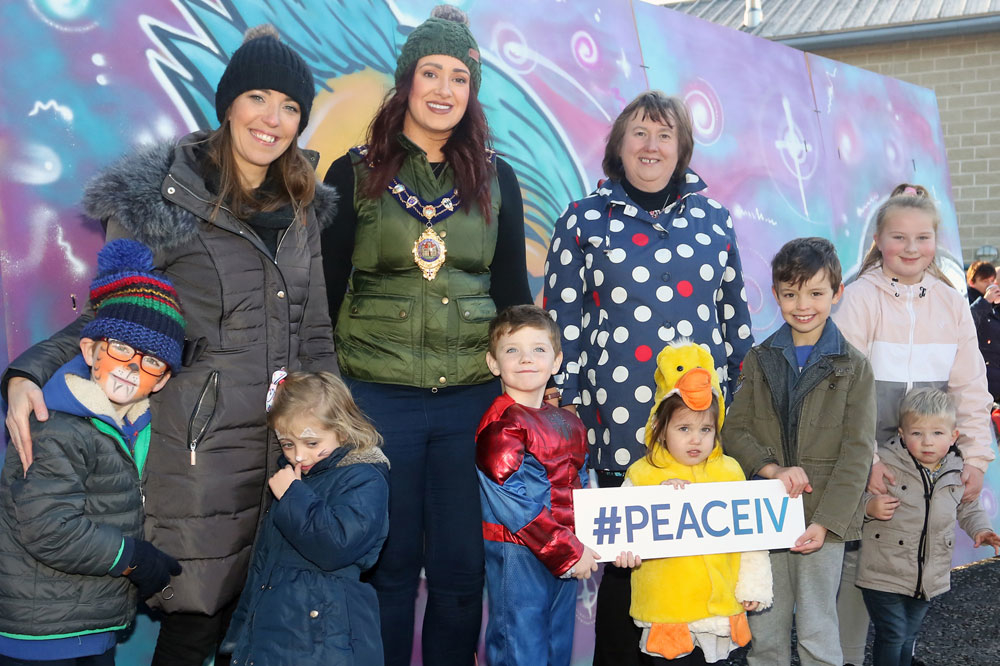 The event brought together arts and community organisations including Ballymena Chamber Choir and Orchestra, Ballymena Dance Academy and Seven Towers Irish Dancing. There was also be a live street art demonstration by a number of street artists including renowned Belfast-based street artist EMIC, who has recently visited Columbia as part of a British Council initiative to discuss the role of street art in peace building.
Jonathan Hodge, Chief Executive of The Hope Centre said, "It was great to see such a positive mix of people attending the event, as well as the range of the community-arts organisations who participated and contributed to making the event such as success. It was also positive to see high-quality artists and arts organisations at the event including Eoin McGinn (EMIC), Guerrilla Shout, Beat Carnival and the DJ Gleave Dobbin."
Young people from Waveney Youth Club, who had been participating in workshops in the run-up to the event, had a street artwork they created displayed on the day, while participants in other workshops working with different groups at The Hope Centre, including Start 360, performed carnival drumming and live DJ sets. The workshops were delivered by Guerrilla Shout, Beat Carnival and the DJ Gleave Dobbin.
Jonathan continued, "The lead up to the event provided an opportunity for local people to take part in different workshops to develop their skills and to perform at the event or have their work exhibited. This ensured that now the event is over there is a legacy where people will be able to explore a new art form they have learned further and better understand the role of the arts in promoting peace and reconciliation."
For more information on the event please contact The Hope Centre:

T: 028 2563 2726 or email:
E: info@hopeballymena.com