Looking Back to Look Forward Exhibition
The project is firmly based on the Principles for Remembering, aiming to explore, with local communities, the lived experience in Mid and East Antrim from 1921 to the present day to understand how identities have been forged and communal memories created.
This first exhibition will introduce you to a selection of locally significant artefacts from the collections in Ballymena, Carrickfergus and Larne Museums, to highlight how people lived over the last 100 years.
The exhibition's themes will be explored in more depth in a wider exhibition touring to Carrickfergus Museum and Mid-Antrim Museum later this year.
A booklet to mark the Northern Ireland Centenary in Mid and East Antrim will also be produced.

The project has a volunteer strand and a creative initiative to encourage local people to contribute their untold stories and express what living in Mid and East Antrim and Northern Ireland means to them.

Looking Back to Look Forward Virtual Exhibition
Looking Back to Look Forward: Mid and East Antrim 1921 - 2021 is a Northern Ireland Centenary project by Council.
The virtual exhibition explores how over the past 100 years, identities have been forged and communal memories created in the Mid and East Antrim area.
You can see our exhibition at Mid-Antrim Museum, The Braid Ballymena from 22 October 2021 – 29 January 2022.
For enquiries, please T: 028 9335 8241
Women in Politics
The film features five of Council's female Elected Members sharing their motivation to get involved in politics and what is important to them as a Councillor.
Volunteers Film
This film features project community volunteers sharing their motivations for being involved with the project and some of the hidden stories that they have uncovered.

Please click below to go to each section:
WWII
Ballymena
ARP Bell, Mid Antrim Museum Collection
Air Raid Precautions Bell used in Ballymena Town Hall to alert people of an air raid and that they should evacuate immediately to an Air Raid Shelter. Following the April and may bombings in Belfast, around 1,000 evacuees were housed in Ballymena town and another 1,000 in the rural areas.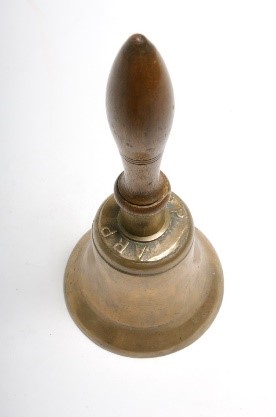 Following an Air Raid Precautions test which assumed that the Town Hall was set on fire by incendiary bombs, firemen pose for a photograph in the sandbagged Minor Hall.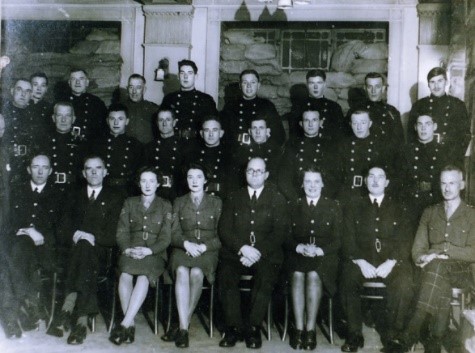 In 1940, Germany with the assistance of Spain, planned to invade and seize control of Gibraltar. Britain decided to evacuate the population of the peninsula and make it into a military fortress. The evacuation took place in July 1940, and many were billeted I the Greater London area. In July 1944, around 6,000 Gibraltarian evacuees were transferred from London to Northern Ireland. Many were accommodated in Nissen hut camps around Ballymena. There were camps at Tawnybrack, Castlegore, Moorfields, Dunaird, Drummuck, Aghnacully, Brekagh Bridge and Corby Bridge.
Larne
Fragments of Parachute Bomb
During WWII, a German parachute bomb was dropped between the Star Bog and the Mullaghsandal Road just before Christmas in 1940. It was assumed that the bomb had been intended for elsewhere and had been dropped off-course.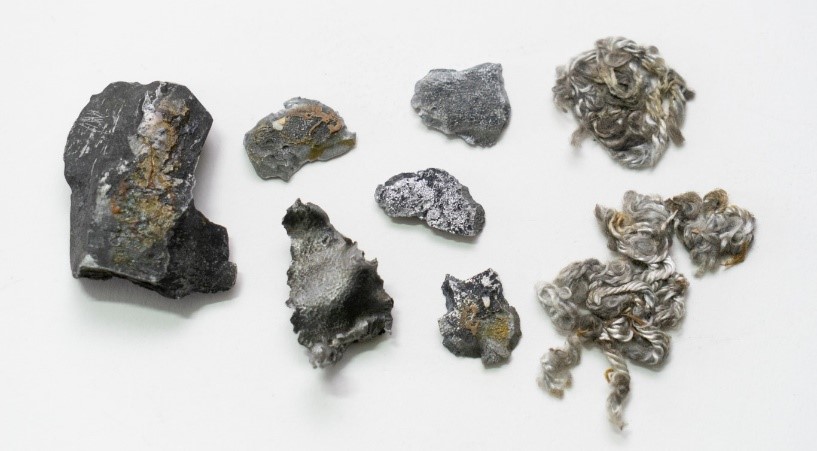 Fragments of German parachute bomb and pieces of parachute.
Larne Museum Collection
Baby's Gas mask
This gas mask was designed to be used for infants up to two years old. They could often be painted in bright colours to make them appear less frightening. A child could be completely enclosed within the mask, and an adult could pump air in using the hand pump.
Gas Mask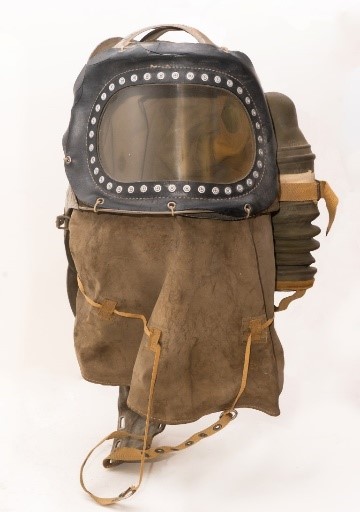 Larne Museum Collection
Stadtplan Von Belfast
Gatow airfield was originally built between 1934 & 1935 by the Luftwaffe to serve as a technical college. It was used by the Luftwaffe throughout World War II until Soviet troops gained control of the airfield at the end of the war. After the division of Berlin the airfield was handed over to British troops and on 25th June 1945, 284 Field Squadron, RAF Regiment arrived at Gatow.
This map of Belfast (Stadtplan Von Belfast) was taken from Germany at the end of World War II when allied forces seized control of Gatow airfield, Berlin, and brought back to Northern Ireland. Targets for bombing attacks are marked in purple & red - indicating infrastructure, industrial areas, government and public buildings.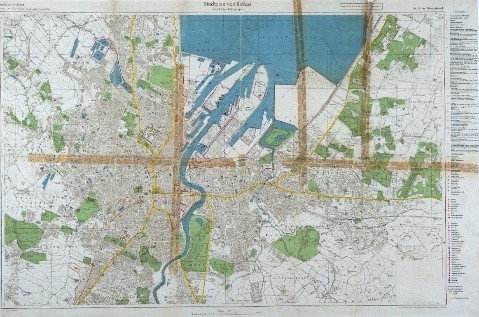 '
Stadtplan Von Belfast'
Larne Museum Collection
First Aid Posts
Nursing and medical skills were vital during wartime and both the British Red Cross and St John Ambulance Brigade operated First Aid posts in Larne. The British Red Cross had a first-aid post at Carnegie Library during that time under Miss Parker and Mrs T Killen, while St John Ambulance were based at Victoria Hall.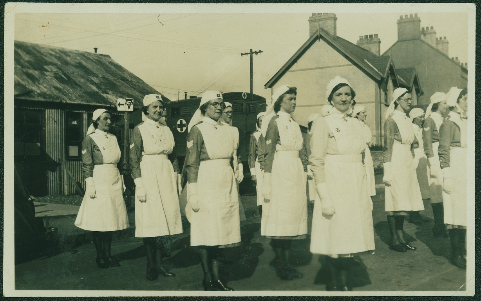 Larne Nursing Division, St John Ambulance, meeting Lady Mountbatten at Larne Harbour, 1st June 1943.
Larne Museum Collection
ARP first aid kit
Air Raid Precautions wardens carried first aid kits which contained the supplies to deal with wounds until an ambulance was available.
Wardens were allocated a specific area and when an alarm sounded, they were responsible for guiding people to air raid shelters. They were also directed to ensure no outside lights were showing and could issue fines to those who broke the blackout rules.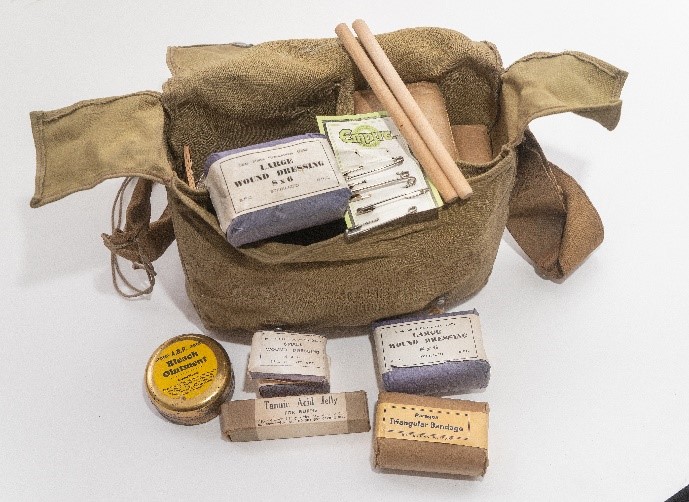 Carrickfergus Museum Collection
Gas mask distribution at Carrickfergus Town Hall
At the outset of the war, Britain believed that the Germans would use chemical warfare to injure soldiers and civilians. The authorities supplied gas masks, or 'respirators', within a cardboard box. Here Red Cross nurses can be seen assisting with the distribution efforts and showing people how to wear them. By September 1939, 38 million gas masks had been issued in Britain.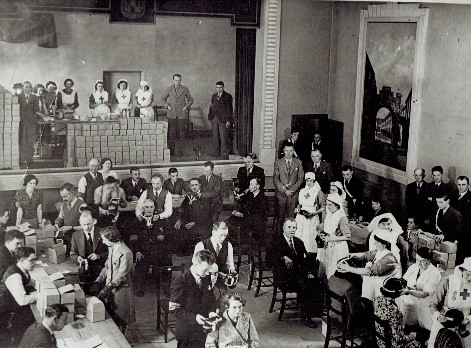 Carrickfergus Museum Collection
Women's Lives
Ballymena
Photograph of Martha Esler who lived with her brother Paul, in a traditional manner on their farm at Moorfields near Ballymena, until the mid 1990s. Their system of mixed farming supplied produce, both for themselves and for sale, including milk, butter, potatoes and meat. The Eslers' used a horse for farm work until the 1960s, at a time when most of their farming neighbours had tractors. In the house Martha used an open peat fire for heat and cooking. Water was brought from an outhouse and clothes washed by hand.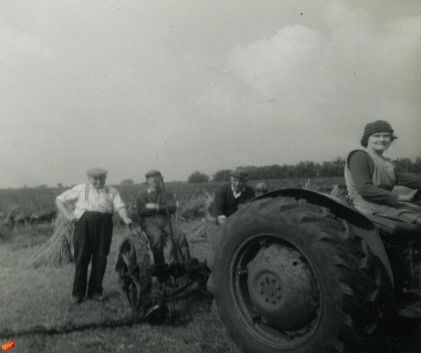 Photograph, Mid Antrim Museum Collection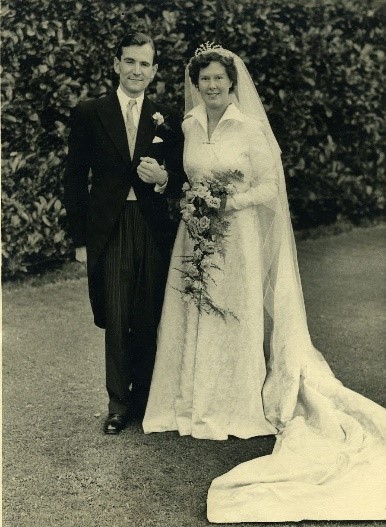 Photograph, Mid Antrim Museum Collection
Wedding Photograph of Rosemary Haughton who married George Clarke in 1952 at Craig's Parish Church, Cullybackey.
The wedding dress was a 'Brands & Norman' satin brocade wedding gown. It was ivory with rose and thistle weave and opera neckline.
The train was originally a court train worn by the bride's mother.
Larne
Elizabeth Martin (nee Hogg) - Royal Navy Mine Watching Service Uniform
The Royal Navy Mine Watching Service was a civilian organisation founded in 1952. The role of the mine watcher was to man designated observation points, along strategic waterways and ports, and report any mines dropped by aircraft. Larne's coastal location meant it was a prime location for mine watching. Elizabeth Martin (née Hogg) joined the R.N.M.W.S. in 1954. The Royal Naval Mine Watching Service was replaced by the Royal Naval Auxiliary Service during the 1970s.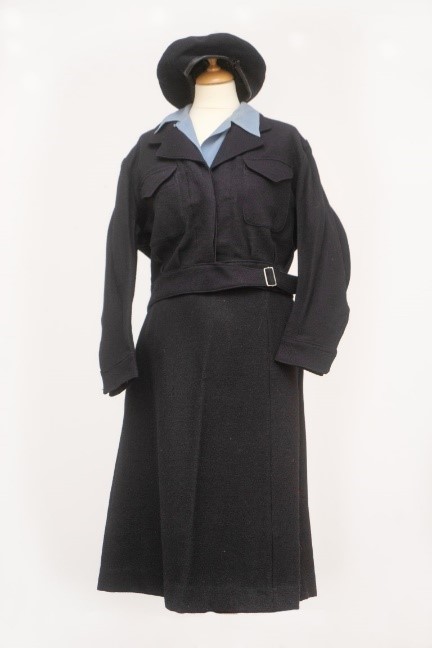 Royal Navy Mine Watching Service Uniform
Larne Museum Collection
Elizabeth Martin in training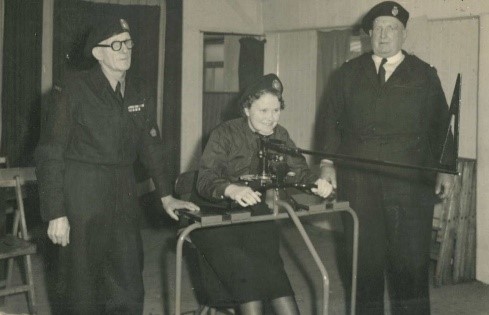 Elizabeth (Betty) Martin is pictured wearing her Royal Navy Mine Watching Service uniform while being trained in the use of mine watching equipment.
Larne Museum Collection
Federation of Women's Institutes
The Federation of Women's Institutes was first formed in Northern Ireland in 1932 to give women a voice and be a force for good in the community. Originally based only in rural areas, there are now over 5000 WI members throughout Northern Ireland, forming 151 Institutes.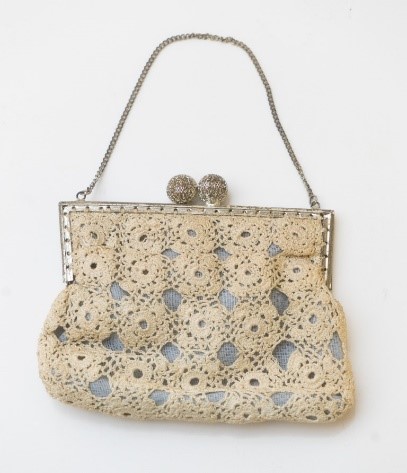 This crocheted evening bag was won as a 1st prize by Mrs Agnes Drummond in 1965 at Gleno WI. Established in 1949, Gleno Women's Institute celebrated its 72nd anniversary this year.
Larne Museum Collection
Carrickfergus
President's Chain of the National Women's Business and Professional Federation of Clubs of Britain and Ireland, 1958

Carrickfergus Museum Collection
Carrickfergus Business and Professional Women's Club was very active in the town from the 1960s. While they attended talks and raised money for charitable activities, one of their main aims was to remove 'sex discrimination in…employment…promotion and for remuneration'.
The local branch was part of a wider federation that sought to raise the standard of women in business across the world.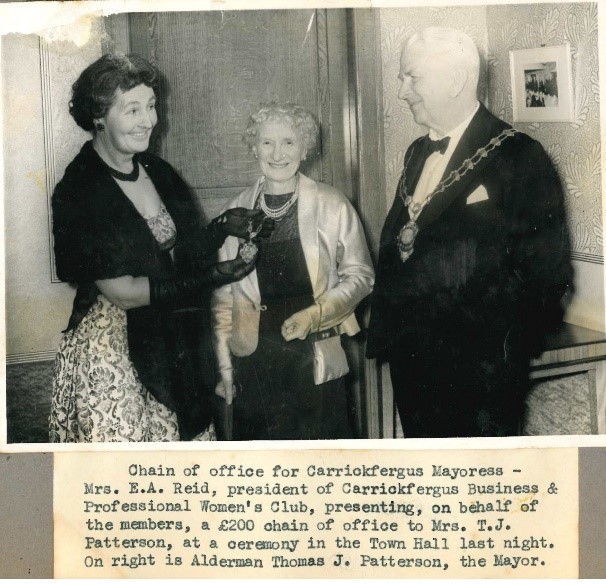 Carrickfergus Museum Collection
The Carrickfergus Business and Professional Womens Club, sponsored the Carrickfergus Borough Council Mayoress' chain. The gift presented on 6th April 1962 and was first worn by Mrs. T.J. Patterson, wife of Carrickfergus's longest serving Mayor.
Popular Culture
Ballymena
The 1960s were a time of dramatic social change, especially for young people. Music was evolving and socially, a freedom of choices became available that hadn't existed before.
Dances, cinema known as 'the pictures', ice-cream parlours, sporting activities and coffee bars were popular pastimes.
The influence of new music styles combined to create the Irish showband scene, which began in the 1950s and lasted right through until the 1980s. At the height of the showband era, there were more than 450 ballrooms employing 10,000 people.
Across the area, new ballrooms sprang up to cater for the demand for the new kinds of music on offer.
The Flamingo Ballroom was one of the most popular places in Ballymena to enjoy live music.
The ballroom was opened in 1960 by local entrepreneur Sammy Barr who, for 20 years, brought the biggest stars of the time to the town.
The venue was also famous for serving hot-dogs, coffee and milkshakes instead of alcohol.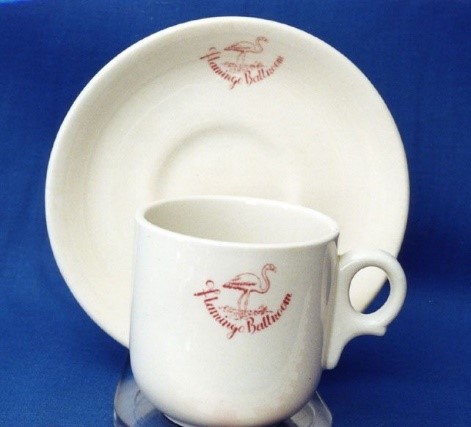 Cup and saucer used at the Flamingo Ballroom
Mid Antrim Museum Collection
The Rolling stones played at the Flamingo Ballroom on 31 July 1964.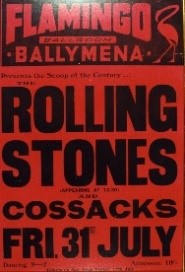 With the arrival of new and large employers to the area from the 1950s onwards, many employees belonged to the diverse number of social clubs that provided a range of interests for them when they were not working. Many of these were run by employees and included darts, football and dancing.
The Braid Water Spinning Company was a major employer in Ballymena for many years. In 1945, a Recreation Club was founded there. It had a highly successful and award winning Irish Dancing Team, Gymnastic Club, Table Tennis Club and an Annual Mill Ball at which a Miss Braid Water was chosen and entered to the Miss Irish Linen contest.
Irish Dancer's cape. Worn by a female member of the Braid Water Recreation Club's Irish Dancing Team.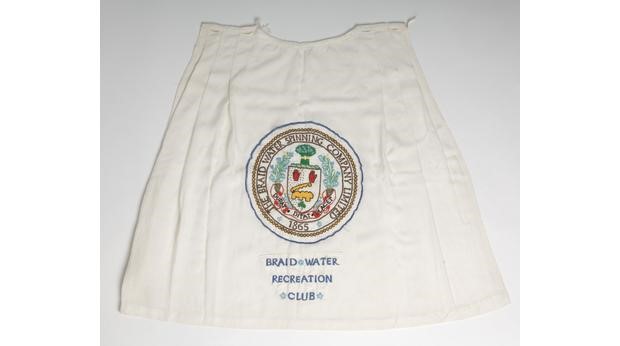 White cape with embroidered coloured roundel in centre, featuring Braid Water crest, Mid Antrim Museum Collection
Larne
Hammered Dulcimer
The hammered dulcimer is a percussion stringed instrument in which the strings are beaten with small hammers.
Considered the expert on the dulcimer, John Rea from Glenarm (1915-1983), was one of Ireland's best-known and most-loved traditional musicians. Although the instrument was common in his youth, Rea came to be one of the few remaining players, becoming Irish dulcimer champion in 1959 and recording a number of albums including 'Traditional Music on the Hammer Dulcimer' in 1977. Larne Museum's archives hold recordings of Mr Rea playing the dulcimer.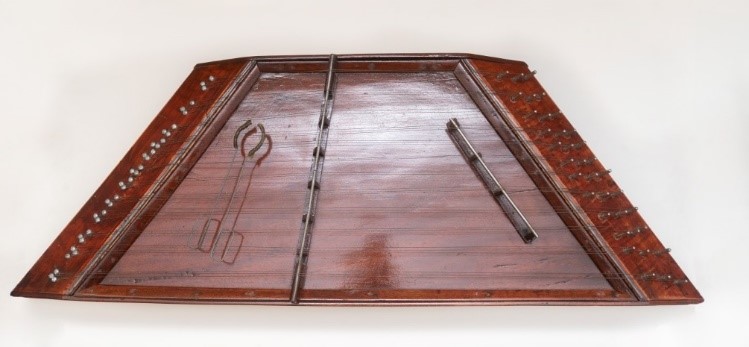 This dulcimer, found at a house during restoration work, was restored by Mr Magee and the P7 pupils of Larne & Inver Primary School. Lammers were added.
Larne Museum Collection
Larne & District Folklore Society Concert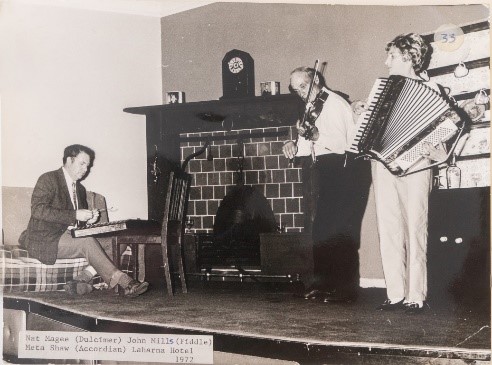 This photograph shows Nat Magee playing the dulcimer at a Larne & District Folklore Society concert in the Laharna Hotel in May 1972. Also pictured are John Mills (fiddle) and Meta Shaw (accordion).
Larne Museum Collection
Savoy Cinema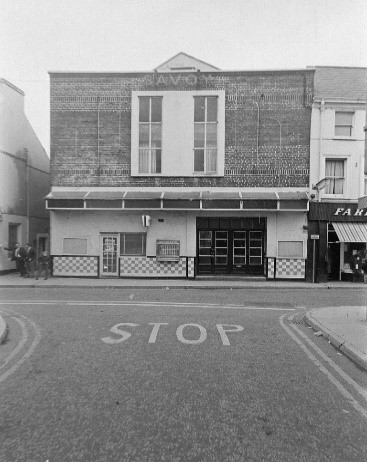 Savoy Cinema – Image by Maurice Glover
Larne Museum Collection
The Savoy Cinema opened with a showing of 'The Hasty Heart' on Monday 12th October 1953, in the premises of a former hardware shop on Cross Street. The owner was Mr Malcom Wilson and the first manager was Mr William Burns who had worked at the Regal as chief projectionist. Internal walls were painted with murals by local artist Sam McLarnon. This building later became a Poundstretcher shop but is now empty.
Carrickfergus
NI International Football Cap, 1963-64, won by Bill McCullough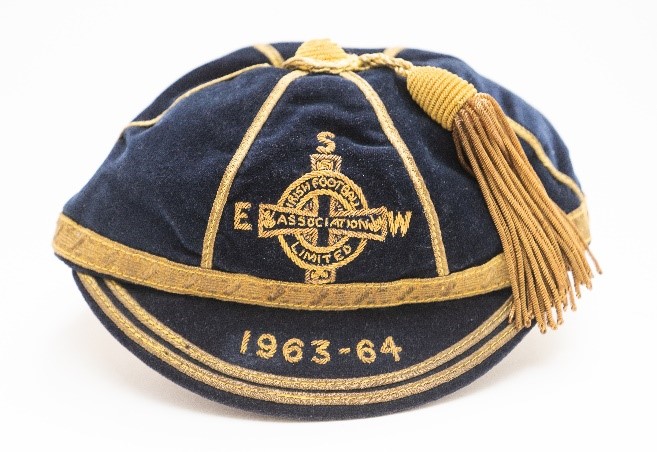 Billy McCullough (b.1935) born in Carrickfergus, McCullough made more than 250 appearances for Arsenal in the Football League and was capped 10 times for Northern Ireland. Initially starting his career playing for Carrickfergus YMCA, he went on to play for Portadown, before being snapped up by London club Arsenal in 1958 for £5000.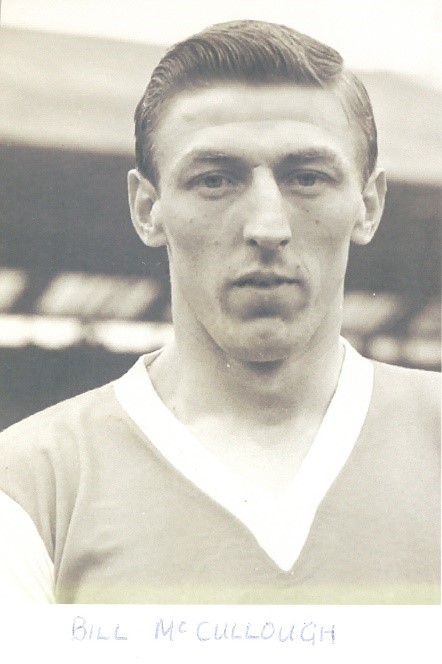 Carrickfergus Museum Collection
R.H. McCandless make-up box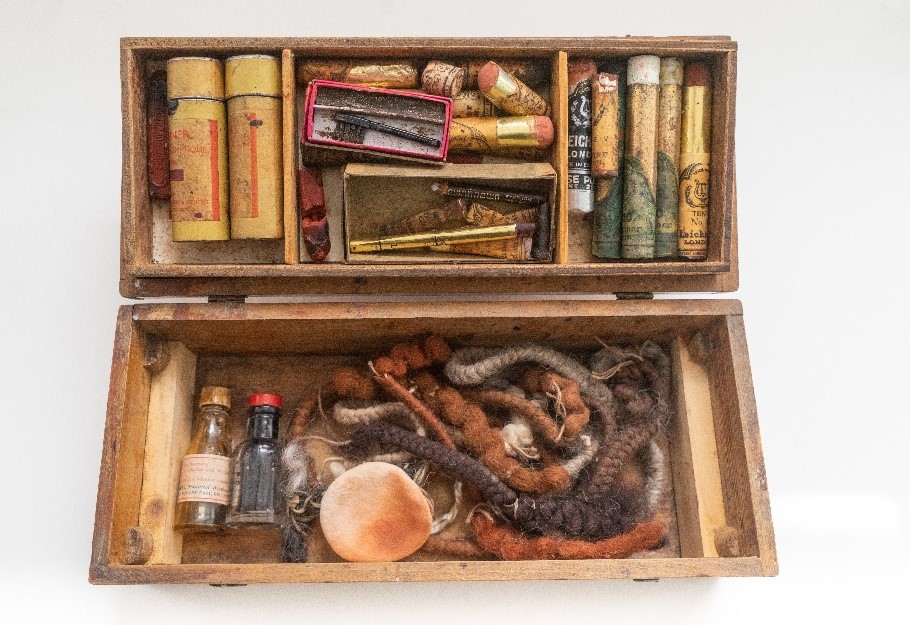 Carrickfergus Museum Collection
R. H. McCandless was born in Ballymena, however, through his acting career he developed links across the Borough. Taking to the stage at the age of 12, he became influential in the Northern Group Theatre and formed the Carrickfergus Players in 1923.
This local group specialised in one-act plays, delivered in the local dialect, and were successful at many of the amateur dramatic competitions. Also featuring in the Northern Ireland Home Service radio dramas, he counted Richard Hayward amongst his colleagues and friends.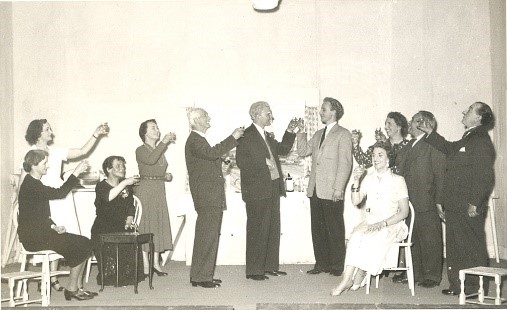 Photo: McCandless on stage (centre) with the Ballycarry Players.
Carrickfergus Museum Collection
Carrickfergus Raft Race, 1976.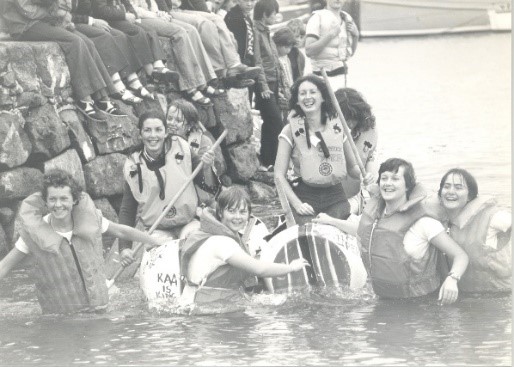 Carrickfergus Museum Collection
The raft race was one of many activities fondly remembered by locals as part of the popular 'Back Carrick' festival week. The name originated from the 'I'm backing Britain' campaign' in 1968, which aimed to boost the British economy.
Carrickfergus Scout group, 1931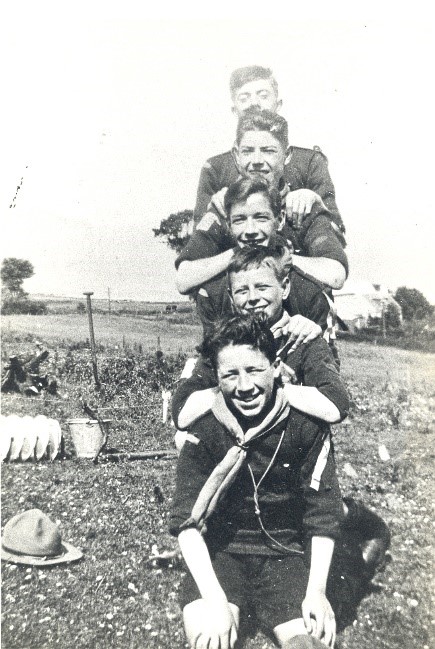 Carrickfergus Museum Collection
Founded in 1907, the ethos of the Scouts was to bring young
people from different backgrounds together, to bridge gaps in society, and give everyone the opportunity to learn new skills – it was considered radical at the time.
Welfare & Education
Ballymena (Education)
The Education Act (Northern Ireland), 1923, established an Advisory Council, Local Education Authorities and Regional Education Authorities. In anticipation of greater demand for education, Ballymena Technical School was extended by five additional classrooms.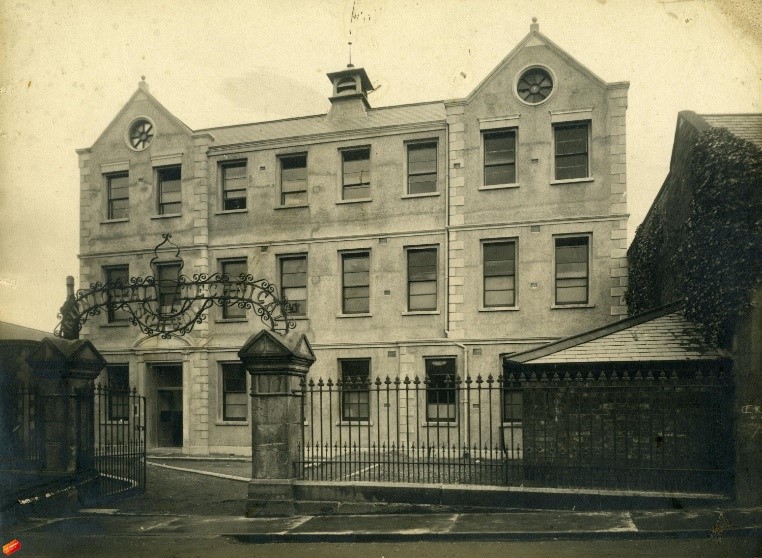 The 1947 (Northern Ireland) Education Act brought in sweeping changes, including guaranteed free education for all children over the age of 11. The Act also included medical treatment, free milk and transport, along with books and stationery.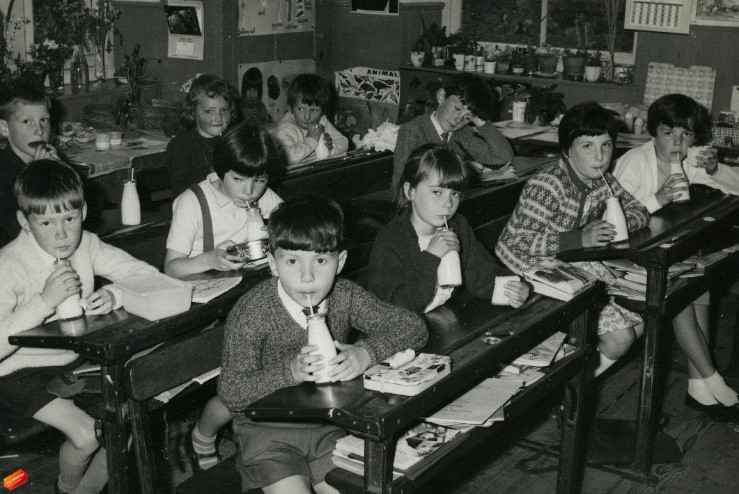 Pupils of Dromore Primary School enjoying their 1/3 of a pint of milk during their 11.00 am break, 1965.
In 1968, Ballymena Academy transferred from their old building in Thomas Street to a modern building on the Galgorm Road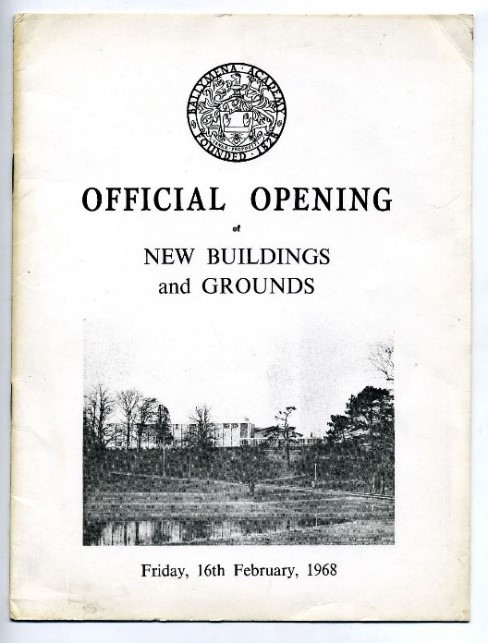 Ballymena (Health)
Local councils contributed to healthcare. Expectant and new mothers were supported by the Maternity and Child Welfare Centre in Castle Street, Ballymena. It was founded by Ballymena Urban District Council and was popularly known as 'The Clinic'.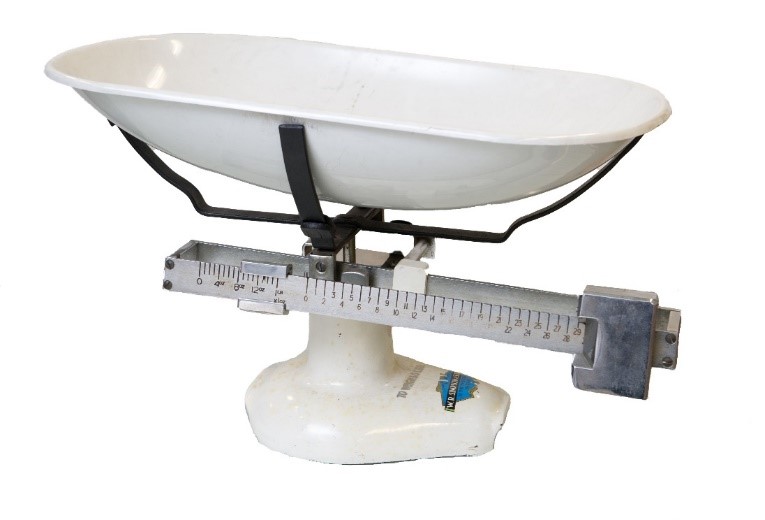 Many babies were weighed on these scales, Mid Antrim Museum Collection
Nurse's dress, worn by Sister Iris Smyth, in the Waveney Hospital, Ballymena.
The hospital was founded in 1912, operating under the Poor Law system. It transferred to the National Health Service in 1948. The hospital closed in 1994.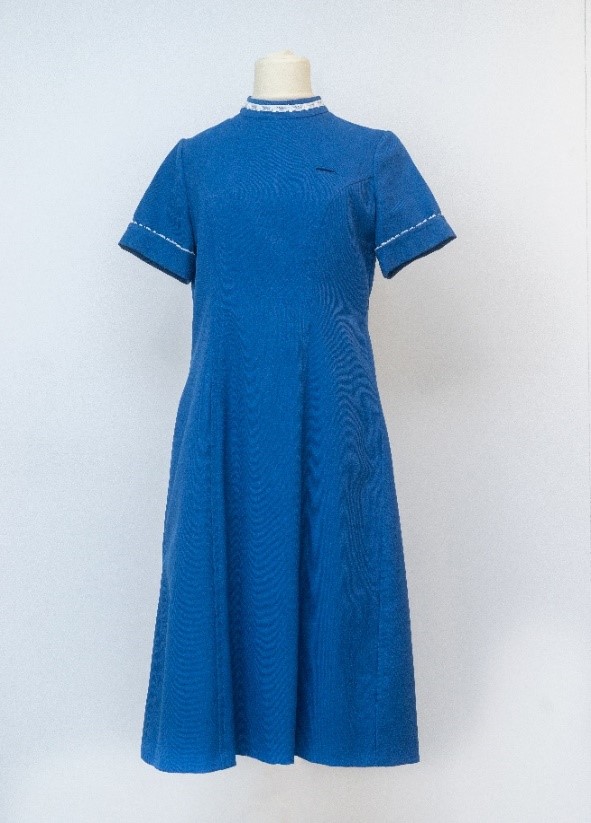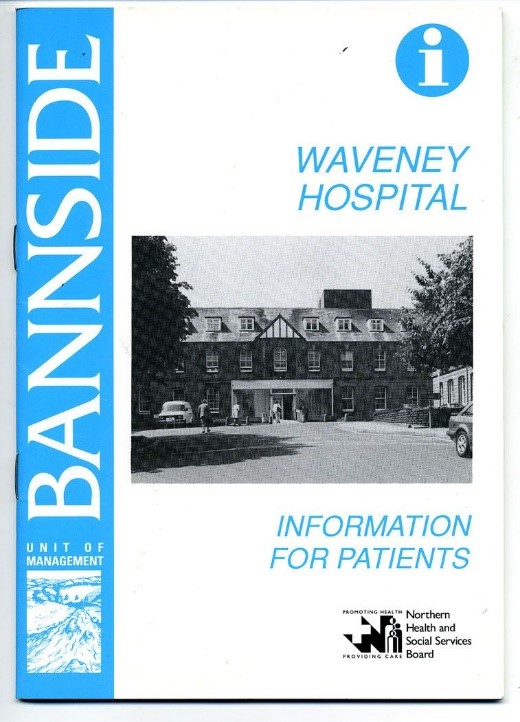 Information booklet, issued to patients in the Waveney Hospital, Ballymena
Larne (Education)
Roddensvale School
Larne Special Care School first opened to a group of six pupils on 3rd February 1964 in a hall in Larne Methodist Church. Within a short space of time numbers increased and the parents secured the use of a disused Elementary School in Exchange Road. As the school continued to expand, the need for a proper school became essential and a new school was built on The Roddens in 1968. The school catered for both children and adults with Severe Learning Difficulties. In May 1986, the children below nineteen years of age became the responsibility of The Department of Education and the adults over nineteen moved to an Adult Centre. The school was renamed Roddensvale School.

This book, written by Felix McKillop in 2014, charts the history and celebrates 50 years of Special Education in the former Borough of Larne.
Larne Museum Collection
Larne (Health)
Moyle Hospital
Larne Union Workhouse, which opened in 1843, closed in the early 1920s. Following some alterations, the building re-opened in 1931 as Larne District Hospital. It was renamed Moyle Hospital in 1949. A new wing, Inver House, was added in 1972. Acute services moved to Antrim in 1991.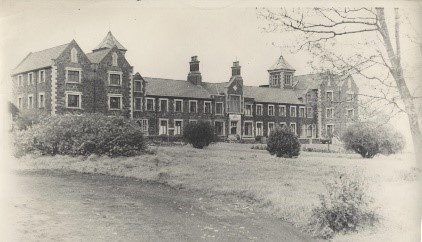 Photograph of Moyle Hospital showing a panoramic view of the main building.
Larne Museum Collection
Carrickfergus (Education)
Mathematical Set
This set is one of several instrument sets belonging to James McCalmont who attended the Technical School at Carrickfergus from c.1955 to 1962.
During his time, he primarily studied Mechanical Engineering and Mathematics, along with other subjects such as English.
Carrickfergus Technical School, under the Agricultural and Technical Department, Ireland, was opened in rented premises on West Street, in 1906.
It later moved to premises at both High Street and Joymount.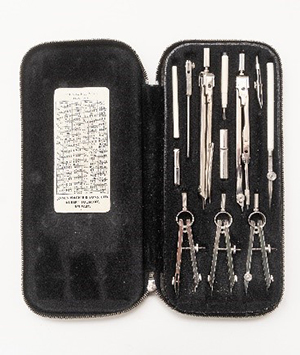 Photograph of Mathmatical set owned by James McCalmont​
Carrickfergus Museum Collection
Carrickfergus Technical School 1955-1956
Boys school photo taken behind school building at Joymount, with town walls as a backdrop.
The school moved from its site on Carrickfergus High Street to a new site on the Shore Road at Newtownabbey, which later became the Northern Regional College.

Last baby born at Carrickfergus hospital, 1988
Often referred to as Barn Cottage Hospital, the site was officially opened in April 1950. Later known primarily as a maternity hospital, many locals recall the good care they received there.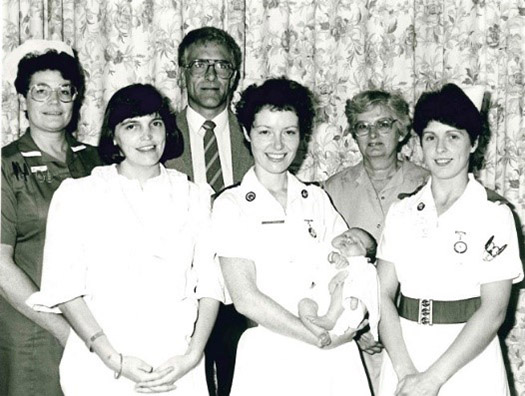 Carrickfergus Museum Collection
Sense of Place
Ballymena
Town postcard
Vintage postcard collecting is a common hobby, first made popular in the early 20th century. Initially, they were intended as a cheap way of communicating with others, due to a very efficient postal service.
Showing destinations as they used to be, offers an irresistible window into the past.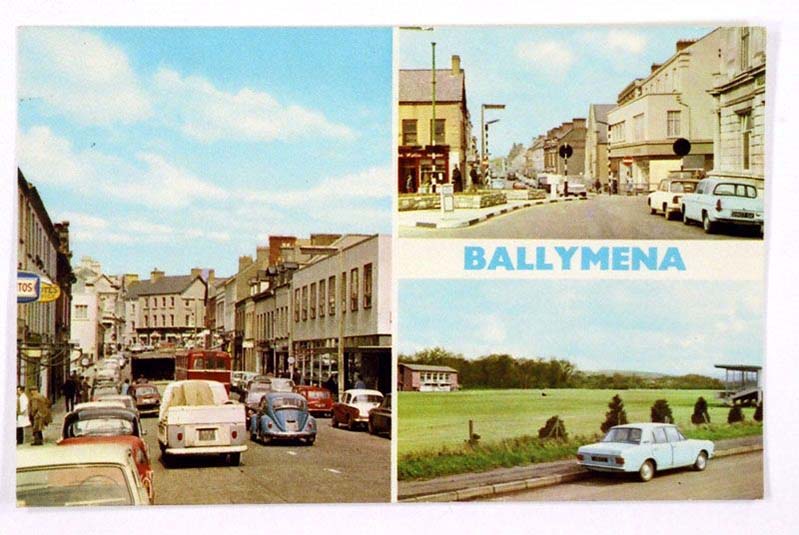 Image showing a postcard
Mid Antrim Museum Collection
Milemaker
Cast iron milemaker which formerly stood outside Ballymena Cemetery on the Cushendall Road, marking one mile to Ballymena Town Hall.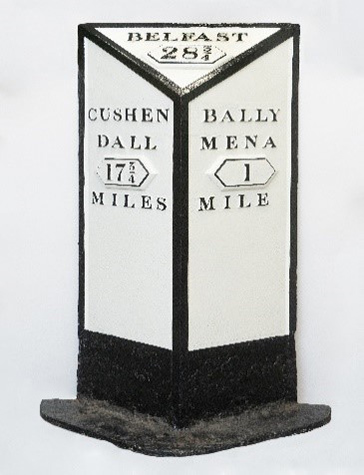 Milemaker
Mid-Antrim Museum Collection
Mill Street 100 years apart?
Or Fairhill?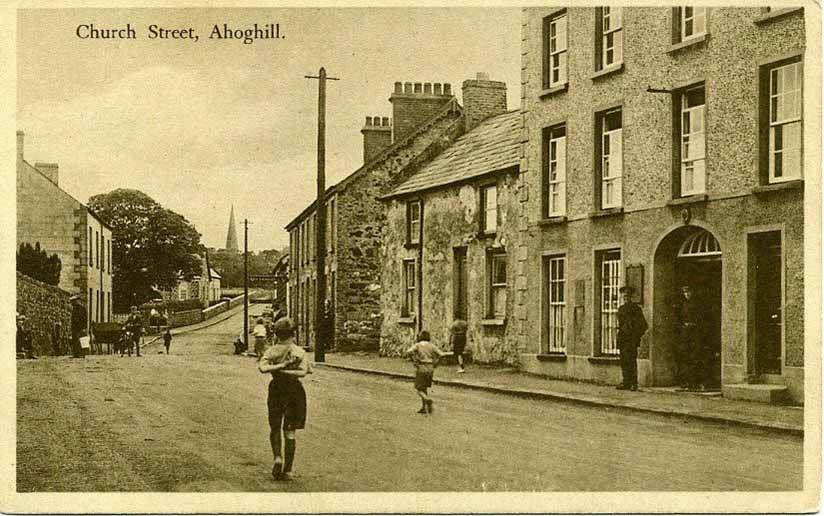 Larne
Laharna Hotel
The Laharna Hotel, established in 1897, had to be rebuilt following a fire in 1901, which began in the shop next door.
Tourism in the area was popular in the 1920s, with Larne recording 500 tourists being accommodated each week at the peak of the season in 1929.
In the 1930s the hotel was advertised as being the largest tourist hotel in Ireland and it was used as a base for 7-day tours of the area.
In 1933, 833 visitors stayed in the hotel during the summer, which attracted visitors from all over the British Isles.
The hotel had been used as a rest home for wounded soldiers during World War 1.
Soon after the start of World War 2, the hotel was again taken over by the military as a nursing home, rest camp and accommodation unit for troops.
Meals for troops travelling through the port were also prepared in the hotel's kitchens.
The Laharna hotel was demolished in 1999 following a fire in the building.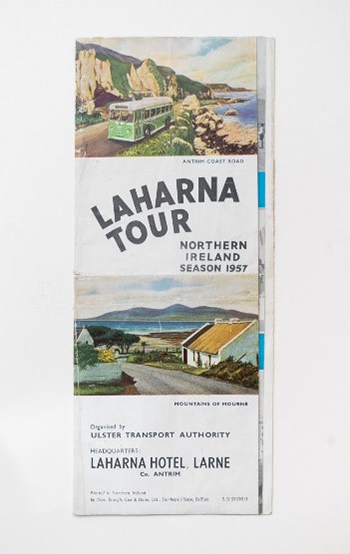 Promotional leaflet - 'Northern Ireland. Laharna Tour, Season 1957. Seven days carefree holiday covering 500 miles of beautiful scenery'.
Larne Museum Collection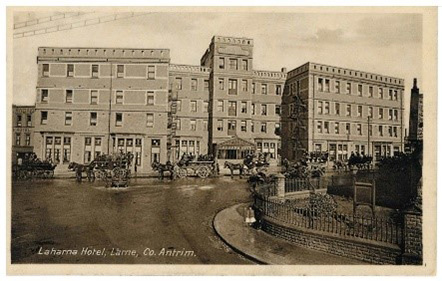 Postcard of Laharna Hotel
Larne Museum Collection
Upper Main Street
Upper Main Street was built in 1930. It was the first concrete road in Larne.
A number of buildings had to be removed to allow for construction. This included demolishing the Ulster Bank house and rebuilding it on the corner opposite the Town Hall.
The new street joining High Street and Main Street meant the removal of a timber yard owned by Allan Dorman.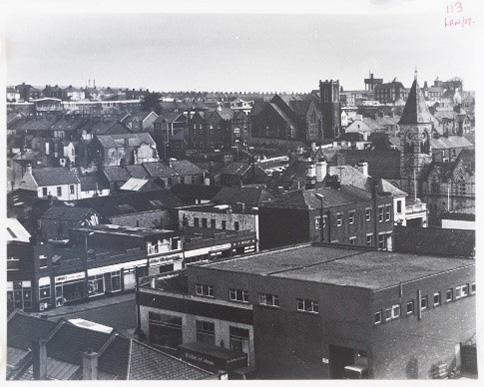 Rooftop view looking over the Upper Main Street area
Larne Museum Collection
Carrickfergus
Carrickfergus Town Tourist Brochure
With its imposing Norman castle and coastal location, the town has long been seen as a tourist destination.
The earliest brochure in the collection dates to the 1950s.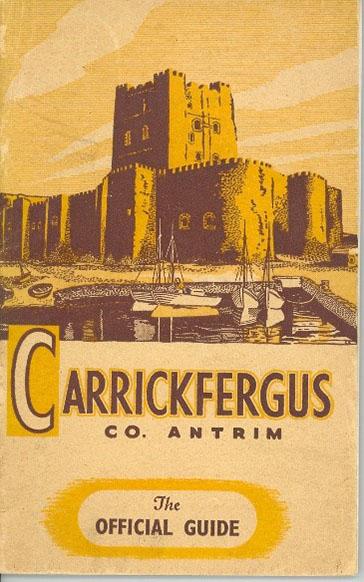 Carrickfergus Museum Collection
Construction of the Marine Highway
Opened in 1967, this major land reclamation and construction scheme was part of the growing infrastructure and development of road networks to accommodate the growth of new industries arriving in Northern Ireland in the post-war period.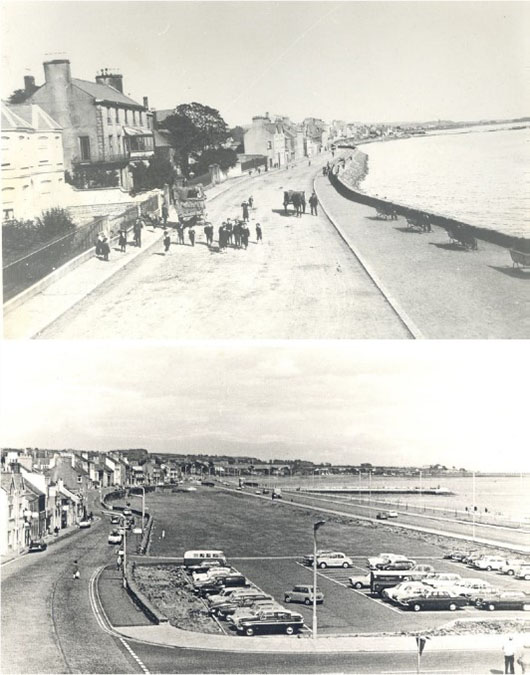 Carrickfergus Museum Collection
Working Lives
Ballymena
Gallahers Tobacco Company
Gallahers Tobacco Company was founded in 1857 by Tom Gallaher. By 1896, he had opened the largest tobacco factory in the world in Belfast.
The factory in York Street, Belfast was badly damaged in the Belfast Blitz during the Second World War.
This prompted the decision to build a new factory on a site near Ballymena. A new factory for Gallaher Limited was built at Lisnafillan with the assistance of the Government of Northern Ireland.
It opened in 1961. The new factory manufactured cigarettes and pipe tobaccos. Japan Tobacco (JTI) became the owner of the Gallaher Group in 2007.
After decades as one of Ballymena's biggest employers, the former Gallaher tobacco factory closed in October 2017. At its peak, more than 2,000 people worked on the 100 acre JTI Gallaher site.
Smoke Rings, Company magazine
Mid Antrim Museum Collection
Phoenix Weaving Company, Railway Street, Ballymena
The most successful and most progressive power-loom enterprise in Ballymena was the Phoenix Factory, which opened in the late nineteenth century and continued until 1990.
The sound of the Phoenix Weaving Company horn, in the morning, awakened most of Ballymena.
It was sounded for the last time by Thomas Young on 9th November 1990.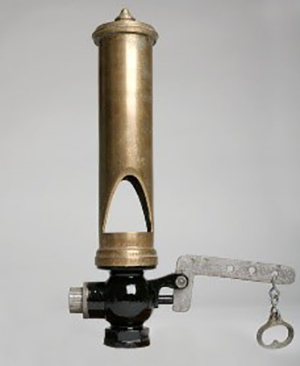 Factory Whistle,
Mid Antrim Museum Collection
Larne
Pye Radio (Corran Works Ltd)
Corran Works Ltd, part of the Pye Group, opened at the harbour in 1947 manufacturing radio sets and components.
By 1964 over 1200 people were employed in the factory. Unfortunately, due to cheap foreign imports, sales dropped dramatically and the factory closed in 1965.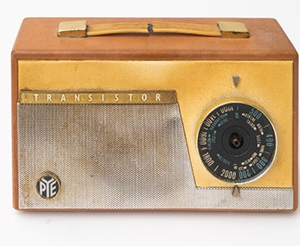 Pye Transistor Radio
Larne Museum Collection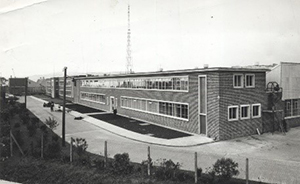 Photograph of the Pye Radio factory, Corran Works, Larne
Larne Museum Collection
Harbour Highway
The growth of local industry lead to more traffic and plans to build a dual carriageway in Larne began in 1964.
The road, which opened in 1971, was built jointly by Antrim County Council and Larne Borough Council.
The building of a one-mile causeway, known as the Harbour Highway, over Larne Lough began in 1970 and was completed in 1976.
It gave unrestricted access from the harbour to the A8 trunk road towards Belfast, Ballyclare and Ballymena.
A number of buildings were removed to accommodate the concrete pillars which supported the highway, including the railway station, bus station and much of Circular Road.
The Harbour Highway was officially opened by Mr Ray Carter, MP who said, "Although the road was only one mile long it was a link in the province's network of roads."
Photograph showing the construction of the new road and roundabout
Larne Museum Collection
Carrickfergus
ICI Fibre spool
The ICI factory at Kilroot, which opened in 1963, manufactured Terylene fibres.
Terylene was the first polyester to be produced and is a type of polyester in which complex compounds of Carbon, Hydrogen and Oxygen are linked together in very long chains.
It became a very popular fabric because it was light and did not need to be ironed.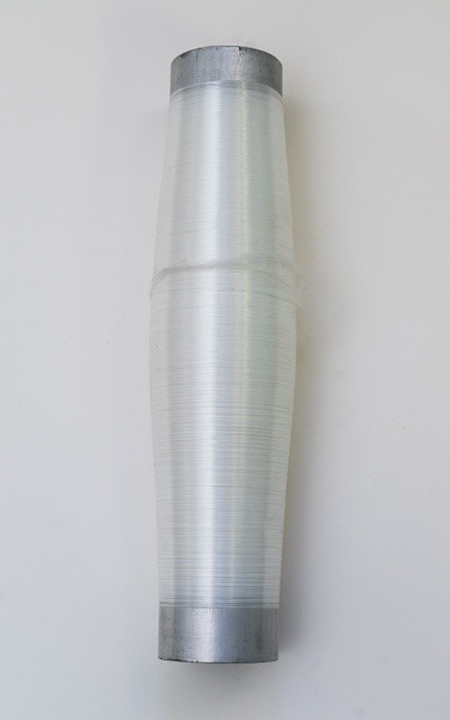 Carrickfergus Museum Collection
Staff dinner at Carreras
Opened in 1967 by Princess Margaret and Lord Snowdon, Carreras was once considered the foremost name in tobacco manufacture.
Employing 1400 staff at its height, the company employees ran an active sports and social club.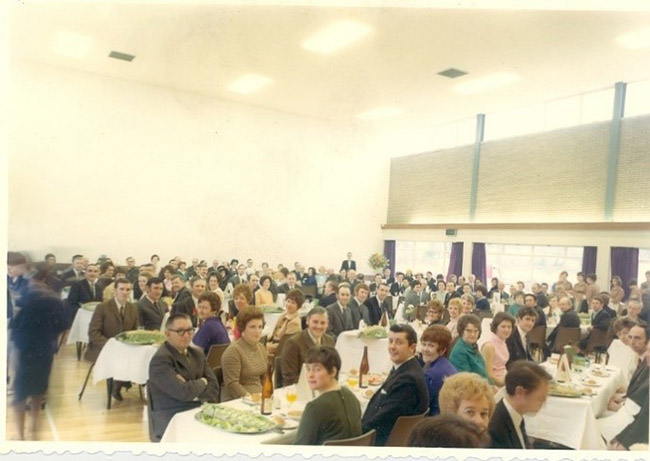 Carrickfergus Museum Collection
Creation of NI
Ballymena
The Government of Ireland Act 1920
3 May 1921 date accepted that the state of Northern Ireland was created.
Parliament of Northern Ireland, consisting of 52 members, met in temporary accommodation until 1932 when the purpose-built Stormont Buildings opened.
Invitation to William Shaw (Chairman Ballymena Urban Council
Mid Antrim Museum Collection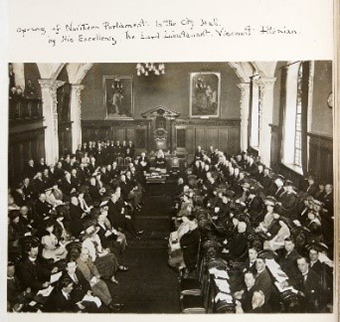 NI Parliament preliminary opening by the Viceroy, Lord Fitzalan
Royal Procession at the State Opening
Youngs of Galgorm Castle
In 1851 Dr William Young purchased Galgorm Castle.
It became a centre of local importance to Unionist opposition during the Home Rule Crisis of the late nineteenth and early twentieth centuries.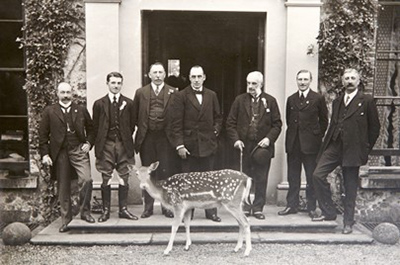 Galgorm Castle, on a visit to Ballymena to inspect the UVF, Sir Edward Carson and James Craig are guests of John Young
Galgorm Castle, Rt Hon W R Young was sworn in as a member of HM Privy Council of Ireland by The Viceroy
Dr Young's eldest son, Right Hon John Young JP DL, became a prominent figure in the commercial life of Ballymena establishing with others the Braidwater Spinning Company in 1865. In public life, John Young strongly identified himself with the Unionist cause and took an active role in the anti-Home Rule Campaign attending as many meetings as he could, and if not available, writing letters of support. He died in 1915 leaving 12 children, two of whom continued their father's work to secure the maintenance of the Union.
The eldest son, Right Hon William Robert, inherited Galgorm Castle and succeeded his father in some of his public offices continuing his father's opposition to Home Rule.
In 1913 John's youngest son, Right Hon George Charles Gillespie, was largely responsible for the raising of the locally recruited 1st Battalion, North Antrim Regiment of the Ulster Volunteer Force, of which he became Commander. The Young's not only supplied financial support for the purchase of uniforms and equipment but allowed their residence to be used as a base for UVF drill practice.
(After partition the Young family continued to exert a strong local influence in political affairs. In 1922 William was sworn in at Galgorm Castle as a member of the Privy Council of Ireland, his father having been a member from 1887 until his death. George volunteered for the 'B' Specials, becoming District Commandant of No 6 District, Co Antrim.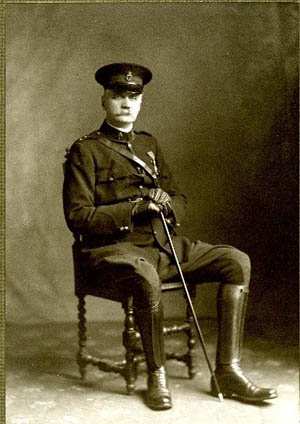 Rt Hon George Young in USC Uniform
Larne
An Garda Siochana
The An Garda Siochana, known as the Guards, is the national police service of the Republic of Ireland. It was formed in 1923 after the creation of the Irish Free State on 8 August 1923.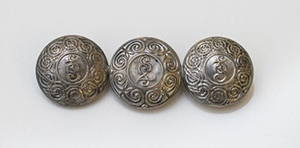 This brooch is made from 3 An Garda Siochana buttons
On the back of the middle button it reads; 'J. Ireland and Son Ltd. Dublin'.
Larne Museum Collection
Royal Ulster Constabulary
Founded as a successor to the Royal Irish Constabulary (RIC), the Royal Ulster Constabulary (RUC) was established in 1922 following the partition of Ireland.
The RUC was superseded by the Police Service of Northern Ireland in 2001.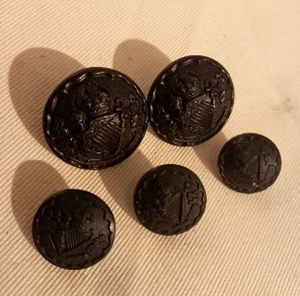 Buttons from a Royal Ulster Constabulary uniform
Larne Museum Collection
Ulster Special Constabulary
The Ulster Special Constabulary (USC), set up in October 1920, was a reserve special constable police force in Northern Ireland.
It was disbanded in May 1970, with its functions being taken over by the Ulster Defence Regiment and the Royal Ulster Constabulary.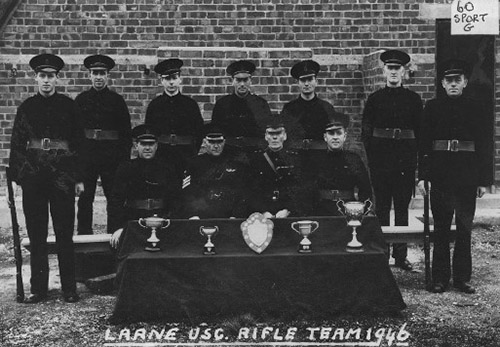 Larne USC Rifle Team 1946
Larne Museum Collection
Carrickfergus
Commemorative medal for The Northern Parliament opened on the 22nd day of June 1921, City Hall Belfast.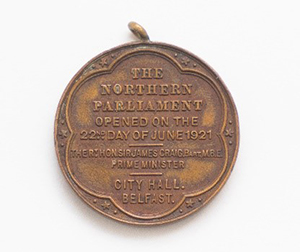 Carrickfergus Museum Collection