Mayor marks World Diabetes Day 2023
Tuesday 14 November 2023
As World Diabetes Day (14 November 2023) is marked across the globe today, Mayor of Mid and East Antrim, Alderman Gerardine Mulvenna, welcomed representatives from Diabetes UK Northern Ireland to help raise awareness of the day and support their vital work.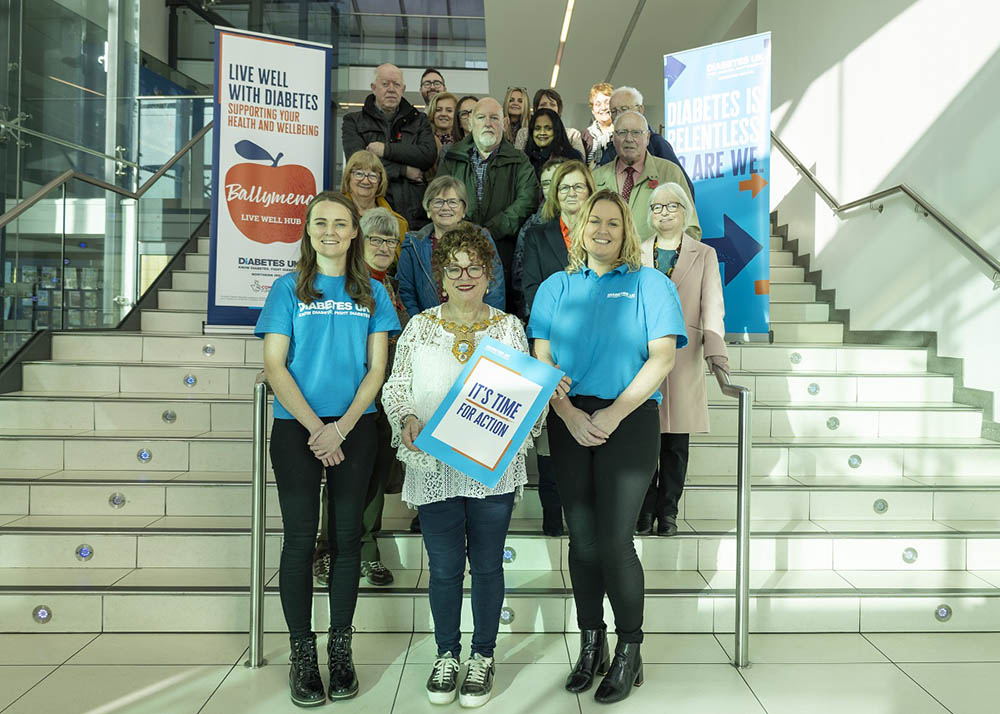 The aim of World Diabetes Day is to raise awareness about diabetes and promote better understanding of this health condition.
The Mayor met with representatives from Diabetes UK Northern Ireland to discuss signs and symptoms of the condition plus support and services available to patients and their families.
The most common signs of Type 1 diabetes are the four Ts:
Going to the toilet a lot
Being really thirsty and not being able to quench the thirst
Feeling more tired than usual
Losing weight or looking thinner than usual
Mayor, Alderman Gerardine Mulvenna, said: "I was delighted to meet with Diabetes UK Northern Ireland and hear about all the excellent work they do to support people with Diabetes. Diabetes is a condition that affects so many people in our Borough and there is a real need to highlight the steps that we can all take to reduce the risk of being diagnosed with this illness.
"I would urge everyone to check out their website and support this vitally important organisation in their excellent work."
Diabetes UK Northern Ireland National Director, Tina McCrossan, said: "It was a real privilege for members of our team and the local community groups to meet the Mayor recently. We are very grateful for the opportunity to discuss this serious condition which affects nearly 112,000 people in Northern Ireland, and to share more about the resources and information we can provide as support. In addition to the wealth of information available on our website, we also hold many events in communities across the region.
"Earlier this year our team launched a Live Well Hub in Ballymena which is a fantastic resource for members of the local community. In this setting, they can access helpful resources, discuss their questions with healthcare professionals and connect with peers – all of which can go such a long way in helping them live well with diabetes. We encourage anyone interested in this type of support to get in touch with our team for more information."
For more information, log on to the Diabetes UK website.