Are you hiring? Sign-up to the Mid & East Antrim Job Fair now!
Monday 14 August 2023
Are you hiring and on the look-out for dynamic, new employees?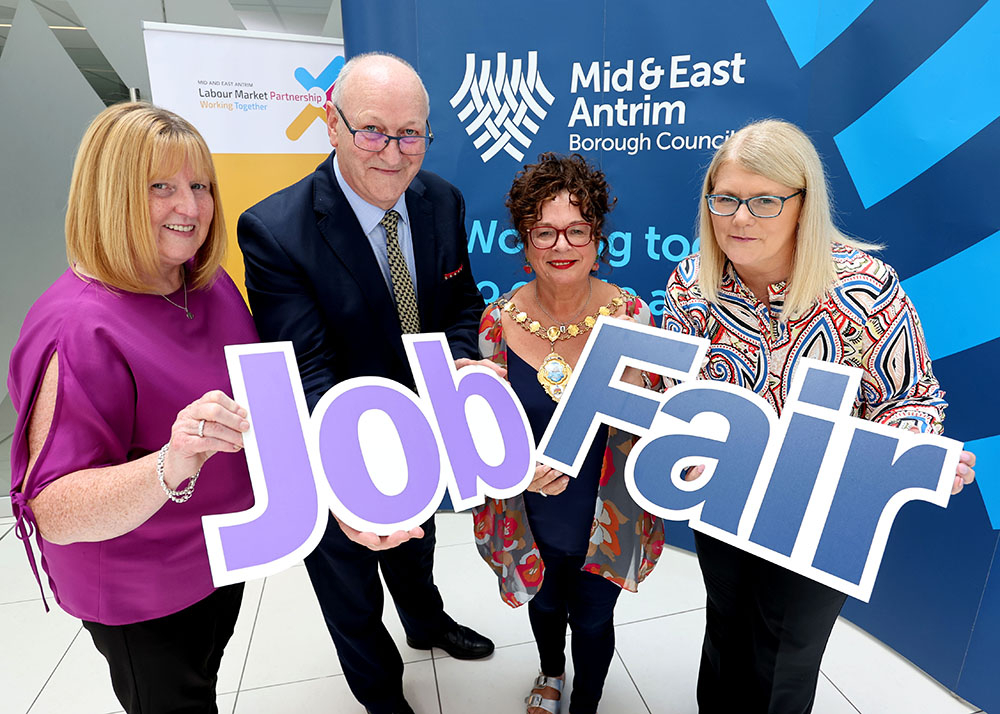 Mid and East Antrim Borough Council and The Department for Communities are hosting their next FREE job fair at The Braid in Ballymena on Tuesday 17 October 2023 – and are calling on local businesses seeking to fill posts to get in touch and register to take part!
The Job Fair is a fantastic way for employers who are currently recruiting to meet and engage with a range of jobseekers and candidates. It's a great way to help employers fill current vacancies faster, boost their company's profile and cut recruitment costs.
35 places are available for local employers to promote their vacancies across a broad range of sectors including manufacturing, care, retail, hospitality, construction and many more.
The Job Fair is one of a suite of interventions contained within Mid and East Antrim Labour Market Partnership's annual action plan.
Labour Market Partnerships, which create targeted employment action plans for council areas, are funded by the Department for Communities, and allow for collaboration at local and regional level to support people towards and into work.
The Labour Market Partnership is a province-wide approach developed by the Department for Communities, which creates targeted employment action plans for council areas and allows for collaboration at local and regional level to support people towards and into work
Mayor of Mid and East Antrim, Alderman Gerardine Mulvenna, said: "Growing the economy is one of Council's key priorities, so what better way to do that than getting key employers from key sectors under one roof to bring those opportunities to everyone in the Borough.
"We're committed to helping optimise economic outcomes for businesses across the Borough and increasing employment. Through partnership initiatives like this one with DFC, we will ensure that employees, businesses and entrepreneurs continue to get the support they need to succeed.
"If you're currently hiring, sign-up to the Job Fair today to meet a broad range of motivated jobseekers in the area."
A range of support organisations will also be on hand at the event to provide advice and guidance on training and employment programmes currently available for anyone seeking to upskill or retrain.
Norman Sterritt, Joint Chair of Labour Market Partnership, said: "We are delighted to be working collaboratively with the Department for Communities to host a Job Fair for our residents.
"Among the aims and ambitions of the LMP is a focus on supporting more local people into meaningful employment and providing residents in the Borough with the opportunity to gain new skills and reach their full potential.
"This event is a great opportunity for employers to engage directly with jobseekers and candidates in an informal manner, relaxed manner – and help them secure the right employee."
If you're an employer in the Borough with current or upcoming job vacancies and would like to take part in the Job Fair, please email: dfcemployerservices@communities-ni.gov.uk