Captivating 'Igloo Dome' brings tourism to life in Carrick!
Thursday 9 March 2023
Carrickfergus Civic Centre has welcomed Tourism NI's spectacular 360 Igloo Dome – showcasing the very best of Northern Irish tourism, including the ever-popular Gobbins experience.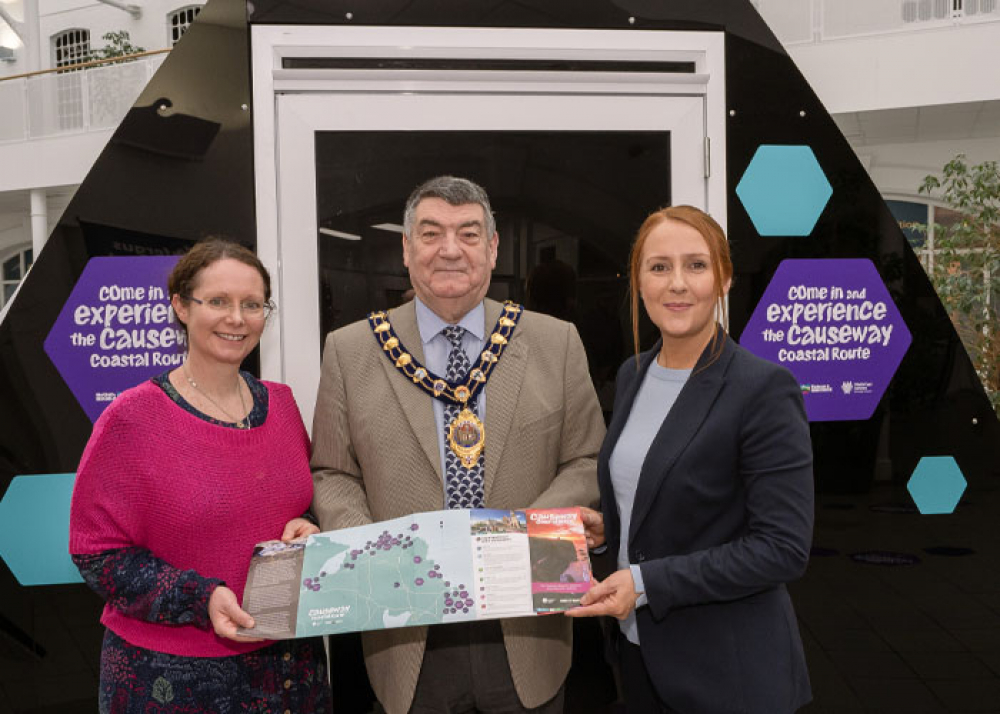 The temporary tourism installation is located in the foyer of the Civic Centre and is FREE to use.

Visitors will step inside and be captivated with immersive experiences -  transported to the wonderful landscapes, trend-setting tourist spots and fascinating culture that makes NI such an amazing place to visit and tour.
The 360 visual experience will enhance real-world tourism experiences in NI and help make the visitor's journey more interactive, meaningful and seamless.
Connecting visitors to the local area, the dome - which was commissioned as part of Tourism Northern Ireland's 'Embrace a Giant Spirit' campaign - will stay in the Civic Centre until Winter 2023, complete with fantastic tourism footage for tourists, visitors and locals.
Mayor of Mid and East Antrim, Alderman Noel Williams, said: "We are delighted to welcome Tourism NI's 360 Igloo Dome to the Borough. Not only will it help promote our brilliant tourist spots and the renowned Causeway Coastal Route, it will also offer Council a great opportunity to drive tourism footfall to the area as we continue to recover from the impacts of Covid on the Tourism industry."
Wayne McGovern, TNI Digital Project Manager, said: "I am thrilled to see the 360 Igloo Dome showcasing Northern Ireland's incredible tourism offerings, including the Gobbins experience. This immersive installation will undoubtedly enhance the visitor experience and inspire more people to explore the wonders of the east coast of Northern Ireland and its many amazing experiences. Many thanks to all the hard work completed by Retinize, Igloo and of course the Mid and East Antrim Borough council on putting together such a fantastic product with us."
You do not have to book, pop in during Carrickfergus Civic Centre opening times which can be found on our website.