Carrickfergus gets 'ready, set, go' for 4th annual Storming the Castle race
Monday 12 March 2018
Top local runners and Seapark AC are getting ready to pound the pavements in Carrickfergus ahead of the Storming the Castle 10k and kids fun run on Sunday 26 August 2018.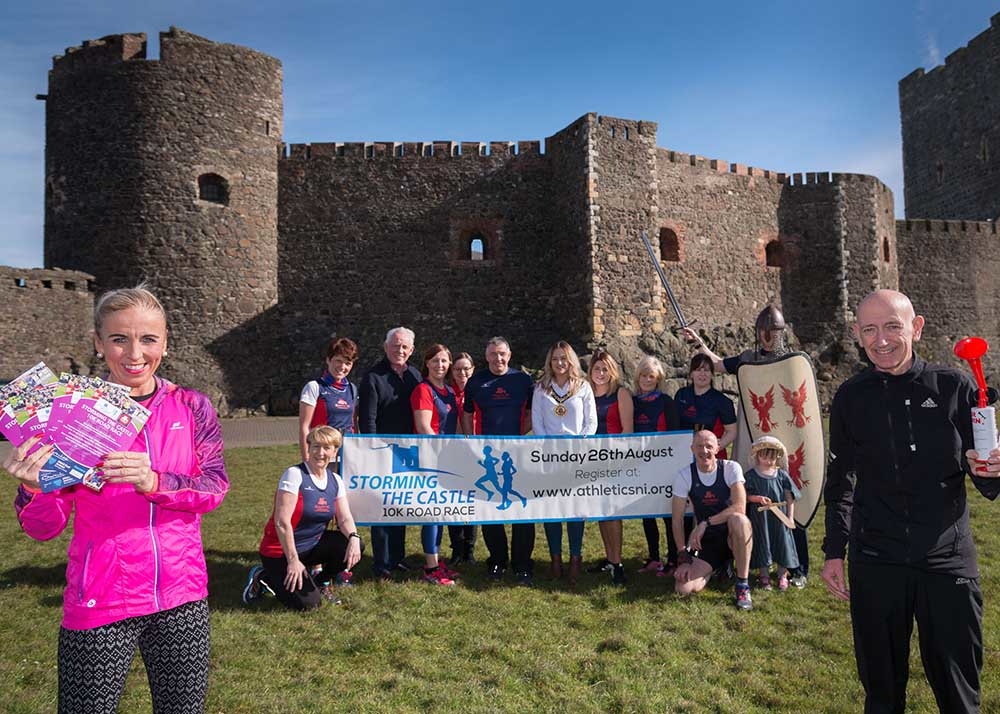 Last year's event was a massive success, with record numbers taking part representing running clubs and individual athletes from across Northern Ireland. The Family Fun Day events will also be back along with the Kids Race 'Chase the Knight' making this a unique and memorable day out for all.
Launching the 2018 event, Race Director, Andy Smith from Seapark AC said, "We are thrilled to have Paul and Cathy join us for the launch. Both no strangers to the podium, they have collected a haul of medals between them; Paul a former Gold medal winner in the British and Irish Masters and getting ready to run in the European Masters later this month in Madrid and Cathy a medal winner at the World Masters Championships they are a real inspiration to runners across the country. Storming the Castle 10k has become one of the 'must-do' races in the NI Athletics running calendar. It will also once again be part of the Novosco 10K Grand Prix series so we are expecting the 2018 event to be another 'sell-out' Boosting a fast, flat course, it is a popular choice for all ability running enthusiasts, from serious competitors, club athletes and joggers, to those simply wanting to keep fit or run for their chosen charity."
Deputy Mayor, Cllr Cheryl Johnston said, "This is a hugely popular event for the area and makes the most of the towns iconic attractions such as the castle and picturesque harbour and marina, making it a striking choice of venue for both runners and spectators. The unique combination of a road race and a family fun day also gives it wide range appeal bringing in visitors, involving local business, community groups and inspiring athletes to run for many local charities. I am very much looking forward to this year's event.
Andy went on to explain, "With the countdown to race day started we have almost 300 entries already. To encourage people to sign up, we have a discounted early bird rate available until 30 June so they don't miss out, simply visit the Athletics NI website to sign up.
"We are delighted to be working with Mid and East Antrim Borough Council who will be running the kids fun run, Chase the Knight as part of the day's events. We would also like to thank and acknowledge the generous support from our main sponsor Ownies Bar and Bistro who will be providing a range of family entertainment post-race in Shaftesbury Park."
Full details are available on the Seapark AC website.