Castle Hockey Club celebrates pitch-perfect move to state-of-the-art new facility
Monday 30 January 2023
One of Mid and East Antrim's top sports clubs has netted a new home.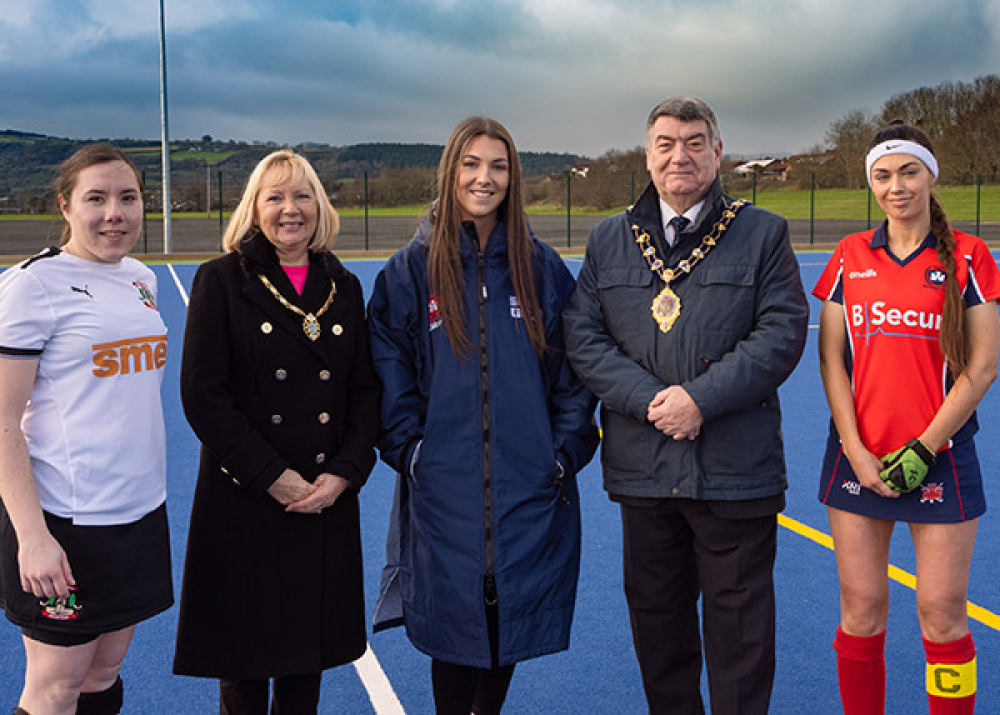 For the past 20 years, Castle Hockey Club (formerly Carrick Ladies and Greenisland Ladies) – based in Carrickfergus – has played its matches and trained on a pitch adjacent to the town's Amphitheatre.
But following the completion of the floodlit £500,000 2G surface at Carrickfergus Grammar School, the club has upped sticks and relocated to the North Road venue, which received funding from the Education Authority, Sport NI and Council.
Mayor of Mid and East Antrim and keen supporter of the hockey club, Alderman Noel Williams, and Mayoress Sheila Williams (a former hockey player herself), visited the modern facilities recently and paid tribute to the club, management and players for their continued commitment and dedication to the sport and Carrickfergus.
He said: "I commend all those associated with Castle Hockey Club, which plays a vital role in encouraging participation in sport locally as well as placing Carrickfergus on the map for the club's exploits on the pitch.
"Council has been delighted to host the club on our pitch for the past two decades and as Mayor I wish Castle Hockey Club a very successful and hopefully trophy-laden next 20 years at its new home.
"Sport is so important within our community in terms of health and wellbeing, the camaraderie it brings and the promotion of community relations. As a Council, we champion our local sporting organisations and deeply appreciate the work they do."
Co-president of Castle Hockey Club, Peter Stevenson, said: "Castle Hockey Club, and previously its constituent clubs Carrickfergus Ladies Hockey Club and Greenisland Ladies Hockey Club, has over the past 20 years very much appreciated its tenancy on the synthetic hockey pitch located adjacent to Carrickfergus Amphitheatre.
"But when we were given the opportunity to re-locate our training and match play activities to the superb new pitch now based in Carrick Grammar School grounds, we were delighted to do so.
"As a proud Carrickfergus-based club, a sizeable core of our exciting young hockey players are students of either Carrickfergus Grammar School or Carrickfergus Academy, so it's particularly pleasing for Castle now to be based on their home pitch.
"We'd just like to take this opportunity to thank the Council and the Amphitheatre staff for so ably facilitating our 20 year stay on the Leisure Centre pitch as we now look forward to a long and happy tenure on the new North Road pitch."