CleanTech high on the agenda for Council at national conference
Friday 18 November 2022
Mid and East Antrim Borough Council's green initiatives have been showcased at a national conference.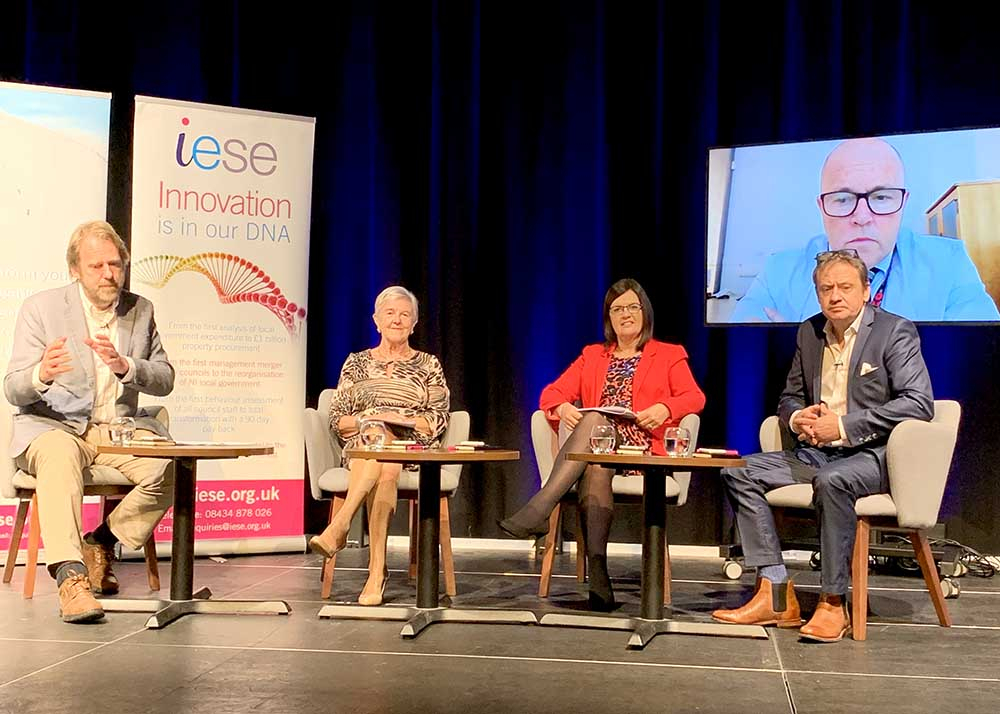 iESE, an enterprise which identifies, fosters and delivers improvements and efficiencies across the public sector, invited representatives from Council to participate in this week's UK-wide Conference.
Focusing on how sustainability goes beyond the environment through embracing several social and economic factors, the event provided opportunities to learn from and develop relationships with other local authorities across the UK.
Speaking at the conference, Alderman Audrey Wales MBE outlined how the wider green agenda had "opened a world of opportunity" for the borough's business community.
"Through initiatives such as our collaborative public-private sector Hydrogen Training Academy and plans for a £24 million i4C Innovation and Cleantech Centre, we are enabling our workforce to transform their skills to meet new and increased demand from across industries and sectors, ultimately helping us all prepare for a greener future.
"Developing the hydrogen economy is at the top of Mid and East Antrim's priority list. We believe this approach will ensure acceleration of economic growth in a sustainable way to benefit our community as well as Northern Ireland as a whole," she said.
Other local authorities included East Ayrshire and Babergh & Mid Suffolk councils, who outlined their programmes on tackling hunger whilst simultaneously reducing food waste and the introduction of hydro-treated vegetable oil fuelled vehicles respectively.
Karen Hastings, Investment and Place Manager at Mid and East Antrim, outlined the importance of highlighting Council's plans to a wider audience.
She said: "Mid and East Antrim is in a unique position to embrace hydrogen. This is due to having a new gas network – which is more hydrogen-ready than the rest of the UK – as well as an abundant wind resource and gas and electric interconnectors between Northern Ireland and Great Britain.
"Coupling that with our proud manufacturing and engineering heritage presents us with an unprecedented opportunity to allow our businesses to experience exponential growth by breaking down traditional market barriers, delivering global opportunities and creating sustainable jobs for now and the future."
Alderman Wales MBE continued: "With an eye on the future to ensure wider net carbon zero carbon commitments are met, we are firmly focused on the green agenda, including cleantech and hydrogen innovation and skills training."
Outgoing Wrightbus Chief Executive Buta Atwal has reinforced Council's comments. In recent years, the local bus firm has transformed itself into a leading global manufacturer with a highly skilled, growing workforce of almost 1,000 people.
"A focus on green growth and investment in hydrogen skills training across the borough has helped us achieve a world-class status.
"Make no mistake. The expertise in hydrogen and cleantech within this borough is world-leading and, when combined with support from others in the industry, from government and from the education sector, offers a powerful environment to start, grow and invest in a business," he said.