Council backs Women's Aid ABCLN 'Make It Magical' for Children this Christmas campaign
Wednesday 14 December 2022
Mid and East Antrim Borough Council is backing the Women's Aid 'Make It Magical' campaign for children affected by domestic abuse this Christmas – and is urging residents across the Borough to pledge their support.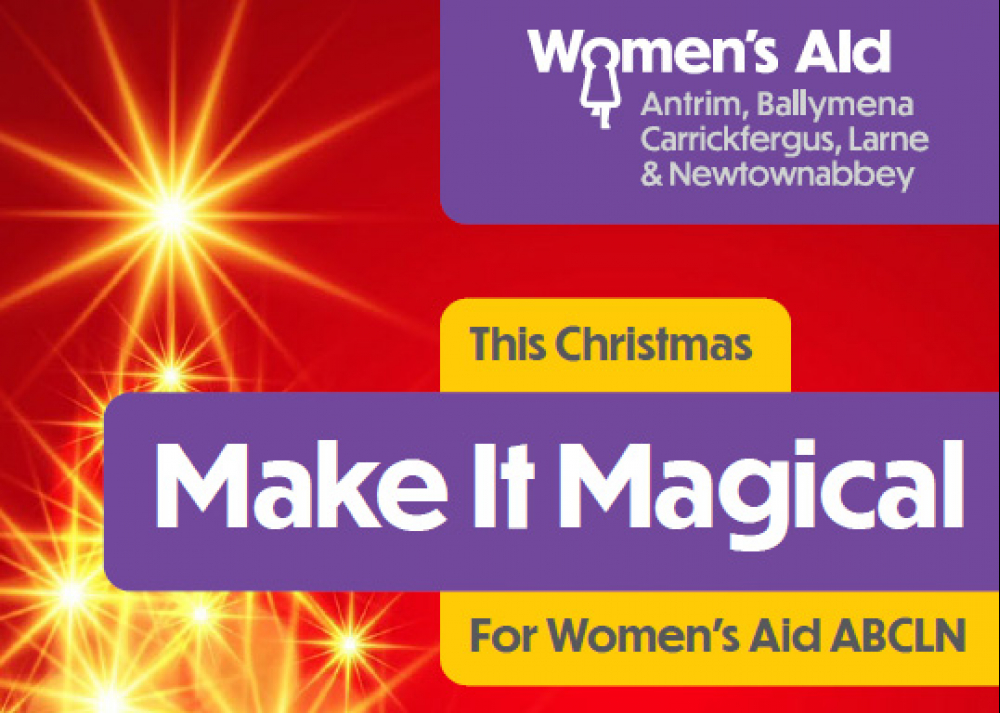 Women's Aid ABCLN provides confidential support, information and emergency accommodation for women and children who are affected by domestic abuse across Antrim, Ballymena, Carrickfergus, Larne and Newtownabbey.
Residents across the Borough can support the 'Make It Magical' campaign by giving a gift, making a donation or hosting a magical Christmas fundraiser to support the organisation.
Mid and East Antrim's Policing and Community Partnership currently provides vital funding to Women's Aid as part of their 2022/23 action plan to support their important work with children and young people affected by Domestic Violence.
Mayor of Mid and East Antrim, Alderman Noel Williams, said: "This vitally important campaign will support many wonderful, kind and caring children this Christmas. Domestic abuse is a frightening crime which can affect anyone and any household. This initiative aims to bring a little magic to children who may be affected at this time – I would encourage everyone to donate if they can and sprinkle some joy this festive season."
"Join us and help Make It Magical for children" says Women's Aid ABCLN's Communication and Engagement Manager, Arlene Creighton.
"Make A Christmas Cuppa with family and friends, hold a Christmas Jumper Day in your workplace or organise a Giving Tree for toys and gifts this Christmas.
"We believe every child deserves a magical Christmas but for many children living with domestic abuse the reality is very different.
"On Christmas Day last year 97 incidents of domestic abuse were reported to the PSNI. For every incident, the impact on children and young people living with domestic abuse can be devastating.
"As the cost-of-living crisis deepens we are also appealing for donations of food and fuel vouchers that will provide a much-needed lifeline for families this Christmas."
To support Women's Aid ABCLN you can call T: 028 2563 2136, e: events@womensaidabcln.org or make a donation at the Women's Aid ABCLN Just Giving page.