Dementia friendly top tips for Causeway Coastal Route businesses
Wednesday 8 March 2023
Mid and East Antrim Borough Council recently welcomed a host of tourism and hospitality businesses from along the beautiful Causeway Coastal Route for an informative event aimed at helping them become more dementia friendly and inclusive.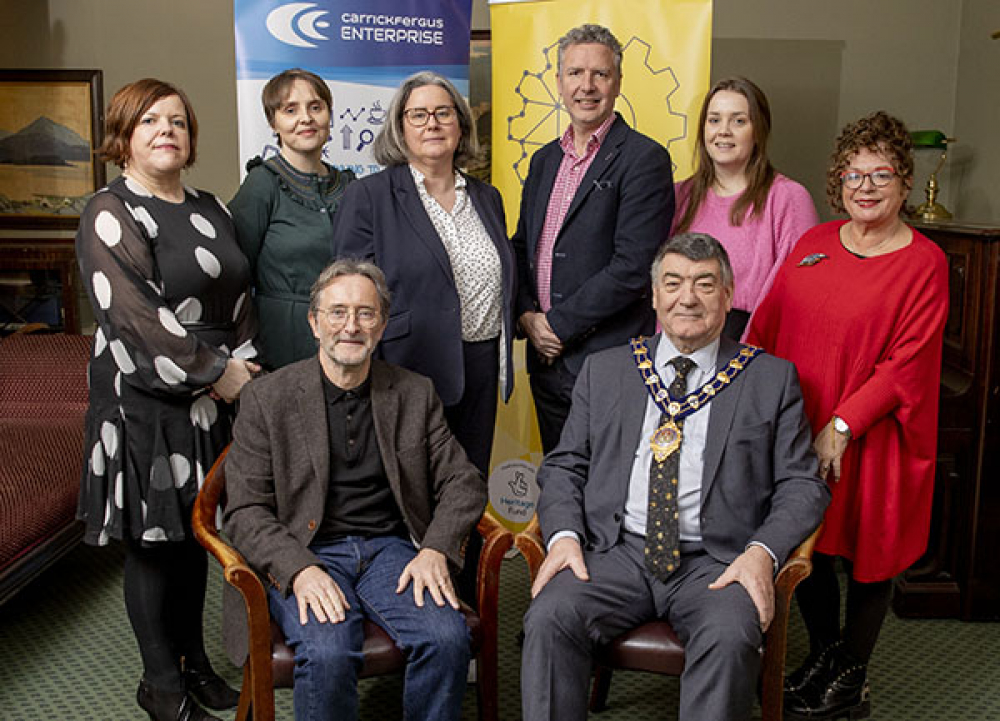 The successful event took place in the Londonderry Arms Hotel in Carnlough and provided an opportunity for Council to share top tips with tourism and hospitality businesses from Council's dementia friendly tourism pilot project 'Made for Memories'.
The event included a range of speakers providing their perspective on the value of the project and highlighting ways in which the businesses can support people with dementia and in turn enhance their tourism experience.
Mayor of Mid and East Antrim, Alderman Noel Williams, welcomed tourism businesses from the Causeway Coastal Route tourism cluster groups, and said:
"Our 'Made for Memories' pilot was awarded over £14k from The National Lottery Heritage Fund and aims to raise dementia awareness within the tourism and hospitality sector in Mid and East Antrim - and throughout the Causeway Coastal Route.
"This is being achieved through training, bespoke storytelling sessions and simple adaptions to create safe, welcoming, managed spaces at visitor attractions for those living with the early stages of dementia and their carers.
"The project is very relevant to our local residents as well and we would like to thank our funders for helping to make it possible."
Kelli McRoberts, General Manager of Carrickfergus Enterprise - a social enterprise which worked with Council to develop and deliver the showcasing event, said:
"We had a strong turn out from attractions and hospitality venues at the event. As a result, we have a commitment by interested tourism business owners to develop a working group on ensuring inclusivity to a wider range of their visitors with a hidden disability."
The 'Made for Memories' pilot is led by Council in partnership with two industrial heritage sites - Whitehead Railway Museum and The Heritage Hub at Carnlough Town Hall. Three other tourism businesses are also involved as partners - Twilight Coffee and Bunkhouse in Carnlough, Lighthouse Yarns Craft Studio, and The Bank House Café in Whitehead.
Four groups participated in the project - including Prom Friendship Group, Larne; Karingmore Residential Home, Carnlough; elderly volunteers from the Carnlough Heritage Hub; and tenants of Victoria Court (sheltered accommodation), Whitehead.
The National Lottery Heritage Fund was represented by Northern Ireland Committee Member Dr Jim McGreevy, who said:
"We are delighted to support this successful project, which - thanks to money raised by National Lottery players - means that more people can get involved with, and benefit from, the exciting heritage on their doorstep.
"We would congratulate everyone involved in the 'Made for Memories' project and commend them on the ripple effect their experiences will have on tourism in the area. Heritage activities bring people and communities together in so many brilliant ways and by co-design this project is a catalyst for better provision and increased inclusion in heritage and tourism."
Pre-visit guides for visitors for The Heritage Hub at Carnlough Town Hall and Whitehead Railway Museum - specifically designed for use by families and carers of people living with early stage dementia - were launched at the event.
Both guides are available to download on the Railway Preservation Society of Ireland website.