Entrepreneurs and businesses encouraged to 'Go Succeed' with a groundbreaking new Support Service
Friday 17 November 2023
Groundbreaking new Enterprise Support Service launched in Mid and East Antrim Borough Council to help drive local and regional economy.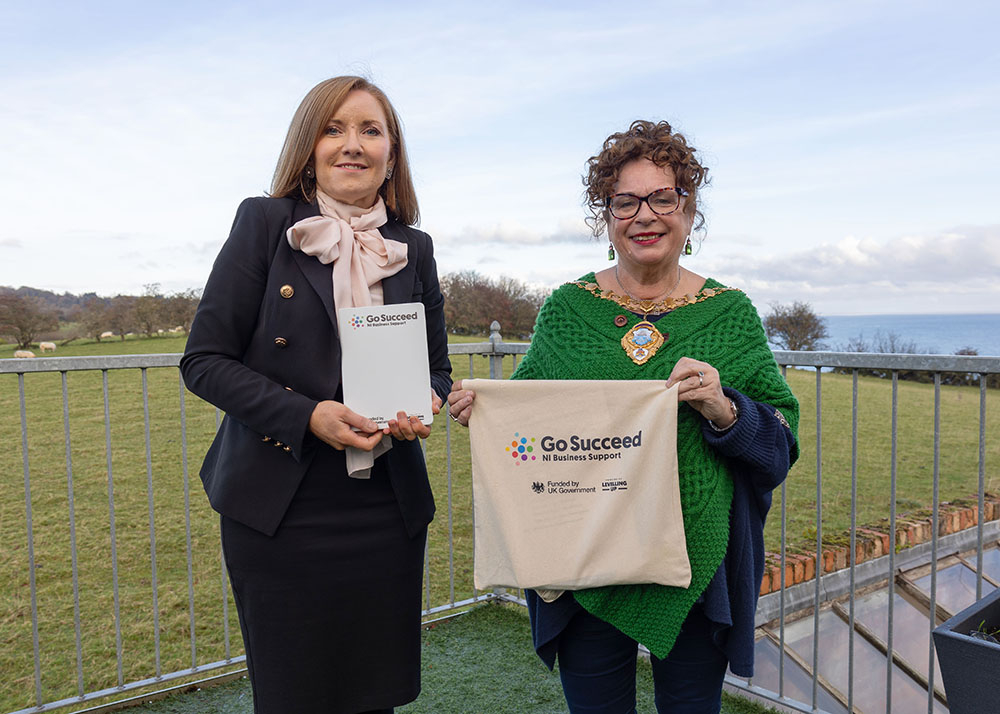 A major new Enterprise Support Service - 'Go Succeed' was officially revealed today at Hillmount House, Larne. Promising to support entrepreneurs, new starts, and existing businesses across Mid and East Antrim, the new service offers flexible and easily accessible advice and support at every stage of their growth journey.
Go Succeed will provide a holistic approach to government support services with a greater focus on providing a tailored service to suit individual needs, in a bid to foster enterprise across the region. Led by Northern Ireland's 11 local Councils, it will provide entrepreneurs and businesses with the direct support they need including mentoring, masterclasses, peer networks, access to grant funding and a business plan.
Funded by the UK Government and powered by the government's Levelling Up Fund, Go Succeed represents a significant investment in local entrepreneurs and businesses.
Speaking on behalf of Mid and East Antrim Borough Council, Mayor Alderman Gerardine Mulvenna, said: "The 'Go Succeed' service provides the perfect opportunity for entrepreneurs, new starts, and existing businesses across the Borough to get the advice, support and guidance they need to see their business grow and thrive.
"So whether you have an idea for a business but do not know how to get it started, or you are an established business looking for ways to grow, this new service can help assist you each step of the way."
The new service has been informed by research undertaken by a range of expertise in the field of enterprise development who provided solutions on the types of interventions that might be required to 'move the dial' for the Northern Ireland local economy relating to levels of business start-ups, productivity, access to innovation and levels of export. These recommendations provide the foundation for the new service – Go Succeed.
For more information visit the Go Succeed website.