Food and drink producers in Mid and East Antrim offered opportunity to exhibit at Balmoral Show
Wednesday 9 May 2018
Food and drink producers throughout Mid and East Antrim are being offered the opportunity to showcase their goods to tens of thousands of Balmoral Show visitors.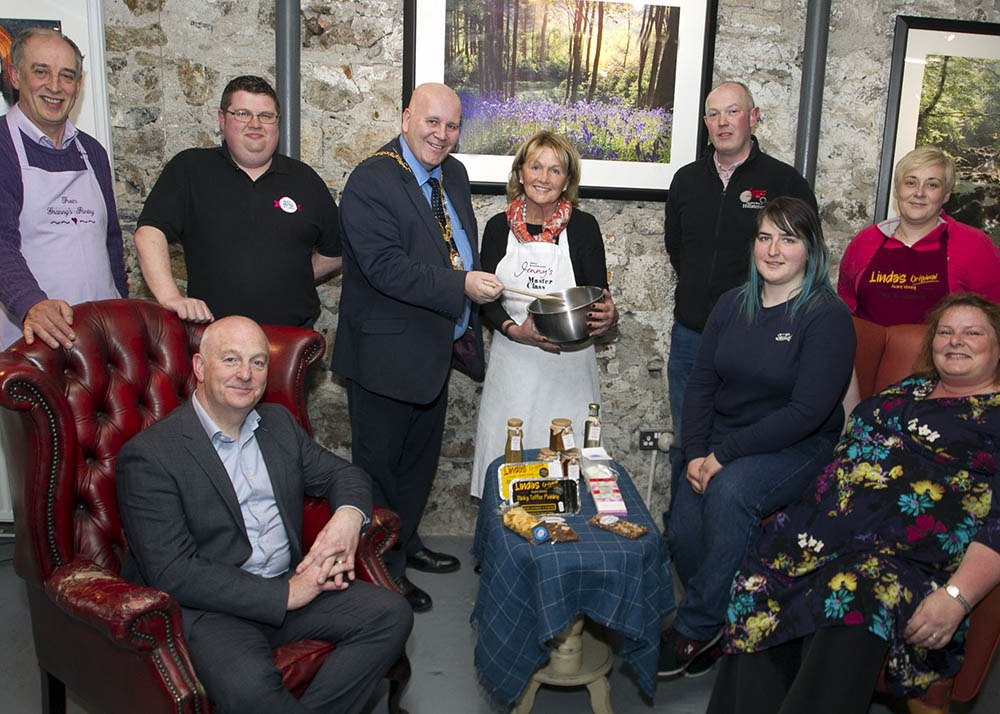 More than 100,000 people are expected to travel to Balmoral Park for the four-day event from 16-19 May, with around 40,000 visitors estimated to pass through the NI Food Pavilion – the focal point for all things food at the show.
Mid and East Antrim Borough Council is supporting the very best of local produce at the show by offering businesses an affordable opportunity to exhibit in the pavilion.
Eight producers from the Mid and East Antrim Food Network are being given the chance to showcase, sample and sell their products at a heavily subsidised rate.
The network aims to get agri-food businesses working together to promote the sector, in and out of the borough, as not only somewhere for 'foodies' to get fresh, local, high quality produce but for businesses to see the borough as a place to invest.
Linda's Original, Tom & Ollie, Flossy Treats, Wee Mallows, From Granny's Pantry, Clearer Water, Hillstown Farm and Granny Shaw's Fudge are some of the businesses visitors will be able to see.
There will be two stands on each day this year, with another featuring cookery demonstrations from celebrity chef Jenny Bristow. She will also be using locally sourced produce from the borough in her mouth-watering recipes.
Mayor of Mid and East Antrim Borough, Councillor Paul Reid said, "The Balmoral Show is one of the most important events in the Northern Ireland calendar. The NI Food Pavilion is an integral part of the show and a great advertisement for high quality, locally grown produce. Council's Integrated Economic Development Strategy has identified the agri-food sector as one which Council is committed to supporting and growing. We want local food and drink producers to be at the very heart of Balmoral and showcase the very best of Mid and East Antrim produce."
At the heart of Balmoral Show, Northern Ireland's largest agri-food event, is farming and fantastic award winning locally-produced food. Every year the event showcases the very best of the region's quality food and this year is no exception.
Michele Shirlow from Food NI said, "The NI Food Pavilion at Balmoral Show 2018 will be the most exciting yet! We are delighted with the wide variety of high quality local food and drink producers represented over the four days. We are incredibly passionate and proud of the exceptional taste of our local offering and as always our presence at the annual Balmoral Show allows us to celebrate the very best produce and encourage visitors to enjoy it. Top food writers and buyers from UK visit the Pavilion to scout for talent and this year we have some exciting news about seafood exports, we are also working with the Britain is Great campaign to highlight what an excellent food and drink region we are."
The initiative is part funded by DAERA under the NI Regional Food Programme.
To find out more about the Mid and East Antrim Food Network contact E: amplify@midandeastantrim.gov.uk or visit Amplify Mid and East Antrim.
Photograph: Celebrity chef Jenny Bristow and local producers from Mid and East Antrim who will be showcasing at Balmoral