Mayor congratulates 'inspirational' teens appointed Her Majesty's Lord-Lieutenant's Cadets
Friday 13 April 2018
The Mayor of Mid and East Antrim, Councillor Paul Reid, has congratulated two teenagers recently appointed Her Majesty's Lord-Lieutenant's Cadets for the County of Antrim.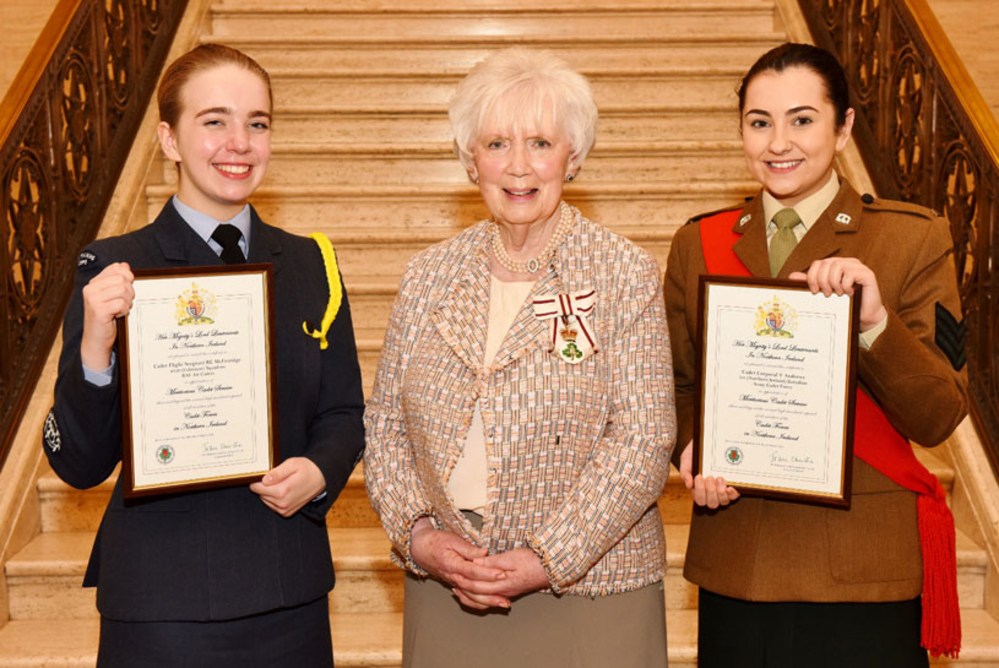 Yasmin Andrews, from Larne, and Rebekah McFetridge, from Ballymoney, were appointed to the roles at a special ceremony at Parliament Buildings, Stormont.
They are among just 12 cadets who have been selected as Northern Ireland Lord-Lieutenants' Cadets for the year 2018-19.
Both will accompany Mrs Joan Christie CVO OBE, Her Majesty's Lord-Lieutenant for the County of Antrim, at a special conferment of the Honorary Freedom of the Borough of Mid and East Antrim on Mrs Christie on Saturday 21 April.
The Mayor said: "Well done to Yasmin and Rebekah, two inspirational young people, on their prestigious appointments.
"They will both be excellent ambassadors for County Antrim in the 12 months ahead, and I'm sure will provide exceptional support to Mrs Christie.
"As a Larne man, I am especially delighted for Yasmin, who has been an enthusiastic Cadet Sergeant with the Larne Detachment Army Cadet Force.
"Yasmin has already progressed through the Army Proficiency Certificate syllabus, passing One, Two and Three star and also achieving the rank of Cadet Sergeant.
"The 17-year-old was also one of two Northern Irish Cadets selected to attend the six-week long Cadet Leadership and Challenge Course 'Argonaut' in New Brunswick, Canada."
The Citation, which accompanied her appointment, described Yasmin as: "A most valued member of Larne Detachment and a very capable instructor... an energetic and enthusiastic cadet who is always volunteering for any task or event, no matter how large or small.
"She is an excellent communicator and sets a high standard in her turnout, appearance and attitude and encourages other cadets to achieve as high a standard as possible."
Cadets selected for Lord-Lieutenants' Cadets roles are, in recognition of their role, entitled to wear a special insignia on their uniforms throughout their year in office.
The Cadets selected for the largely ceremonial year-long role can expect a busy year in office as they attend their respective Lord-Lieutenants on major civic occasions.
The official Freedom of the Borough conferment ceremony will take place at The Braid in Ballymena on Saturday 21 April.
The award is in recognition of Mrs Christie's commitment and service as Her Majesty's Lord-Lieutenant for the County of Antrim.
Members of the public are advised that Church Street Car Park 3 (opposite The Braid) and Church Street Car Park 2 (adjacent to the Northern Regional College) are to be closed from 11pm on Friday 20 April until 8pm on Saturday 21 April.
The entrance from Castle Street into Car Park 3 is to be completely closed, leaving one entrance/exit on the Larne Link Road.
Image: Yasmin Andrews (right) and Rebekah McFetridge (left) pictured with Mrs Joan Christie CVO OBE, Her Majesty's Lord-Lieutenant for the County of Antrim