Larne Area Community Cluster launches four life-saving defibrillators
Wednesday 23 August 2023
Community groups and organisations have been working closely with Mid and East Antrim Borough Council through the Larne Area Community Cluster initiative, to purchase and install four life-saving defibrillators for the Larne area.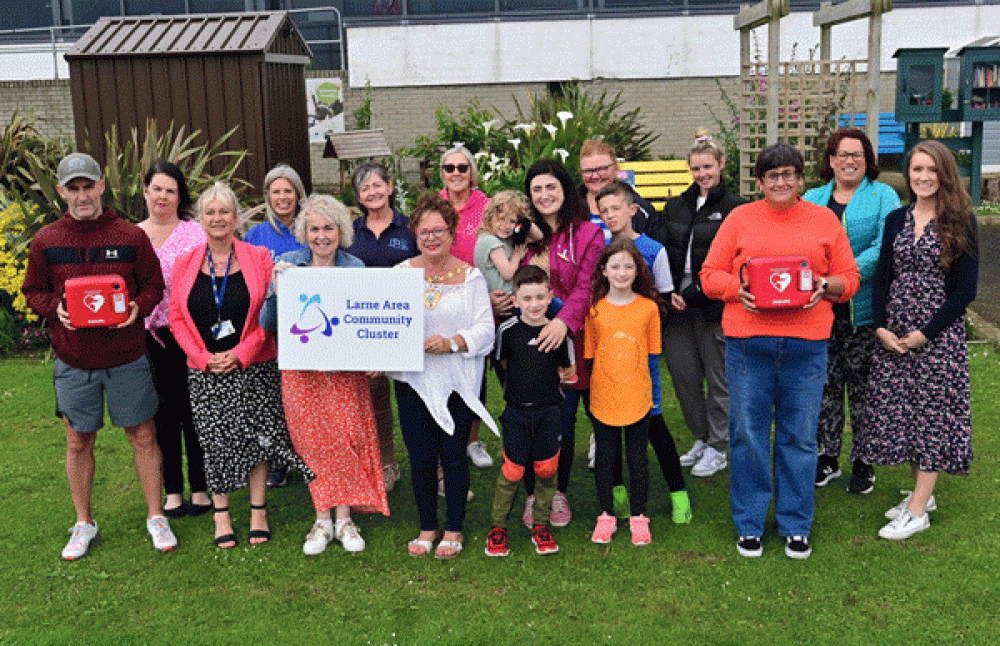 The Larne Area Community Cluster is a Council initiative designed to advance community development in the Larne area. There are now 54 community groups working together on a two-year action plan, which aims to build capacity for community groups and improve the lives of local residents through its projects.
Four community groups - who are members of the Larne Area Community Cluster - have committed to becoming guardians of the four defibrillators – EMBRACE Outdoor Swimming Group, Larne Community Development Project, Factory Community Forum and Larne Area Community Support Group.
The four defibrillators will be accessible to the local community and registered with 'The Circuit – National Defibrillator Network' which links a network of defibrillators across the UK to every ambulance service in the country to help save as many lives as possible from cardiac arrest.
Mayor of Mid and East Antrim, Alderman Gerardine Mulvenna, commented, "I am overjoyed to see so many community groups in the Larne Lough and Coast Road areas working together with the Council through the Cluster initiative and delivering on projects which will ultimately improve the lives of local residents.
"According to the British Heart Foundation, the use of early CPR (Cardiopulmonary Resuscitation) and defibrillator intervention can more than double the chances of surviving a cardiac arrest, which takes place outside of hospital. I am therefore extremely proud to announce Larne Area Community Cluster's installation of four defibrillators across Larne Lough and Coast Road areas, which will have an enormous impact and the potential to save lives within the local community."
Larne Area Community Support Group added: "We are so grateful to be involved with this project and to become a guardian for this vital piece of life saving equipment. There are so many people who use the Promenade area for health and leisure activities, alongside the upcoming famous Antrim Coast Half Marathon, and we believe it will be a very
welcome addition to the location for the local community. We are delighted to be part of Larne Area Community Cluster and would urge any local groups who are interested in collaboration to join."
The partnership initiative has been developed in line with Mid and East Antrim's Community Plan "Putting People First" which aims to work together to improve the quality of life for all.
Larne-based community group, Factory Community Forum, said: "We are delighted that Larne Area Community Cluster have been able to provide the resources to have a defibrillator installed within the local community. This will offer 24-hour access to life saving equipment and will be located outside at Factory Community Hub at 1 Lower Waterloo Road."
The defibrillator project builds on vital first aid and defibrillator training which was delivered to several community groups via the Cluster's Action Plan earlier in the year, equipping more people than ever to respond in potentially life-saving, emergency situations. Further first aid and defibrillator training will be rolled out to Cluster members later in the year.
Outdoor swimming group, EMBRACE, who are based in Ballygally added: "EMBRACE members are absolutely delighted to become a guardian for a portable defibrillator with the help and support of the Community Cluster Group.
"EMBRACE facilitators are not only trained in a number of water safety courses, but are also trained in supporting emotional well-being and have the confidence to recognise signs and symptoms of common mental health issues. 16 EMBRACE facilitators were recently trained in AED Drowning prevention, and we now plan to take the portable defibrillator with us to all the different locations that we dip & swim in, so that it is always available in case of emergency."
Larne Community Development Project also commented: "We are delighted to become a guardian for one of the defibrillators, which will be based at the Linn Road Community Centre. This essential, possibly lifesaving device, will be located on the outer front wall of the Centre and will be of benefit to all the user groups at the Centre, as well as to the wider community."
If you would like further information about the defibrillator project, or the work of the Larne Area Community Cluster, please contact:
Wendy Carson, District Electoral Area Officer for Larne Lough
T: 07966 888 131
Email: wendy.carson@midandeastantrim.gov.uk
Amanda Cotter, District Electoral Area Officer for Larne Coast Road
T: 07391 863 492