Local groups get 'together' as part of Good Relations Week 2023
Monday 18 September 2023
Mid and East Antrim Borough Council are joining with Community Relations Council and The Executive Office to promote a variety of exciting cross-community and cultural events as part of Good Relations Week 2023.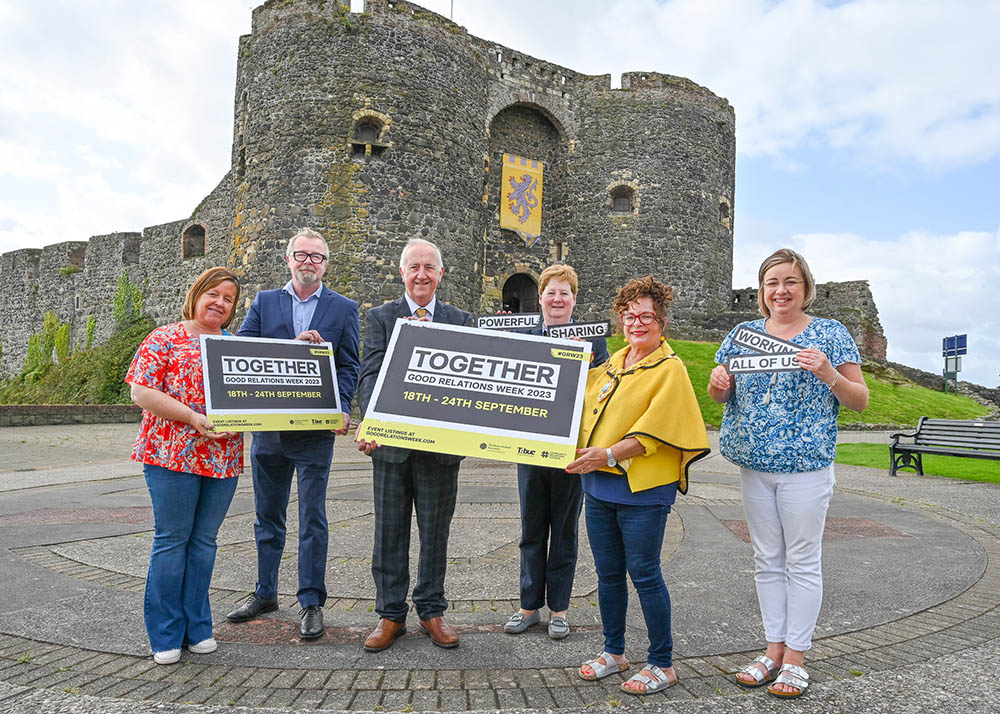 Celebrating this year's theme 'Together', a programme of activity will take place across Northern Ireland from Monday 18 to Saturday 23 September 2023.
Continuing to build upon the progress already achieved in encouraging and supporting change within our communities, the Good Relations Week programme offers workshops, lectures, panel discussions, feature talks, podcasts, storytelling, new digital content, exhibitions, and other events. Good Relations Week is co-ordinated by the Community Relations Council and supported by The Executive Office as part of the Together: Building a United Community Strategy.
The events are designed to offer a simple but powerful message; that working 'together' is the most effective vehicle for tackling the problems our communities face today. As well as serving as testament to the unity achieved within the last 25 years, the brand-new creative programme of events will help address the challenges we are facing now, highlighting issues such as gender inequality, racism and sectarianism, climate change, promoting diversity, barriers to education, shared spaces, peacebuilding and celebrating cultural diversity.
Mayor of Mid and East Antrim, Alderman Gerardine Mulvenna, said: "Council is delighted to once again show support for Good Relations Week. It's wonderful to see local community groups and individuals coming together to celebrate diversity, inclusivity and showcase how they are working together to build a sustained and shared future in our communities - building genuine friendship and trust.
"I hope that the events happening around the Borough act as a starting point, inspiring residents to continue getting together to share experiences and learn from each other. On behalf of Council I would like to encourage everyone to show their support and come along to a local event."
Speaking about the Good Relations Week programme Martin McDonald MBE, Chair of the Community Relations Council, said: "I am delighted the incredible work of bringing our communities together is continuing with this year's Good Relations Week programme.
"The diversity and creativity of the events taking place are a testament to the propensity for cultural expression continuously exhibited by the people of Northern Ireland. We would love to see communities coming together to help celebrate our commonalities and differences alike and show their support for those running events."
Dr, Jacqueline Irwin, Chief Executive Officer of the Community Relations Council said: "The ways in which individuals and organisations right across the region come together to support Good Relations Week provides a glimpse of the work that goes on all year – thank you to everyone contributing to the Week. It is great to see so many community groups getting involved alongside local councils, housing associations, our libraries and museums. I would encourage everyone to visit the website and browse the huge number of events on offer.
"It has been a difficult year financially. I believe, now more than ever, that we need to work together to share ideas, space, and experiences as we tackle inequality and the wide range of issues we are facing in our society."
Chris Gardner, Director of Good Relations and T:BUC Division TEO commented: "Initiatives such as Good Relations Week are an integral part of our continuing community strategy and are especially important at times of economic challenge. This programme plays a vital role in bringing communities together to continue the dialogues which helps ensure a peaceful, fair, equal and prosperous society for all people.
"On behalf of everyone involved I want to thank the Community Relations Council and all the organisations, community groups and individuals dedicating time and energy to producing these fantastic events. I hope the general public sign up to attend and get a lot back from their engagement."
For more information on the Good Relations Week 2023 programme of events visit the Good Relations Week website or keep up to date on Facebook and Twitter using the hashtag #GRW23.