Mayor meets Jonathan Rea MBE bursary recipients
Thursday 2 March 2023
Mayor of Mid and East Antrim, Alderman Noel Williams, recently welcomed recipients of the Jonathan Rea bursary fund to his parlour to congratulate them on their success and find out more about their chosen sports and achievements.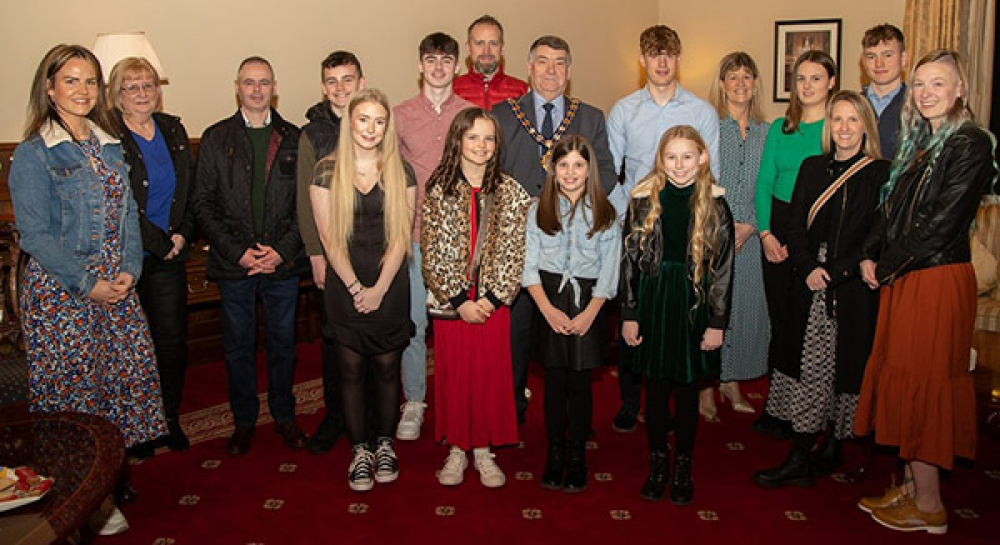 Racing ace Jonathan Rea MBE, was awarded the Freedom of the Borough by Mid and East Antrim Council in 2021. Jonathan asked that rather than presenting him with a gift, to explore options which would assist individuals across the Borough who excel in individual sports so that they can enhance their sporting development.
As a result, a special bursary was launched by Council in Dr Jonathan Rea MBE's name. The purpose of the bursary is to provide additional support to sporting individuals within the Borough who will act as effective ambassadors for Mid and East Antrim in their chosen sporting activity, with funding up to £2,000 per individual.
18 upcoming and promising stars in the worlds of gymnastics, sailing, running, boxing, cycling, archery, athletics, fly-fishing, Motocross and rowing secured a bursary over the 22/23 year - with over £30k distributed in vital funds.
Mayor of Mid and East Antrim, Alderman Noel Williams, said: "It was amazing to meet all these wonderful people who are excelling in their chosen field. I am sure the bursary will go some way in helping to support their sporting dreams. Well done to all."
Recipients of the bursary included Tom Coulter (sailing), Holly Murdock (Archery), Emily McClune (gymnastics), Josh McClune (cycling), Willow Davis (gymnastics),
Adam Courtney (athletics/running), Isla Burnside (gymnastics) and Ellen Barbour (sailing).
To find out more about the Dr Jonathan Rea bursary and/or to apply visit our Grants section on this website.