Mid and East Antrim Borough Council launches 'Dementia Friendly Borough' campaign
Tuesday 12 September 2023
Mid and East Antrim Borough Council has officially launched an inspiring and thought-provoking Dementia campaign to mark World Alzheimer's Month this September.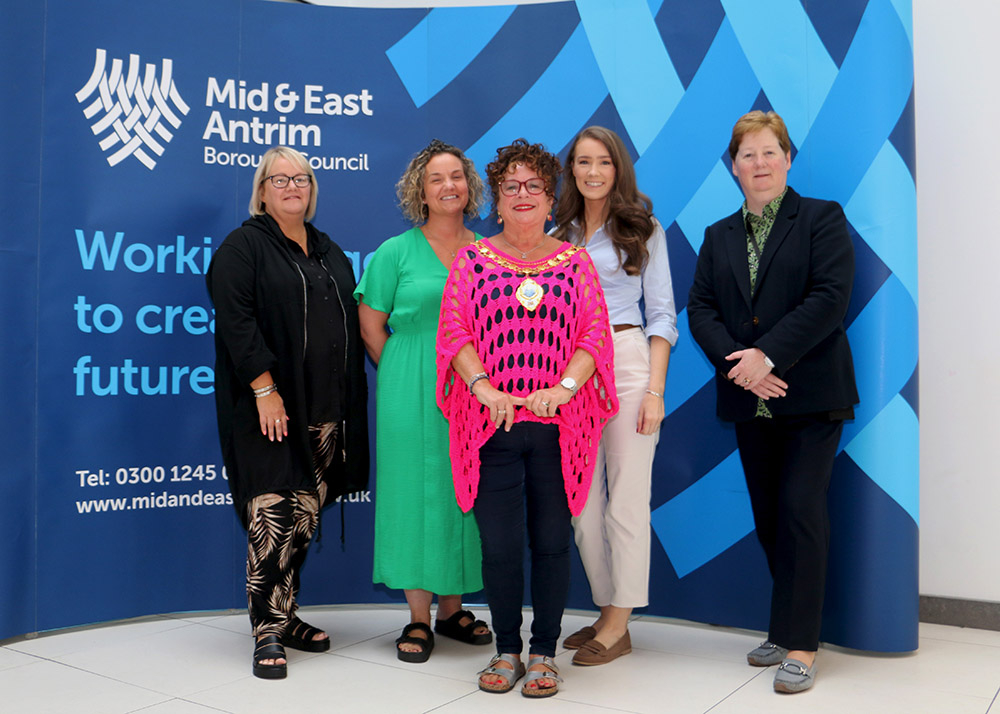 Council partnered with Alzheimer's Society and Inter-ethnic Forum to develop the campaign which features a range of wonderful residents who are living with Dementia, or care for a loved one with Dementia . Titled 'We see you, we care' it includes a series of videos and graphics which will be promoted throughout Mid and East Antrim to raise awareness of Dementia and highlight vital help and support available across the Borough.
Mayor for Mid and East Antrim, and Council's Dementia Champion, Alderman Gerardine Mulvenna commented: "I am incredibly proud to launch the MEA 'Dementia Friendly Borough' campaign which voices the lived experiences of local people impacted by Dementia. This impactful campaign provides a timely reminder that everyone can play a part in helping our residents, friends and neighbours affected by Dementia (plus their carers) feel safe and supported within our local communities.
"Having cared for my mother with Dementia, I understand the impact it can have on families and the challenges that often come with knowing where to turn for support. I am therefore delighted that this campaign will also shine a light on the support services available to people affected by Dementia, and their carers, across Mid and East Antrim.
"My heartfelt thanks go to the courageous and inspiring participants who took part in the campaign, as well as all of the Dementia friendly organisations who partnered with us to make this campaign possible."
The project builds upon Council's existing 'Dementia Friendly Borough' initiative which is delivered as part of an ongoing strategic priority to respond to an ageing population, listed within Mid and East Antrim's Community Plan - 'Putting People First' The work to date has seen more than 700 individuals take part in Alzheimer's Society Dementia Awareness training throughout the Borough and a calendar of events for people impacted by Dementia - which has been rolled out each year.
As part of the campaign, a further opportunity for businesses and community/voluntary groups to become 'Dementia Friendly' will be provided through a series of four free upcoming training sessions:
Larne Town Hall - Tuesday 17 October 2023 from 10.30am – 12noon
The Braid, Ballymena - Wednesday 18 October 2023 from 2.30pm – 4pm
Carrickfergus Town Hall - Thursday 19 October 2023 from 10.30am – 12noon
Online via Zoom - Tuesday 24 October 2023 from 6pm – 7.30pm (Open for residents, businesses or community organisations)
A free online 'Speedy Signposting' event will also be held for family members and carers of someone living with Dementia on Thursday 5 October 2023 from 6.30pm – 8pm, where local organisations will be speaking about available support options.
Further information on the 'Dementia Friendly Borough' initiative, including details on the campaign, training sessions, supporting organisations and Council's new 'Dementia Friendly' branding, can be found our Dementia section or by contacting Amanda Cotter, DEA Officer on E: amanda.cotter@midandeastantrim.gov.uk or M: 07391 863 492.