Mid and East Antrim Borough Council Win Zero Waste Award
Monday 18 September 2023
Council commended for strong commitment to the waste hierarchy, emphasising waste minimisation, reuse, and recycling.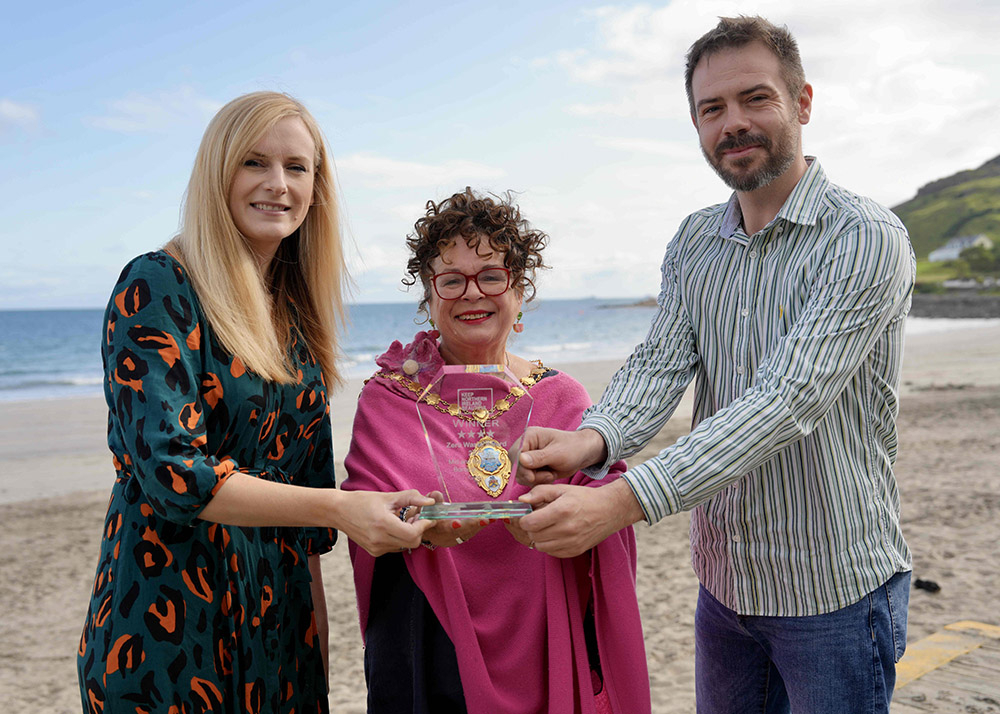 Mid and East Antrim Borough Council has been presented with a Zero Waste Award for its work on environmental initiatives that have gone that extra mile for waste management and sustainability in their local area.
The local government award, created by environmental charity Keep Northern Ireland Beautiful, aims to recognise and celebrate the efforts of councils in Northern Ireland in reducing the amount of wasted resources.
Chris Gourley, Waste and Pollutions Solution Lead at Keep Northern Ireland Beautiful comments:
"We were particularly impressed by Mid and East Antrim Borough Council's collaborative communication efforts with the Waste Resources Action Programme (WRAP), their provision of reuse workshops, and engagement with social enterprises to rethink waste as a valuable resource. Moreover, support for local communities through initiatives such as community fridges, the Christmas Toy Container, School Uniform Scheme, and Cloth Nappy Scheme showcases their dedication to translating education and communication into tangible, on-the-ground actions that make a real difference.
Chris continues, "Winning the Keep Northern Ireland Beautiful Zero Waste Award is a testament to the council's hard work, innovative thinking, and commitment to sustainable practices. I would like to congratulate Mid and East Antrim Borough Council for all their efforts, which are committed to the ethos of reduce, reuse and recycle. We hope this award will go some way to building further sustainable practices that reduce environmental impact. Thank you to all the councils that submitted schemes. It's very evident that there is lots of good work going on."
Mayor of Mid and East Antrim, Alderman Gerardine Mulvenna, who received the award on behalf of Mid and East Antrim Borough Council said:
"We are delighted to have achieved such an important 'Zero Waste' award 2023 with Tackling Plastic Northern Ireland. Now more than ever, we understand the importance of waste minimisation, re-valuing unavoidable 'waste' as a usable resource and to support a circular economy. We will continue to promote this to our residents and stakeholders, to engender behavioural change and to move away from a 'throw away' society."
Keep Northern Ireland Beautiful created the Zero Waste Award in 2022/2023 to reward positive local council contributions to sustainability and to recognise efforts in reducing the amount of wasted resources.
Councils in Northern Ireland have all signed up to the Keep Northern Ireland Beautiful Plastic Promise which recognises that councils are in a position to lead, influence and make change. Each of the 11 Councils have pledged to reduce plastic waste by eliminating avoidable single-use plastics (SUPs) across services, offices, green spaces and events by employing the refuse, reduce, and recycle ethos; switching to alternatives wherever possible.
By achieving a Zero Waste Award, councils are able to celebrate and promote not only their successes, but they also have the opportunity to collaborate and extend their work with more suppliers and likeminded organisations.