Racing stars in pole position at Mid and East Antrim Borough Council Sports Awards
Friday 9 March 2018
Motorsport champions Alastair Seeley took to the podium at last night's Mid and East Antrim Borough Council's Sports Awards as he and and Jonathan Rea MBE won awards after amazing seasons.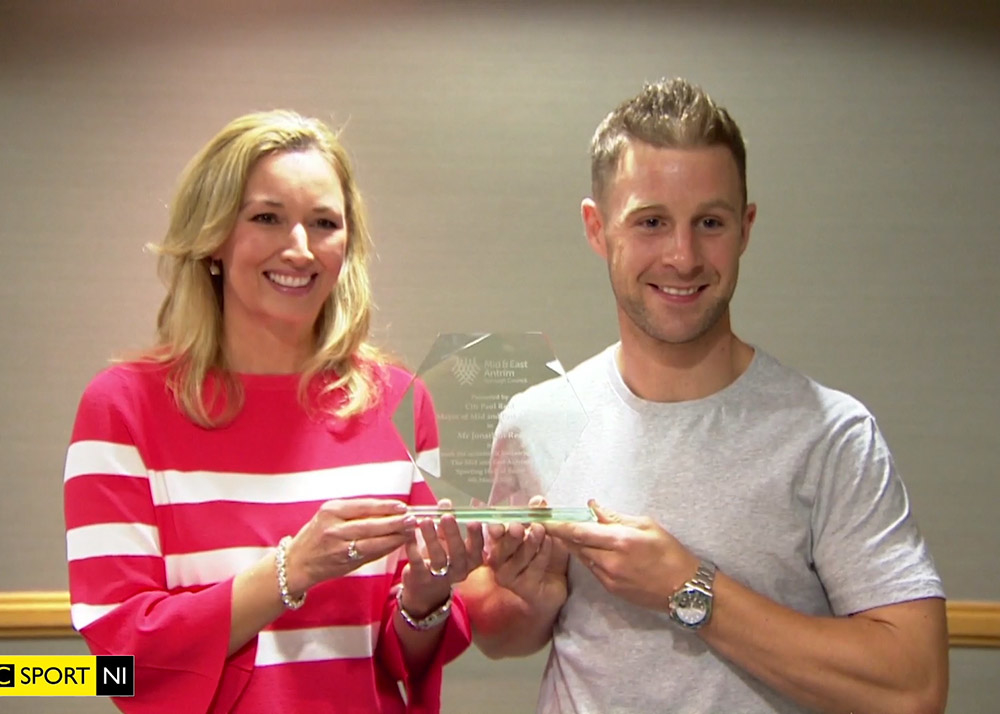 Triple world champion Jonathan Rea was inducted into the 'Hall of Fame' after a remarkable year in which he not only clinched a record third straight World Superbike title, but also came runner up in BBC's Sports Personality of The Year Award.
Carrickfergus racing star Alastair Seeley was awarded Sportsperson of the year. It's after the 'Wee Wizard' took his record tally of wins at the NW200 to 21 by winning four races including Superstock and Superbike victories.
This year, the glittering awards ceremony took place at the Carrickfergus Amphitheatre.
Accepting his award, Jonathan Rea thanked those who voted for him, "This is the icing on the cake after an incredible year in 2017. I've been humbled by the support I've had from everyone back home, especially growing up in Mid and East Antrim with my parents and going motor crossing across Northern Ireland, to be recognised back home where I grew up, it really means a lot to me so thank you very much."
Alastair Seeley said he was delighted, "I'm honoured to accept this recognition award in my hometown of Carrickfergus. I've had an incredible year and this support from the local council and its partners is very much appreciated."
The Mayor of Mid and East Antrim Cllr Paul Reid said, "Both Jonathan and Alastair's exploits continue to put Mid and East Antrim on the map and we are hugely proud of them. They have both had illustrious careers and all of us here at council wish them both well as they continue to act as an incredible ambassador for our borough.
"I feel passionately about encouraging people to become involved in sport and as a Council we consistently promote and develop all types of sporting and fitness activities. All of our winners are fantastic role models for the future generations in our borough to get involved in many different sports and who knows, could maybe even become champions themselves."
This is the third annual Sports Awards to take place since the formation of Mid and East Antrim Borough Council.
Nominees from the sporting world, including coaches, teams and individuals, all battled it out in nine categories to clinch the trophies.
The winners include:
Junior Sportsperson of the Year – Ben Wylie – Football
Veteran's Award – David Clarke – Athletics
Sportsperson with a Disability – Darrell Erwin - Handcycling
Services to Sport – Don Stirling - Football
School Sporting Performance – Larne Grammar Boys Relay Team
Sportsperson of Year – Alastair Seeley - Motorsport
Team of the Year – Ballymena United Football Club
Coach of the Year – Gary Marshall – Equestrian
Hall of Fame – Jonathan Rea