Street art painting a new future for Larne's Main Street
Monday 23 April 2018
Mid and East Antrim Borough Council is working with a local voluntary organisation in Larne to breathe new life into the town centre.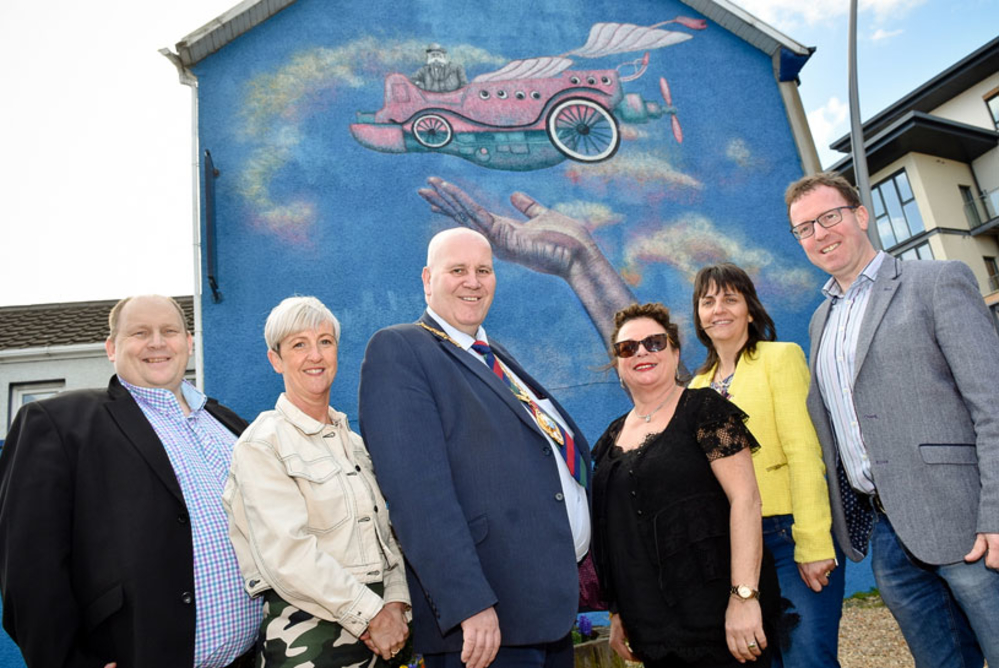 Larne Renovation Generation (LRG) is a voluntary organisation, passionate about Larne town and the surrounding areas. Its founder, Andy King, developed an art project which focused on history and tourism in Larne.
Funded by Council, the group have been working with two local businesses, RA Glass Opticians and Shoe Zone, to paint on the gable ends of two buildings, one at each end of the Main Street.
The end result is two colourful works by professional street artists, Eoin McGinn and Dee Craig, the same aerosol geniuses who have also made their mark on many of Belfast's buildings, including the Cathedral Quarter.
The Mayor of Mid and East Antrim Cllr. Paul Reid said, "This fantastic project is a great way of marrying art and tourism. The artwork has not only brightened up Main Street, but is now the perfect backdrop for visitors to take selfies and share just how good our high street is here to the world. Council is proud to have funded such an innovative project to revitalise the town centre here. Our number one priority is to boost the economy across the borough and by working closely with local businesses as well as Larne Renovation Generation, this will certainly drive footfall to the area to do this.
"Council also recently supported another street art project in Carrickfergus called 'Umbrella Street' which has been an Instagram hit with locals and visitors, footfall figures for the area increased as a direct result. I hope these murals will have the same impact and inspire locals to preserve Larne's heritage to help foster the area as a wonderful place to work and visit."
Eoin McGinn designed and created both the murals. The first is of Richard Hayward, a pivotal figure in Irish culture during the early-mid twentieth century who promoted Ireland as a tourist destination. The second is of Henry McNeill, the first man to bring tourism to Ireland. The first of his many hotels was called the McNeill hotel which was situated on Larne's Main Street. Council's Henry McNeill Theatre is also named after him.
As part of the project, Eoin also delivered aerosol art workshops to students at Larne Grammar School, he said: "The engagement and workshops provide a platform for local people to develop creative skills, work together as a team, build confidence and think more deeply about what it means to live in Larne."
A spokesperson for Larne Renovation Generation said, "Thank you to Andrew King who had the vision and determination to make this happen. We are grateful to Mid and East Antrim Borough Council, including all the staff involved. Thanks also to Larne councillors, especially Cllr Gregg McKeen."