The best of Mid and East Antrim showcased at Holiday World Exhibition
Tuesday 6 February 2018
Mid and East Antrim's incredible tourism offerings were showcased at this year's Holiday World Show in Dublin, as part of the 'Tourism NI Village'.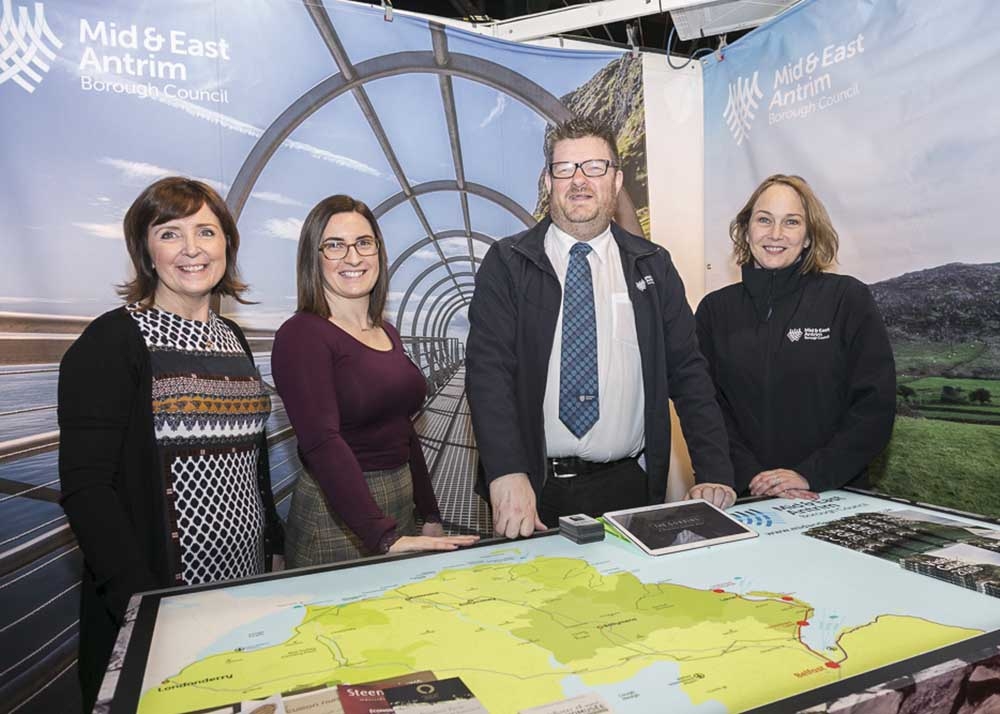 More than 1,000 travel professionals from around the world attended the event in a bid to encourage visitors to book holidays to their destinations and see what wonderful offerings they have.
Lonely Planet recently voted the Causeway Coastal Route, along with Belfast, the number one region in the world to visit in 2018.
As part of the Mid and East Antrim tourism offering, The Gobbins and local area were featured during all three days of the event.
The Mayor of Mid and East Antrim, Councillor Paul Reid, said: "Mid and East Antrim has huge tourism potential and Council is working closely with the industry to facilitate greater networking and engagement between the tourism and hospitality sector.
"Growing and capitalising on our tourism potential is one of Council's key priorities.
"By encouraging collaborative working, we can increase tourism potential and footfall to the Borough.
"As part of this collaboration, the Tourism Department within Mid and East Antrim Borough Council organised an information gathering field trip to the show for local tourism and hospitality providers from the borough.
"In total, 35 representatives from the tourism industry took up the invitation to visit the exhibition.
"They were treated to a talk from the show organiser outlining the benefits of attending such exhibitions, along with the opportunity to network with local businesses in attendance, who could advise on what preparation it takes to showcase at such large scale events."
Mid and East Antrim Borough Council will be holding a series of workshops for the tourism and hospitality industry over the coming weeks, covering everything from specialist customer service courses to trade stand skills.
To find out more and to register your interest contact Zoe Lindsay at E: zoe.lindsay@midandeastantrim.gov.uk or call T: 028 2826 2379.
If you are interested in keeping up to date with local tourism and hospitality news, you can also sign up to the Council's Tourism e-zine.
ATTACHED: Images from Mid and East Antrim Borough Council delegation's recent attendance at the Holiday World Exhibition