'Umbrella Street' raining colour on the streets of Carrickfergus
Wednesday 28 March 2018
Springtime is about to get a lot more colourful for the town of Carrickfergus as a new umbrella art installation is getting people talking.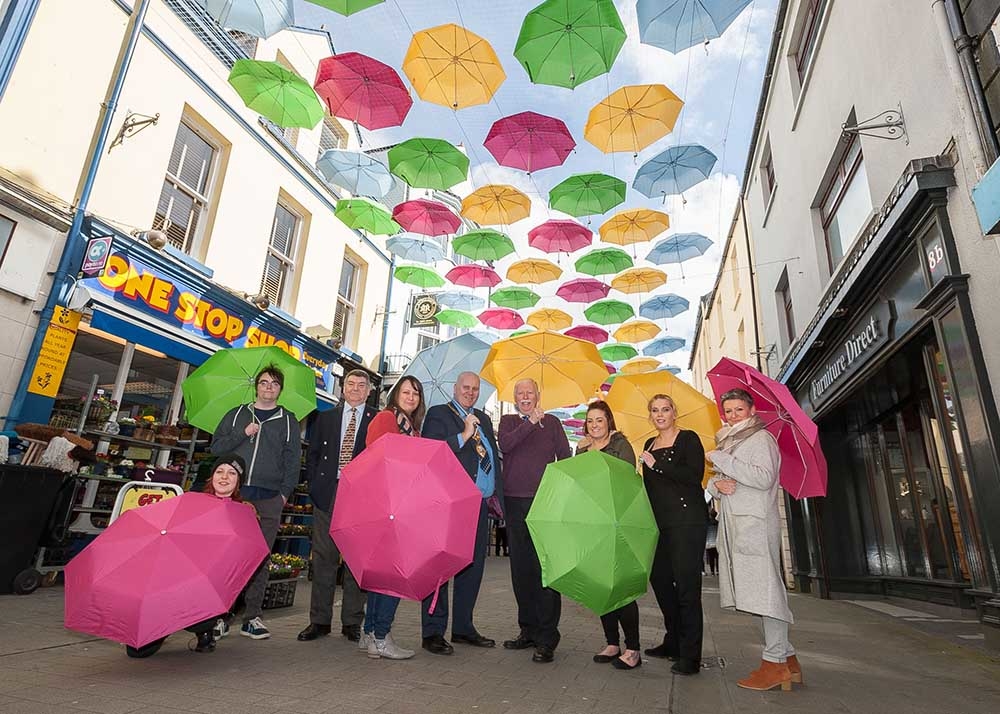 'Umbrella Street' is a new floating canopy of colourful brollies adding a splash of colour along West Street.
The project is a part of a new council initiative to regenerate the town centres of Mid and East Antrim using urban art.
The concept sees Mid and East Antrim Borough Council working with Carrickfergus Town Centre Partnership (CTCP), and local businesses who wanted to enhance the streetscape and create a focus for the town centre.
It is hoped that this urban art installation will encourage locals, visitors and tourists alike to visit and support Carrickfergus town centre.
Mayor of Mid and East Antrim Cllr Paul Reid said: "The Umbrella Street project is a fantastic example of how we can use art to attract people into our town centres and develop a more vibrant atmosphere for those who visit, work and live here. I encourage people to come to Carrickfergus to see the spectacular installation for themselves, take pictures and share their selfies. This kind of project is the first of its kind here in Mid and East Antrim and we hope to inspire other council's to get creative too.
"This is all part of council's economic strategy Amplify, which outlined the need to think more creatively about how we make the best use of our town centres, and this fantastic new installation will add vibrancy to the streets of Carrickfergus in more ways than one."
Lisa Soulter, business owner and member of the Carrickfergus Town Centre Partnership (CTCP) said: "It is great to see this council initiative delivered on the ground and we're delighted to provide an input to it. Already I have seen visitors come to the display for selfies. Anything that increases additional footfall to our town centre must be welcomed."
The art installation 'Umbrella Street' on West Street will be on display until the end of April 2018.