What's Your Flavour? School Ice Cream Competition Winners Announced!
Monday 20 November 2023
Primary school students across the Borough recently put their creative thinking and idea generation skills to the test by designing a delicious new flavour of ice cream as part of an exciting Global Entrepreneurship Week competition organised by Mid and East Antrim Borough Council.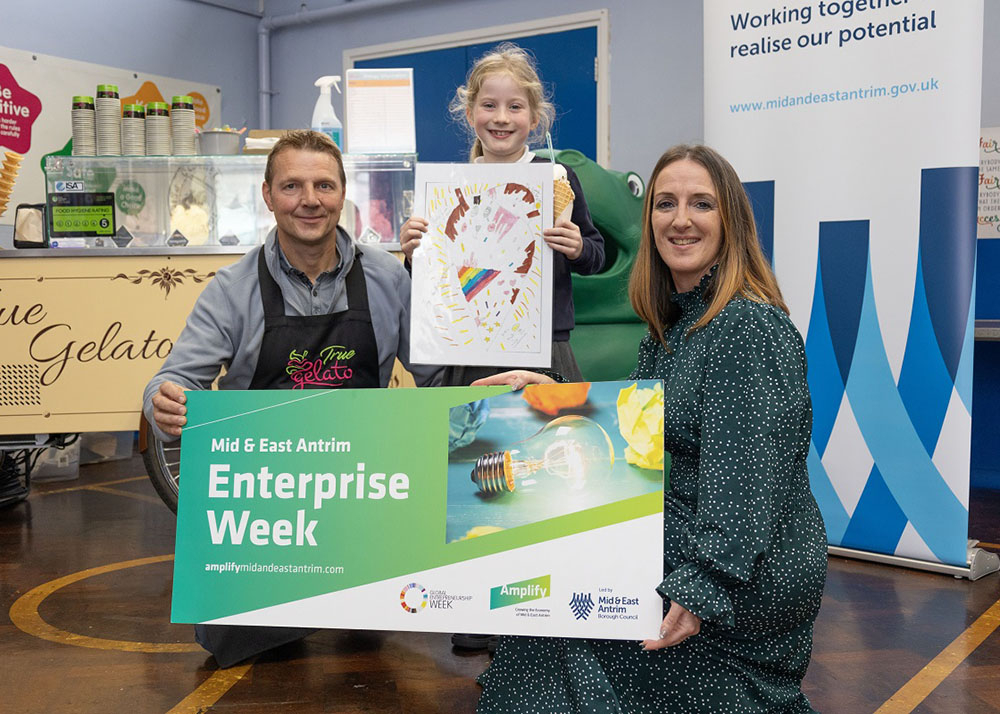 Global Entrepreneurship Week 2023 is taking place from 13 to 19 November and this year Mid and East Antrim Borough Council has brought together a diverse programme of FREE events and activities aimed at promoting entrepreneurship, encouraging new start-ups, inspiring the local business base and supporting sustainability and innovation.
An incredible 500 entries were received from Primary 4 and 5 pupils from across MEA – with their entries also including a marketing poster to promote their fantastic new product. Following very stiff competition, two lucky winners were selected to have their flavour developed by two local ice-cream manufacturers.
The two winners and their classmates were invited to visit the ice-cream parlours to taste their product and find out more about running an ice-cream business!
Grace Adams (aged 7) from Olderfleet Primary school was selected as one of the winners. Grace's innovative ice cream, Space Bunny, won Grace and her classmates a surprise visit to the school by local ice cream producer True Gelato - where pupils and teachers got to try the winning creation. Grace's entry won the judges over with her creative design, pricing and use of fresh, natural ingredients.
Primary 5 pupil Gabriel Hirst from Millquarter Primary School was joint winner with his 'Mystery Flavour'. Gabriel's winning entry featured a creative and interactive 'Guess the Flavour' poster that was designed to get people chatting and buying the ice cream. The judges loved the engagement that Gabriel's competition entry brought and the creative use of a 'secret panel' which revealed the winning combination – 'Top Hat' flavour!
Gabriel and his classmates will be invited to The Milk Parlour in Glenarm to try out the exciting new flavour and learn more about running an ice cream business.
A full list of Global Entrepreneurship Week events happening across Mid and East Antrim is available on the Global Entrepreneurship Week 2023 webpage.