Business Support
Business Escalator Plus, Digital Boost, Bid2Win and Digital Surge programmes are part-funded by Invest Northern Ireland and the European Regional Development Fund under the Investment for Growth & Jobs Northern Ireland (2014-2020) Programme.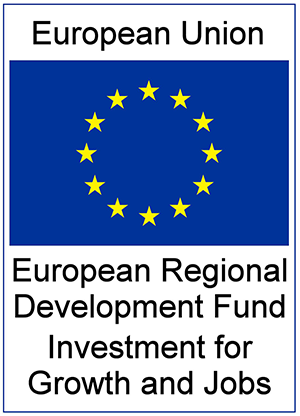 Digital Surge Programme
The Digital Surge Programme is a NI-wide programme, part-funded by all 11 local authorities.
The programme will help you embark on your digital transformation journey.
2 half-day workshops on the fundamentals of digital transformation and innovation
A diagnostic report outlining an innovation and digital transformation plan for your organisation produced by an innovation consultant
Masterclass workshops to showcase the advanced technologies such as Blockchain, the Internet of Things, Artificial Intelligence / Machine Learning, Data Analytics, Virtual Reality / Immersive Tech and Robotics
6 days of mentoring support from advanced technology experts
A digital acceleration plan produced for your organisation
Routing to more intensive supports and funding
Free Workshops and Showcases
Any small enterprise or social enterprise can avail of the free workshops without taking part in the Digital Surge Programme.
Why take part?
In today's world, businesses that recognise the role technology can play in enabling their strategy will certainly increase their growth potential.
Our advanced technology experts will provide the support you need to discover how to fundamentally change how you operate and deliver value to your customers.
Find out how to use advanced technologies to:
Increase efficiencies
Improve productivity
Get data-driven insights
Increase partnerships
Gain a competitive edge
Accelerate growth
Who is the Digital Surge programme for?
This FULLY FUNDED programme is for eligible organisations from any sector including manufacturing, tradeable services, retail, tourism, hospitality, agriculture, construction and social enterprises.
You just need to open your mind to how advanced technologies can pivot your business model!
To join this programme your organisation must:
be an enterprise or social enterprise based in NI
have less than 50 employees
not be an Invest NI client (or have approval from your Invest NI client representative to participate in the programme)
require specialist support to embark on a "digital transformation journey"
not be able to access similar support from existing economic development stakeholders
be able to confirm that the Digital Surge mentoring will not take them over the State Aid de minimis ceiling of €200,000 over the current and two previous fiscal years, or if applicable, the £315,000 Minimal Financial Assistance contribution
---
Business Health-check
Let us help you to navigate through the array of business support out there, to find the right fit for you.
Council's Business Client Managers can meet with you to confidentially carry out a business diagnostic and make recommendations and introductions to wider supports in the marketplace.
Connect with a Business Client Manager now by signing up via the Amplify portal.
---
Business Escalator Plus Programme
A bespoke one to one mentoring service to support the growth of your business through the following areas:
Strategic Business Growth
General Business Planning
Leadership & Management
HR & Staff Development
Financial Management
Innovation
Marketing
Sales
Export
Customer Experience Management
ICT & Ecommerce
To access support, your business must be trading for more than 6 months and employ less than 50 people.
---
Digital Boost Programme
Digital Boost will support you to transform your business through the application of digital platforms and digital technology in order to enhance customer engagement and increase sales.
Mentoring is tailored to meet your specific needs in the following areas:
Selling through established platforms e.g. eBay, Amazon Marketplace etc.
Social Media for business
Using video to showcase your products and services
Monitoring digital marketing success
Basic web design and enhancement
Developing an e-commerce strategy
Selling through your business website
Online advertising strategies
Maximising customer engagement/interaction with your website/social media
Implementing basic CRM tools/strategies
Using data analytics to drive sales and inform product and service development
To access support, your business must be trading for more than 6 months and employ less than 50 people.
You can register your interest in the programme via the Amplify portal.
---
Bid2Win Programme
Help to win more business tenders.
The Programme aims to support the growth of small and micro businesses, by providing you with the knowledge and skills to expand in the area of procurement and tender opportunities, increasing competitiveness and helping to create new employment opportunities.
Participating companies can avail of:
1 Introductory workshop - this ½ day session will provide an insight into the public procurement process, private sector supply chains, good tender practice and how to avoid common pitfalls.
1-to-1 mentoring - where participants learn practical tendering skills e.g. how to register and navigate tender portals, bid library development, tender road mapping, review of previous submissions, support with a live bid etc.
A series of specialist workshops (various topics & dates available)
Participants will also be invited to attend Meet the Buyer events.
To access support, your business must be trading more than 6 months and employ less than 50 people.
---
Mid and East Antrim Food & Drink Network
Agri-food businesses have enjoyed practical workshops, best practice visits, mentoring support as well as visits and sessions from key industry experts through support provided by the Mid and East Antrim Food and Drink Network. Council are keen to hear from local food and drink producers interested in becoming involved in future activities of the network.
To register your interest in the food and drink network email: mary.oboyle@midandeastantrim.gov.uk
To enquire about support on any of these programmes by signing up via the Amplify portal.
---