Employment and Skills Support
Please click below to see the support we offer
STRIDE Employability Programme
Health and Social Care Academy
Transport Academy
MEA Transport Academy
The Transport Academy provides all the required training to enable participants to acquire the Category C / HGV Class 2 or Category D / PCV bus licence and supports them to compete for professional driver roles with local employers.
Places are limited, to progress to the selection process, candidates must:
Reside within the Mid & East Antrim Borough Council Area.
Be unemployed or under-employed (typically working less than 21 hours)
Hold a full, clean, current UK Driving Licence – candidates must have held a full UK Driving Licence for at least 2 years. Both the plastic card and paper counterpart will be required to obtain the necessary provisional entitlement to commence training.
Be willing and able to undertake a medical exam.
Be committed and available to complete all required aspects of the Academy including appointments for medicals, theory test classes, lessons, tests and interviews.
Be committed to taking up appropriate employment within the Transport sector.
The Academy is managed by Workforce Training Services, to apply email your contact details including address and postcode to info@workforceonline.org by 12.00pm on Monday 25 July.
Please include 'Mid & East Antrim Transport Academy' in the subject line and indicate your preference for either Category C (HGV) or Category D (Bus) within your email.
Workforce is closed 11 – 22 July and will contact applicants w/c 25 July.
To address the gender imbalance within the transport sector we particularly welcome applications from women.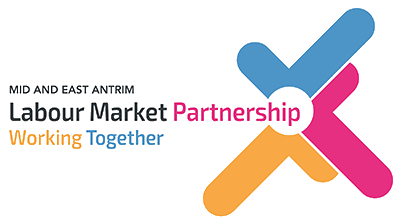 Transport Employers
Borough-based employers interested in engaging with the Academy to support driver recruitment should contact sean.keenan@midandeastantrim.gov.uk.
For any other information please contact amplify@midandeastantrim.gov.uk or T: 028 2563 3363.
Jobmatch
A training and employment programme delivered by Network Personnel to support individuals find work, create CVs, job searching and preparation for interviews, self-employment support and opportunities for confidence building and personal development.
E: jobmatch@networkpersonnel.org.uk
T: 028 7963 1032
---
STRIDE Employability Programme
This programme, run by USEL, is designed to help people living with a disability or health-related conditions who are out of work move towards employment or further education.
T: 028 9035 6600
---
Verve Employability Programme
A training and employment programme delivered by the NOW Group that is open to anyone over 16 who has a learning difficulty, learning disability, autism or associated health condition and would like support in gaining employment.
T: 028 9043 6400
---
Health and Social Care Academy
Are you or someone you know a Mid and East Antrim Council resident, currently unemployed or working less than 16 hours a week?
Are you interested in kick-starting your career in the Health and Social Care sector?
If so, we want to hear from you!
Mid and East Antrim Borough Council, in partnership with People 1st, is currently offering the opportunity to complete a Health and Social Care Employment Skills academy, with support to apply for live vacancies and guaranteed interviews upon completion.
The start date for participants interested in gaining the necessary entry-level knowledge and skills is 12 September 2022.
For registration and further information please email your contact details to academy@people-1st.co.uk.
A job mentor will be in touch to discuss the next steps to getting started on your journey into employment.
Case Studies:
Colin Miller's participation in Council's Health and Social Care Academy, facilitated by People 1st has provided him with the job-specific skills and attributes required to access employment in the caring profession.
For most of his career, Colin had worked in engineering until he was made redundant. Within his family there is a long history of people working in the care sector and with family members having sensory disabilities, he had always seen this as a career he wanted to get into.
Colin left school with no qualifications and when a family came along, he had to secure a job to support his young family. Colin started working in a factory and as his career settled, he found it was easier to stay put and do what he knew, than change career to follow his passion. However, going through redundancy and with his family grown up, Colin is now able to pursue the career he wanted in the caring sector.
Colin participated in the five-day Health and Social Care Academy with People 1st, which is funded by Mid & East Antrim Borough Council. The academy provides participants with an insight into the career pathways available within the sector, employability skills, including assistance with application forms, CVs, and interview preparation.
In addition, all participants are guaranteed an interview for live vacancies.
After successfully completing the academy, Colin has secured employment as a carer. He says his clients are very friendly, and are patient with him as he learns about their individual needs.
With the support of his team lead and manager, Colin feels prepared for each new day; they phone him regularly to find out how things are going and update him on new clients or changes.
He said: "I see myself doing this for the next 10 – 15 years".
Congratulations Colin, we are proud of your achievement and are delighted to have been part of your journey.
Tina, 47, from the Ballymena area had been unemployed for 3 years but unfortunately had to leave her job due to medical conditions. She really wanted a job which helped people and supported them to live a better quality of life. Tina had over 10 years experience working in a special needs role and knew that her passion lay in working with individuals who needed extra assistance and support to lead full and independent lives.
Tina saw the Mid and East Antrim Health and Social Care Academy advertised in the local paper and thought it would be a good opportunity to re-enter the employment market.
Tina was assigned a Mentor, who mentor contacted her to chat through her employment goals. It became obvious that she had some concerns regarding her medical history and coming back into employment. Tina's mentor spent time chatting to her about both physical and mental health concerns, reassuring her that these were challenges that could be overcome. Tina was nervous as she had had a very bad experience in work previously and this affected her mental health. This had left her worried about references and how she would be able to move beyond that experience.
Tina stated " I thought due to my past experience I wouldn't get good references but after speaking to People 1st, I was reassured and my mind was put to rest and here I am working with three great references.''
After reassuring Tina that these where areas which could be overcome, she became more motivated to gain employment in the HSC sector.
Tina attended the academy with People 1st which boosted her confidence and helped her understand the basic principles of care work. Tina was supported to apply for work and prepare for interviews. Tina successfully gained an offer of employment from a local nursing home and is now undertaking her NVQ Level 2 with People 1st.
Tina said
"I'm so glad I contacted People 1st, it's been a great experience. The support from the 1 to 1 phone calls, Zoom meetings, the emotional support, help with interview techniques and being encouraged to think I can do this!!!. I love how it has given me confidence to get out working again. I really love working with people again and has given me confidence and I really enjoy my work. Thank you to everyone in People 1st.''
---
Hospitality Skills Academy
Council, in partnership with NOW Group, are offering the opportunity to participate in a 6-week classroom-based hospitality course, followed by a 1 day a week work placement for 6 weeks in a local hospitality or catering business.
Participants will get a chance to improve their employability skills, increase their knowledge and confidence, gain accredited qualifications and workplace experience.
E: amplify@midandeastantrim.gov.uk
T: 028 2563 3363
---
Introduction to Welding
Are you over the age of 18 and a current resident in Mid and East Antrim?
Interested in taking your first steps to a new career?
If so, we have the opportunity for you!
Mid and East Antrim Borough Council, in partnership with Rutledge Training, is looking for local people to participate in an intensive 10-week welding training programme, followed by a guaranteed interview with a local company who are recruiting in the engineering sector.
Interested?
If you would like to participate in the programme you can find out more information and apply by emailing amplify@midandeastantrim.gov.uk or by calling Hannah Duffin of Rutledge Training on 028 9131 1171.
---
Hydrogen Training Academy
The Hydrogen Training Academy based in #Ballymena and led by Council is a first-of-its-kind project.
It supports the development of a skilled workforce designed to take full advantage of hydrogen and cleantech opportunities.
Supporting a greener future, the Academy will deliver crucial technician training on the use of hydrogen across several industrial sectors, including energy, transport, gas, manufacturing and engineering.
This is a public-private investment of almost £700,000 from the UK Government's Community Renewal Fund, the Department for Communities Covid-Revitalisation Fund and EP UK Investments.
---
Science Summer School Northern Ireland
Science Summer School NI aims to encourage curiosity, inspire the next generation of local talent and future workforce and raise the importance of STEAM activities with young people and their parents.
This initiative was established in 2012 at St. Paul's Way Trust School in east London by Lord Andrew Mawson OBE and Professor Brian Cox OBE.
The project is now expanding nationally with the aim to make 'the UK the best place to do science'.
---
"Science is about exploring, and the only way to uncover the secrets of the universe is to go and look."
- Professor Brian Cox OBE
We are bringing world-leading STEM academic and industry leaders to inspire and activate the curiosity of the student attendees at Science Summer School NI on 22 June 2021.
In addition to an enjoyable and challenging daytime programme for students including speaker presentations and participatory workshops, students, their parents/guardians and special guests will be invited to an evening reception followed by a panel session led by Professor Cox OBE with some of the keynote speakers.
This will provide a valuable opportunity to highlight the evolution of career pathways and opportunities available for the future workforce drawing on the experiences of the speakers.
---
STEM Ambassadors
The Young STEM Ambassador Programme provides an opportunity for young people (age 16-17 years) to develop their personal and technical skills to deliver short science-based workshops in primary schools and junior years of their secondary school. The Young STEM Ambassadors and younger pupils will all receive a British Science Association CREST Awards for their involvement.
The Young STEM Ambassadors will also act as guides at the Science Summer School on Tuesday 22 June 2021.