Environment
We lead by example to reduce the impact of council services on the environment.
Environment Policy
In maintaining its responsibility to provide high quality services, Mid and East Antrim Borough Council recognises environmental management to be of equal importance to other prime management considerations. As such, we acknowledge that our activities and services impact, directly and indirectly, on the environment. In this respect, Mid and East Antrim Borough Council accepts its obligation to minimise its environmental impacts through co-ordinated environmental management. Council operates to this Environment Policy.
Environment Management System ISO14001:2015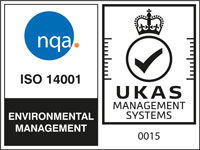 Council operates and is accredited to the international standard Environmental Management System ISO14001:2015.
Council maintain ISO 14001 International Environment Standard across all areas. This ensures that Council reduces the impact of its services on the environment year on year.
In order to achieve this, we set annual environmental objectives and targets. These are reviewed annually by our Environment Management Team, but are progressed throughout the year, with quarterly update meetings with our Environment Champions Team.
What are the key benefits?
The system aims to substantially reduce Council's Environmental impact in the following ways:
Improve awareness of the staff and public of their individual environmental impact.
Prevent pollution through efficient energy management, waste minimisation and efficient resource consumption.
Promote environmental improvements throughout our Borough.
Complying with relevant environmental legislation.
Continually improve environmental performance through setting and achieving realistic objectives and targets.
Communicating the environment policy to all employees, members of the public and interested parties.
Environmental Management System – Methodology
Review Council's significant environmental impacts each year.
Set objectives and targets to reduce these impacts.
Environment Champion Team meetings to review progress of objectives and share best practice across services.
Site audits to ensure environmental controls are effective across all service areas.
Annual Management Review meeting to ensure the system is effective.
Annual external audit to demonstrate improvement in environmental performance.
Who are our Environment Champions Team?
Tourism, Arts and Cultural Services
Planning & Building Control
Regeneration and Strategic Projects / Economic Development
Corporate Governance
Human Resources & Organisational Development
Communications
Policy
H&S
Corporate Performance & Improvement
Community Planning and Development
Public Protection, Health & Wellbeing
Parks Development
Waste
Climate & Sustainability
Building Services
Energy
Legal and Assets
Procurement
Finance
What is their role?
Be the point of contact for each service area, updating their teams on activities we are currently delivering and plan to deliver, to reduce adverse impacts on our environment.
Support their team by being the go-to person to relay new and interesting ideas to reduce our impacts.
Encourage those in their team to think about their day-to-day work style, considering their electricity use (switching off computer, dimming the screen intensity, closing doors/windows to keep heat in, recycling, using a reusable MEA water bottle, using MS Teams for meetings, car sharing (when restrictions allow), not dropping litter, using less single-use plastic, printing less, bring a plant to work.
How do we measure our environmental performance?
Council benchmarks it environmental performance in a number of ways:
NI Environmental Benchmarking Survey 2021 - Council achieved Platinum level in 2021
Council maintains certification to the International Environment Standard, ISO 14001 annually
Council's Carbon Footprint Report 2021