Ballymena Street Art project giving town centre a helping hand
Wednesday 6 March 2019
Two new pieces of street art are breathing new life into Ballymena town centre.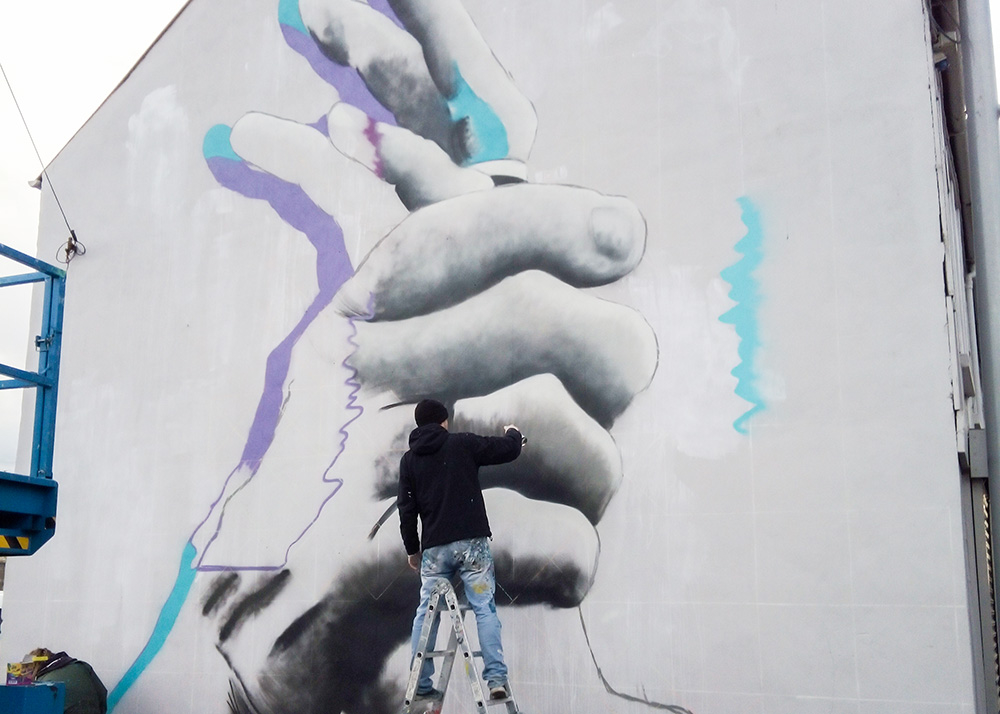 The new projects, by Mid and East Antrim Borough Council and BID, will see Bryan Street and William Street come to life with new murals over the next few weeks.
The Good Morning Ballymena centre on William Street has the talented Eoin McGinn creating a piece about the work of the centre and the services they deliver for older people in the borough.
Good Morning Ballymena is a free, friendly telephone service for senior citizens who may feel lonely, or who just want a friendly voice to talk to.
Eoin has created a mural featuring a young hand holding an older hand and soundwaves of one of the recorded telephone conversations.
Aerosol genius, Eoin has already created artwork in Larne's Main Street and on many of Belfast's buildings, including the Cathedral Quarter.
The next fortnight will also see street artists Laura Nelson and Leo Boyd transforming Bryan Street into a mythical wonderland designed by local school children.
Rosalind Lowry from Mid and East Antrim Borough Council's Arts Service said: "These pieces of art really will transform these spaces in the town centre. We're so lucky to have such great artists helping us add some colour to the high street and it will also offer the perfect backdrop for snaps for the gram to show off your visit to the town.
"These projects are part of a wider Arts Programme called Opening Doors, funded by Arts Council NI, where six local organisations work with us to create new art, so watch this space for more exciting stuff coming up!"
Kathleen McBride, the BID Manger said: "The Ballymena BID welcomes community outdoor artworks. It's great to see creativity along with an element of fun integrated into the town. Such initiatives add real colour and creates a vibrant ambience to the town centre while also enhancing the streetscapes."