Citizens encouraged to have their say on the future of Browns Bay
Monday 8 January 2018
Mid and East Antrim Borough Council is calling on the people of Browns Bay and Islandmagee, as well as those who enjoy spending their leisure time in the area, to make their voices heard.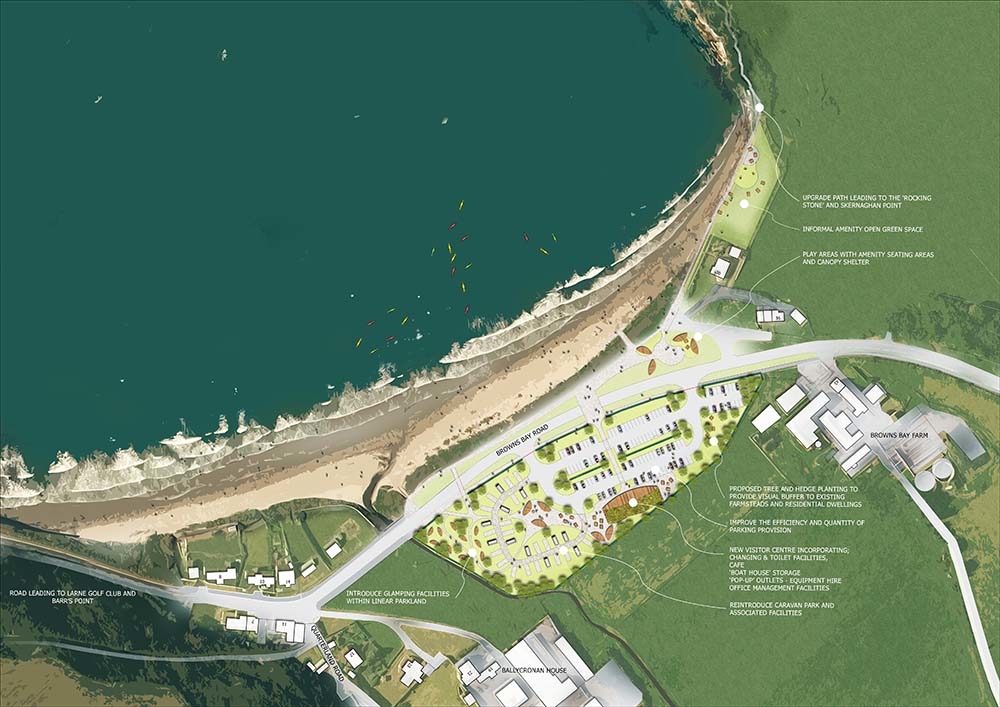 In line with its commitment to build stronger, safe and healthy communities, it is Council's intention to invest in redeveloping and improving the caravan park and surrounding area at Browns Bay.
Council has been consulting with local people in recent months in order to develop a draft masterplan for the area.
Having received written feedback from many locals and taken on board the thoughts and feelings of many from the area at engagement events, the Council is now undertaking a further 12-week consultation process in order to ensure that the draft masterplan is reflective of how interested parties wish to see the site redeveloped.
Members of the public are invited to attend a drop-in session to view draft plans for the area on 30 January at the cafe, Islandmagee Community Centre from 5pm to 8pm.
Mayor of Mid and East Antrim, Councillor Paul Reid, said: "I am excited to see Council actively working towards enhancing Browns Bay for the future.
"Browns Bay is a wonderful natural asset and I look forward to seeing the area redeveloped in a way which is in keeping with the natural beauty of the surrounding area.
"I would be delighted to see investment in the caravan park to bring it back to its former glory but in a way which is also sympathetic to the needs of the local residents.
"Investment in Browns Bay opens up potential opportunities to create much-needed new employment within the area, especially with so much focus on growing our tourism offering within Mid and East Antrim."
Mid and East Antrim Borough Council is committed to the continual improvement of the Borough's infrastructure, to creating opportunities for health and wellbeing, and to increasing social, environmental and economic benefits for our residents in the Borough.
As part of the community planning process, Council is keen to ensure that our ideas for the site are representative of the needs of the residents in this area.
Residents are therefore urged to get involved in the consultation process by completing a short survey online using the following link:
The survey will be live for 12 weeks from 8 January 2018.
Should you require any further information or hard copies of this survey please contact: E: parks@midandeastantrim.gov.uk or T: 028 9335 8279.
Images: Outline plans for the redevelopment of Browns Bay