Dementia Action Week 2023 celebrated across Mid and East Antrim
Friday 2 June 2023
Mid and East Antrim Borough Council, in partnership with Alzheimer's Society, the Armstrong Storytelling Trust and Northern Health and Social Care Trust celebrated Dementia Action Week 2023 with a special programme of events across the Borough.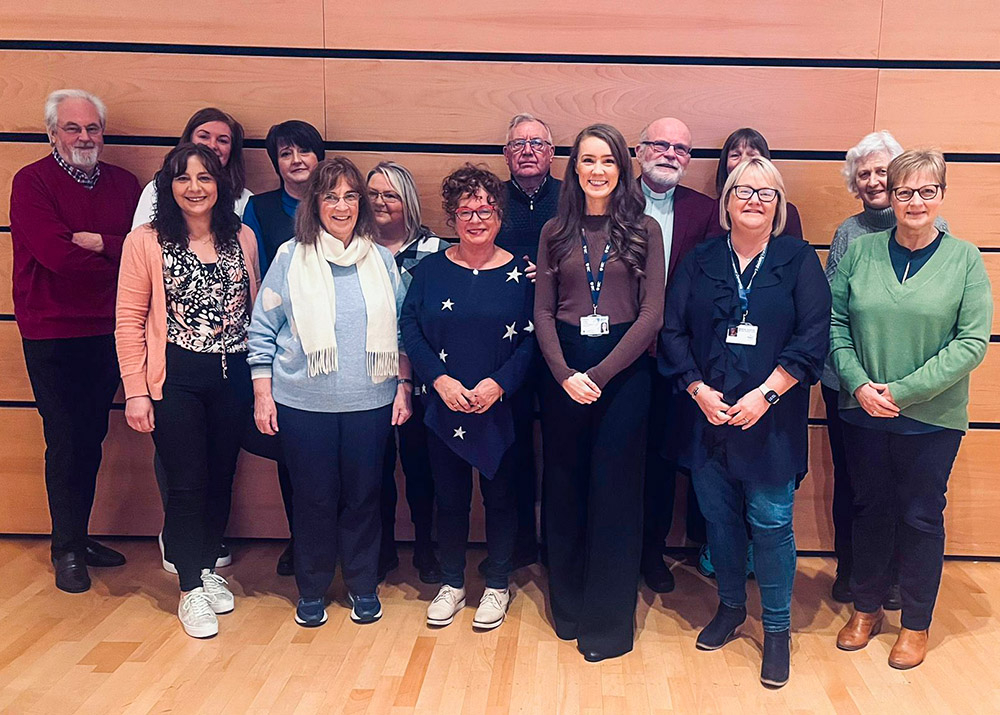 During Dementia Action Week (15 – 21 May 2023) people of all ages and backgrounds enjoyed reminiscence sessions in Andrew Jackson Cottage in Carrickfergus, Carnfunnock Country Park in Larne and Arthur Cottage in Ballymena - with an additional broadcast online.
Colin Urwin, from the Armstrong Storytelling Trust, shared stories and songs at the sessions which brought back many fond memories for the participants with one attendee commenting: "It was a great day's craic!". Elaine Hill from Council's Heritage Team delivered a sensory reminiscence demonstration and Mary at Arthur Cottage provided attendees with home-made soda and potato bread - fresh off the griddle with another participant commenting: "It was a splendid way to spend a Monday afternoon. An uplifting atmosphere and lovely people".
Dementia Support Workers from the Alzheimer's Society were on hand to give support and guidance to attendees if needed, and Council provided information support packs to attendees which signposted individuals to follow-on support services across the Borough.
An online art workshop was also arranged for carers and family members impacted by Dementia, in partnership with the Northern Health and Social Care Trust's Health and Wellbeing Team.
This programme of activities builds upon the existing 'Dementia Friendly Borough' initiative across Mid and East Antrim which has seen Council rolling out a number of 'Dementia Friendly Communities' awareness training sessions in partnership with Alzheimer's Society.
There are now a total of 697 residents, staff and organisational representatives who have received the free training through the Council project, and most recently, training was held with faith-based organisations in Mid and East Antrim throughout March 2023 - which saw 29 leaders, staff and volunteers learning about how best to support people affected by Dementia in their faith settings.
Mayor of Mid and East Antrim, Alderman Noel Williams said: "We are incredibly proud to be continuing our work with the Alzheimer's Society to both highlight Dementia and continue to support anyone impacted by it across our Borough."
"The 'Dementia Friendly Borough' initiative is delivered as part of an ongoing strategic priority to respond to an ageing population, listed within Mid and East Antrim's Community Plan 'Putting People First'. This important work has established Mid and East Antrim as a reliable and safe space, where people living with dementia - and their carers - can come to feel welcome, supported and at ease."
Further plans are in place to roll out 'Dementia Awareness' training to businesses, community groups and residents during 2023, as well as an online information session showcasing available support services for carers and family members who have been impacted by Dementia.
Council's Dementia Champion, Alderman Gerardine Mulvenna added: "We are committed to ensuring Mid and East Antrim is an inclusive and understanding community for everyone. It is vital that we all play our part in supporting people with Dementia throughout the Borough and I'd encourage everyone to attend the free training sessions which are offered by Council."
If you would like further information or to avail of free Dementia Awareness training, please contact Amanda Cotter, District Electoral Area Officer, on T: 028 2563 3196 or E: amanda.cotter@midandeastantrim.gov.uk