Mid and East Antrim's emergency services honoured for '999 Day'
Monday 10 September 2018
A flag has been raised at Mid and East Antrim Borough Council buildings to celebrate the work of all emergency services as part of 999 Day.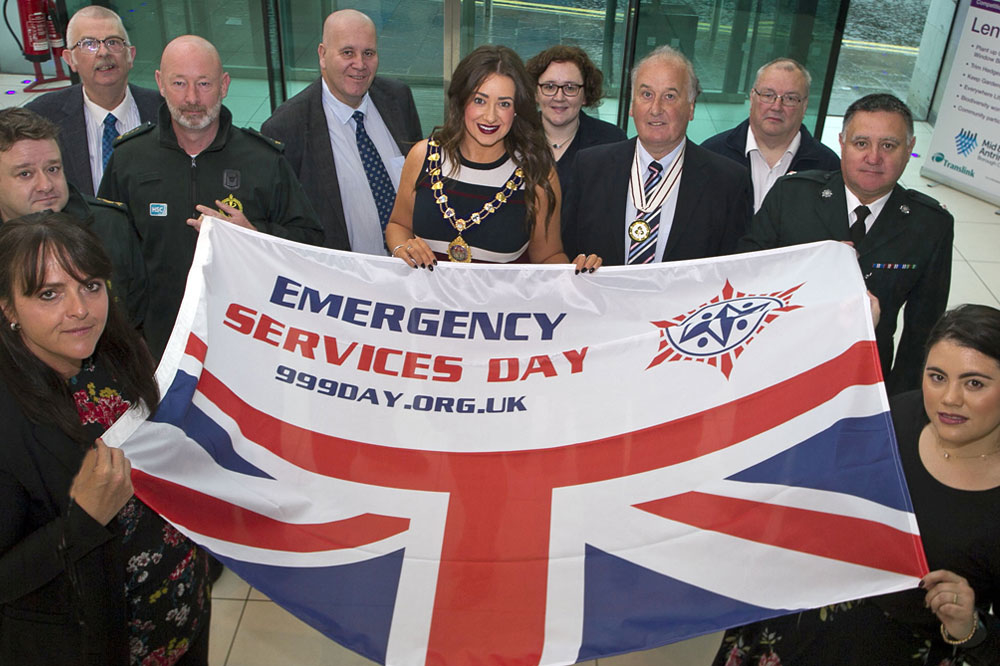 The first ever Emergency Services Day, also known as 999 Day, took place on 9 September at 9am and was part of the National Emergency Services Memorial charity campaign to help raise £2 million for a new national cenotaph dedicated to public servants.
An emergency services flag was hoisted by Council and representatives from the PSNI, NI Fire & Rescue Service, and the Mayor's official charity, Air Ambulance Northern Ireland.
Mayor of Mid and East Antrim, Cllr Lindsay Millar said: "It's an honour for council to help celebrate all the hard work of all our emergency services. They all play such an important role in keeping everyone safe and it can often go by without hearing those words of thanks, so on behalf of council I would like to extend our gratitude to all the men and women who serve to keep us safe.
"All of us here at Mid and East Antrim Borough Council are proud to be supporting such an invaluable cause. The borough covers 400 square miles, with 62 miles of coastline, and many who live here in rural areas. This vast space means the work of the emergency services is always recognised here and we hope the public will also get behind this campaign."
The day received the backing of Prime Minister Theresa May, who tweeted: "I would like to thank everyone working in our emergency services on #999DayUK. They go above and beyond every day to help save lives and keep us safe."
The hashtag #999DayUK also trended in the UK.