Help clean up your Borough by capturing The Unusual Suspects lurking in your home
Monday 5 February 2018
Mid and East Antrim Borough Council has appealed for the public's help to catch The Unusual Suspects in their homes.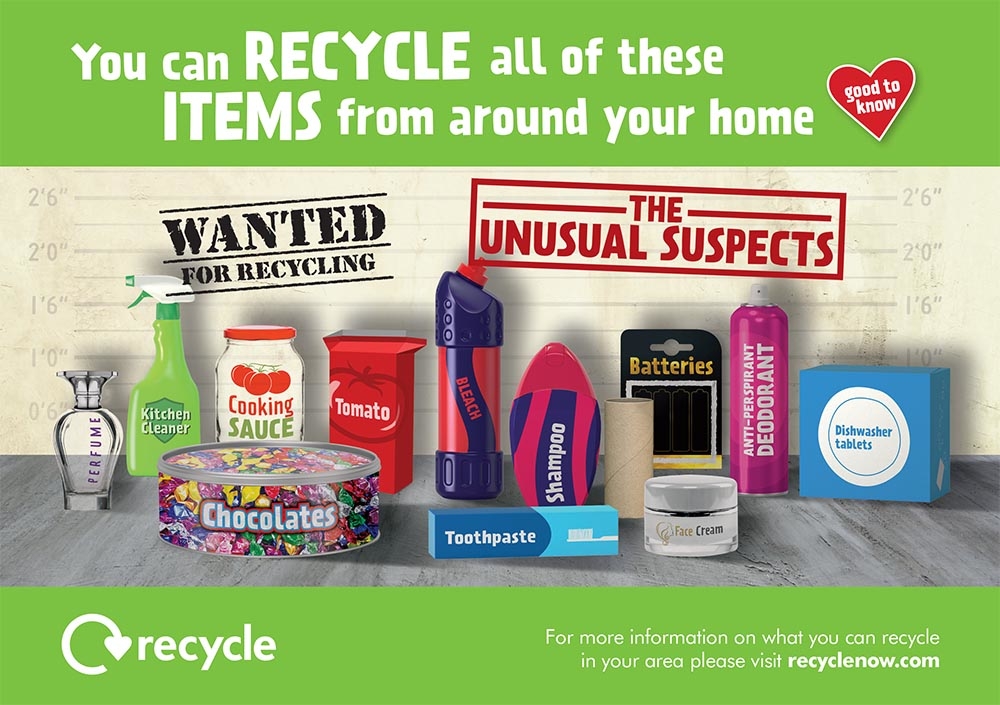 We're all familiar with the 'usual' recyclables – plastic drinks bottles, food and drinks cans, jam jars, cardboard boxes and newspapers – but research from the Waste and Resources Action Programme (WRAP) found that many people are binning at least one thing their council collects for recycling at the kerbside.
Mid and East Antrim Borough Council is backing WRAP's campaign to identify The Unusual Suspects many of our citizens do not realise can be recycled, including toilet roll tubes, perfume bottles and magazines.
Mayor of Mid and East Antrim, Councillor Paul Reid, encouraged residents and businesses throughout the area to play their part in clamping down further on the amount of waste heading to landfill.
He said: "We are working with our residents to increase recycling rates, particularly dry recycling which includes items such as plastics, card, paper, glass etc.
"From July to September of 2017 our household recycling rate reached 57.5% - an 8.4% increase from same period the previous year - which is fantastic and testament to our citizens. Let's see if we can do even better."
The Unusual Suspects include items you normally wouldn't think to recycle from various rooms in the house including shampoo bottles, aftershave, perfume bottles from the bathroom, tissue boxes, magazines from bedrooms, and other cleaning items such as bleach bottles, washing up liquid bottles and dishwasher tab boxes.
Kathryn Tims, Recycle Now spokesperson, said: "It's become routine to recycle the usual suspects in our kitchens, but some items around the home like perfume bottles and beauty cream pots are often overlooked.
"Our research tells us just 12% of people are doing all they can when it comes to recycling, so we are asking people to take a fresh look at their recycling habits and consider those lesser recognised items, so we can collect more of the right things."
The Mayor added: "Recycling saves costs the council less than sending waste to landfill and it also combats environmental damage.
"Unwanted waste that ends up in landfill is the most polluting type of waste due to the release of harmful gases.
"Rather than pollute the environment, these valuable resources are increasingly being put to a great use in Mid and East Antrim.
"We all work hard to ensure we recycle items from our kitchens, but have a think about other items from across your home which could also make it into your kerbside box or recycling bin."
For more information and to keep up to date you can go to our Recycling pages or visit the Recycle Now website.