Mid and East Antrim Borough Council honours NHS heroes
Monday 8 October 2018
Mid and East Antrim Borough Council has presented plaques to three health centres across the borough to celebrate the NHS turning 70 this year.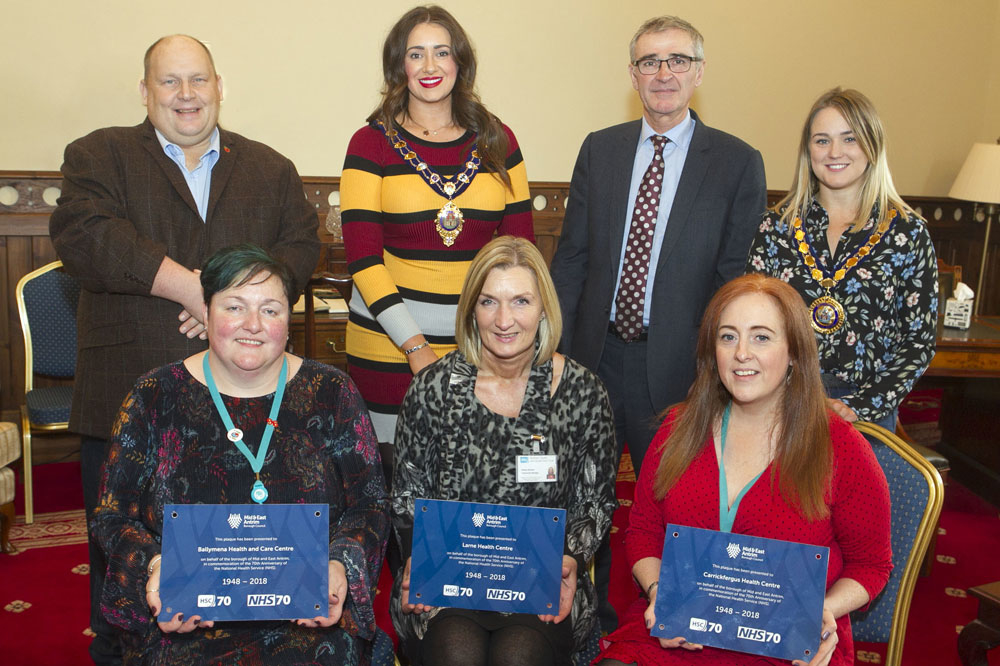 The milestone is the perfect opportunity to celebrate the achievements of one of the nation's most loved institutions, to appreciate the vital role the service plays in our lives, and to recognise and thank the extraordinary NHS staff – the everyday heroes – who are there to guide, support and care for us, day in, day out.
A special reception was held for representatives from Ballymena Health and Care Centre, Larne Health Centre and Carrickfergus Health Centre.
Dr Tony Stevens, Chief Executive of Northern Health and Social Care Trust was also there to celebrate our NHS champions.
Ald Gregg McKeen was behind council honouring the NHS staff: "Our NHS workers are completely unsung heroes. They are so hardworking and invaluable to all of us and we cannot thank them enough for saving and improving lives on a daily basis.
"Over the past 70 years our NHS has transformed the lives of countless individuals, helping to improve health and wellbeing across the country. The NHS has delivered huge medical advances and improvements to public health, it has all but eradicated diseases such as polio.
"It has also pioneered new treatments and it's only right that council should mark this anniversary, highlighting the tremendous good which has been done throughout the last 70 years."
For more information and to keep up to date you can go to www.nhs70.nhs.uk